Cats are Internet royalty, and 2013 was definitely a banner year. They made headlines, stopped trains, scored book deals and even starred in documentaries. Here are 10 kitties we couldn't stop reading about this year.
10. The Guy Who Shaved His Chest Hair Into a Cat
9. Cat Shaming Happened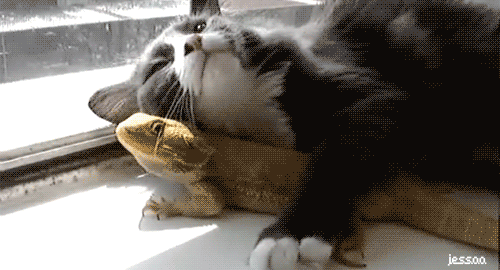 This site's sole purpose is to mashup pop songs and dancing cats
. Lots and lots of them. Like, more than you'll ever need to waste tons of hours of your employer's time. Do it, we won't tell.
7. Grumpy Cat Went to Disney -- It Was Awful
Not for the internet's grumpiest cat
. Not even a meeting with fellow grump Grumpy cheered this frowny feline.
6. Most Adorable Train Delay of the Year
BENJY MEYERS/FLICKR/GETTY IMAGES
It's probably a one-time only excuse for being late to work, but boy, is it cute. New York's Metropolitan Transportation Authority was forced to pause the B and Q lines
for an hour
when it was discovered that two kittens were playing hopscotch (or tag, or whatever kittens do) on the busy railway lines.
5. Cat Bearding!
iVillage
What, you don't remember taking a selfie with your freaked-out cat pressed against your face? We don't either, because our girl would draw blood if we tried this madness. To those who
successfully bearded in 2013
, we salute your commitment to making lulz.
4. When We Found Out Lil' Bub's Dude is a Hottie
Michael Stewart/WireImage/Getty Images
We already loved
Bub
, and we knew her dude was a good dude. But when photos of this dude started
popping up on the web
this year, we kinda fell in love. Michael Bridavsky is cute and works to raise awareness for animal adoption. How can we not adore him?
3. We Learned Scottish Fold Cats Exist
Scottish Fold Cat
flew on our radar with a bullet in 2013. The cats have a dominant gene mutation that makes theirs ears fold forward and gives them round eyes and faces. Basically they are the cutest mutants ever. Our favorite Scottish Fold yet?
Taylor Swift's sweet kitty, Meredith
.
2. Colonel Meow Is Okay
Vincent Sandoval/FilmMagic/Getty Images
After a week in the cat hospital, Colonel Meow, the scowling, scotch-loving cat, was back and feeling better after lots and lots of positive thinking from the Meow-minions.
Bonus! It's hard to be a cat at Christmas, starring Grumpy Cat, Colonel Meow, Oskar the Blind Cat and Nala. Just watch the video.
Tanya Edwards is a contributing writer for iVillage. Follow her on Twitter and Google+.