Photo Credit: Gregg DeGuire/wireimage/getty images
Though he turned 65 in July, fitness guru and larger-than-life personality Richard Simmons hasn't slowed down a bit – just check out his Workout Wednesdays with Richard Simmons webseries on Youtube! He wants to DANCE. WITH. YOOOOOOOOOOOOOOOU!
There are plenty of great moments in the webseries but to get you in the mood, we found these awesome gifs:
He's taught us many things along the way, that Richard Simmons.
tumblr.com
He taught us that you should always have a prop on you.
buzzfeed.com
And that if you can't stand the heat…you should get off the stage.
gifsoup.com
He taught us that there was no shame in disco.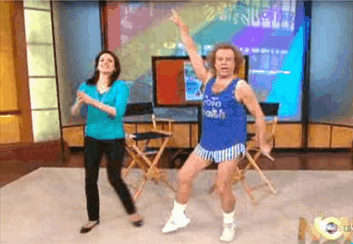 abcnews.com
And that love was meant to be shared...
richardsimmons.com
…like selflessly...with everyone.
mashable.com
Most importantly, he's taught us that you can never take life too seriously.
ebaumsworld.com
We can really just watch him go on forever.
giphy.com