See Related Photos
Photo Credit: FameFlyNet Pictures
This year has been an eventful one indeed!
And not only has it been jam-packed for everyday people like us, but for international star Beyonce, as well.
She began her year-long festivities by singing at President Obama's second-term inauguration, then wowed us at her Super Bowl performance. She premiered her "Life Is But A Dream" documentary, then secretly released her self-titled, fifth studio album. Through it all, Queen Bey has been teaching us a thing or two about being awesome. Here's what we learned:
1. When people discovered that she lip-synced her inauguration performance...
...She came back like a pro and shut everyone down once and for all by singing the National Anthem a capella, live, on TV. She then asked with a smile...

Lesson: There will always be naysayers and negative people. Let them eat their words while maintaining your grace and poise.
2. Next came her second partnership with Pepsi, which was launched via a commercial with her tune, "Grown Woman."
Then we began seeing cans of Pepsi with her face on them, which was part of her $50 million deal. Wow!!
Lesson: Never settle for good enough. When you think you've done something great and unexpected... go just a little bit further to really get your message across.
3. Bey then performed at the Super Bowl XLVII Halftime Show, and she made sure that her performance was definitely worth watching.
She even brought out her two best friends, the remaining members of Destiny's Child: Kelly Rowland and Michelle Williams.
Lesson: Never forget the people who have been with you through thick and thin because these are your true friends, and they'll be the first ones to have your back when you most need them.
4. When her documentary "Life Is But A Dream" premiered on HBO months later, she let us inside her private world by revealing some of her most inner thoughts.
The singer revealed that she's just like everyone else.
Lesson: No matter how high someone might seem to you, they are no better or worse than you. Everyone is equal.
5. Afterwards, the icon's amazing H&M ads were published as she was namedthe face of their 2013 Summer Collection.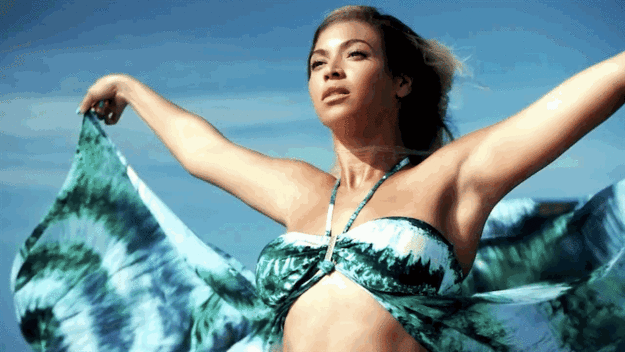 But when she saw these pictures for the first time and realized that her curves had been retouched, it was reported that she "hit the roof" and demanded H&M to use only un-photoshopped photos of her.
Lesson: Beauty comes in all shapes and sizes. Looking like one type of person is not the only way one can be beautiful.
6. Let's not forget that she was doing all of this while headlining "The Mrs. Carter World Tour."
With her all-female powerhouse band, she showed every city that men aren't the only ones in control.
Lesson: Women can do whatever it is we choose. Once we realize our strength and worth, we have the power to shape our destinies.
7. At the end of an already eventful year, Beyonce secretly released her self-titled album, much to everyone's surprise.
It went platinum in less than one week after release. It also became iTunes' fastest-selling album of all time.

Lesson: Sometimes you don't have to say or do a thing. When the time is right, just wait and allow the universe to take its course. The product could be the best thing that's happened to you yet.
Visit NBCNews.com for breaking news, world news, and news about the economy
Isha Thorpe is an iVillage contributing writer. Find her on Twitter and Google+.