*Early Weekend Check In*
*Early Weekend Check In*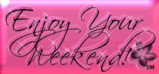 Good afternoon everyone. I hope has wonderful plans for the 3-day weekend here in the US. I don't have much planned as of right now. Tonight I'm going with some friends to listen to live music, classic rock is the type of music and I know the drummer's wife. We work together. Tomorrow I plan just lounging around, reading this n that.
What do you have planned for the weekend?
Going out of town?
Anything else I might have left out?