February LTP!
February LTP!
Congrats to Karyn, our first winner of 2013! Anyone else besides me forget it was the last night of the month? ;)
Here's your cool blinkie, Karyn. (If you're still having issues setting your preferences, send me a private message (or email becca_carter@yahoo.ca) and I'll see if I can walk you through it. I'm finally error-free on that side of things, so I want to help everyone out if they need it!)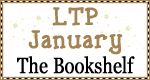 Now on to February! Whoever posts last before midnight Eastern on the 28th will be our next winner!