January LTP!
January LTP!
| | |
| --- | --- |
| | Tue, 01-01-2013 - 11:17am |
Congrats to Angie, who won for December! Good work! (It pays to check in before going out to celebrate, hee hee.)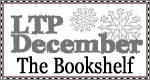 And so begins our chatty thread for January 2013! (Gotta type and write it to get used to the new digit at the end.) Whoever posts last before midnight Eastern on January 31st is our next winner.
Now chat away! :)