September LTP!
September LTP!
Congrats to Melissa, who was the last to post in August! Here's your snazzy blinkie: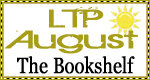 And now we face a new month. Are we up to the challenge of chatting it up?
Whoever is last to post just before midnight Eastern on September 30th will win!
Let's get started!