Two Fried Dill Pickle Recipes
Two Fried Dill Pickle Recipes
Fried Dill Pickles
IF YOU CAN GET 'EM TO TASTE 'EM, THEY WILL eat 'EM.
Serves 4
1 cup Flour
1/4 teaspoon Salt
1/8 teaspoon Black pepper
1/2 cup milk
1 Egg
1 1/2 cups Dill pickle slices, thin
Oil for frying
Mix the flour, salt, and pepper in a bowl. Lightly whip the
egg in a separate bowl. Add the milk to the egg. Heat the
oil (about 2 inches) to 325. Dip the pickle slices first
into the flour, then the egg mixture, and finally back into
the flour. Carefully place the pickles into the hot oil. Do
not overcrowd. Fry until golden brown (about 8 minutes),
turning once. Drain on paper towels. Serve warm.
Fried Pickles
Seasoned Egg Wash:
1 Egg
1 teaspoon salt
1/3 cup milk
1/2 teaspoon black pepper
1/3 cup Worcestershire Sauce
1/3 teaspoon Tabasco
Seasoned flour:
2 cup flour
1/2 tablespoon paprika
1 tablespoon garlic salt
1/4 teaspoon poultry seasoning
2 teaspoons black pepper
Oil for deep frying
Klauson Whole Pickles
Whip together all ingredients for seasoned egg wash, set aside.
Mix ingredients for flour mixture in a shallow dish. Slice
pickles 1/8" thick. Dip into flour mix, then egg wash,
then flour mix again.
Fry until golden brown, about 1 minute. Drain on paper towels.
Serve with dipping sauce of ranch dressing, ketchup or
horseradish sauce.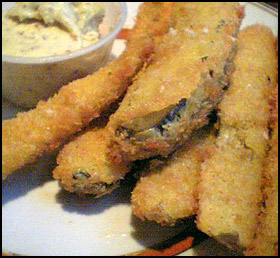 Yum