WIP Wednesday, February 27, 2013
WIP Wednesday, February 27, 2013
| | |
| --- | --- |
| | Wed, 02-27-2013 - 11:38am |
Despite having a stitchery slowdown due to eyes being dilated (Thursday last) and anaethesia wearing off (Monday last), I have made some progress --- and I admit I am feeling more and more behind as well. Partly it's tax time but partly it's stitching --- have I taken on more than I can keep up with? You will see why when you see this post!
First, there is "Red Thai Mandal" my true WIP, which has been in the works now since December 30, 2012 and seems to be another of those never-ending pieces. The blackwork is moving SOOOO slowly but there is an end in sight as the outer border is roughly 3/4 done: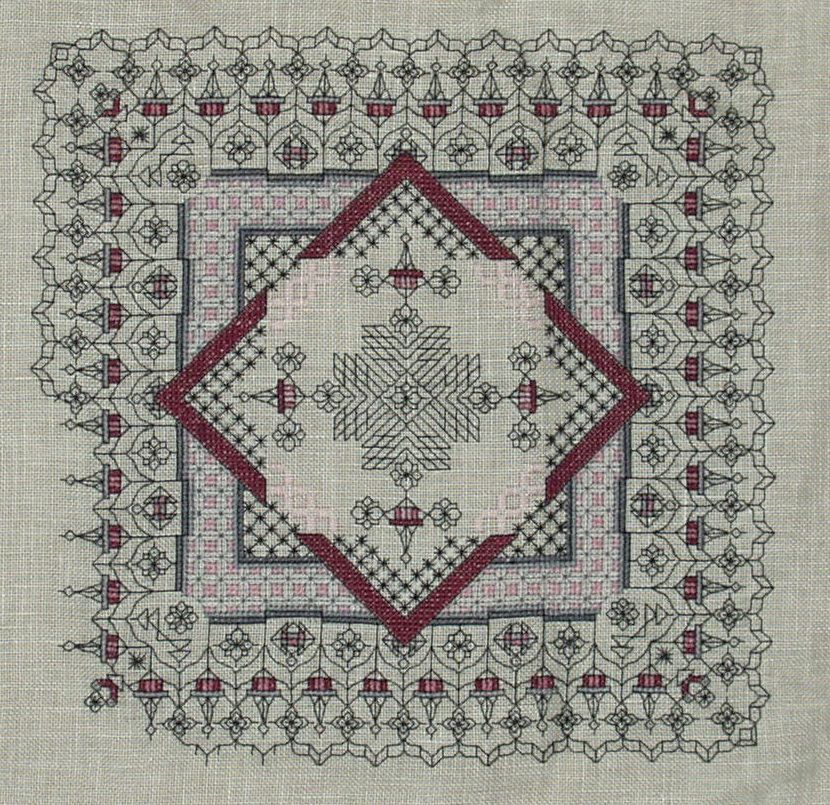 After that, just beading (every one of those lotus flowers and all of the black Algerian eyelets get a gold bead in the center!
TAST --- I'm keeping up and have completed the January - February " Assignments"  (Knotted Feather, Inverted Feather, Raised Herringbone, Triangular Feather, Herringbone Square, Laced Herringbone Square and Buttonholed Herringbone) and here is "Page One" of that sampler:
Next is the Crazy Quilt Journal Challenge Project --- I have actually gotten a head start on March! It's a monochromatic red block and I have begun some of the seam treatments: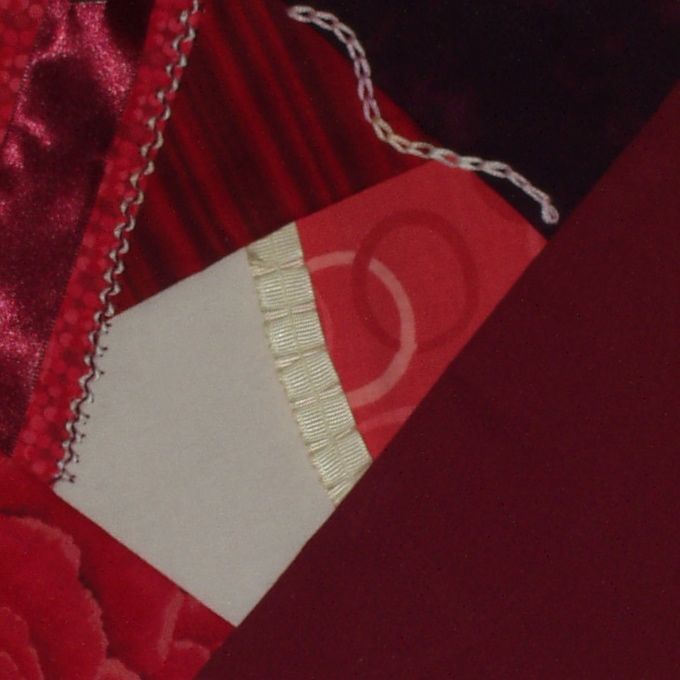 I finished week two of "Encrusted Crazy Quilting" - seam treatments - "complete" although I'm not satisfied. It looks a little "thin, if you know what I mean - like it needs beads but... that is two lessons further on!.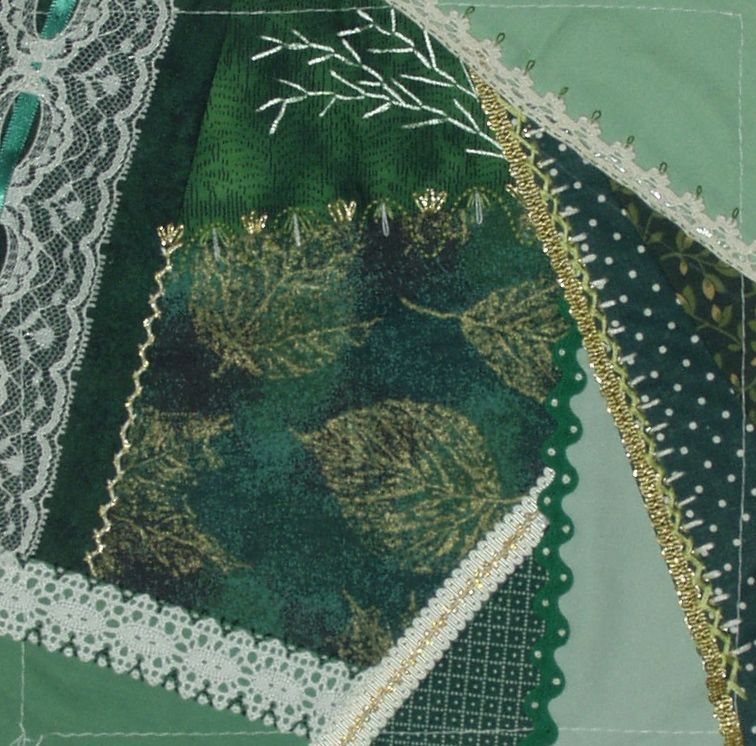 Lesson three is all about Brazilian and Silk Ribbon embroidery --- ACCK! I'm not ready to try either! The former uses rayon threads (I HATE rayon threads) and the latter silk ribbon (I have some somewhere but can't find it!), and I've never done either...
Not a whit of work on March's BJP butterfly (still not sure what theme I want to use --- St. Pat's or Easter or...) , nor have I maanged to start on the TAST challenge issued with stitches 53 and 54. My BJP 2012 wall hanging has made NO progress and my best laid plans to do a mug rug for the next quilt guild meeting are rapidly fading into the mists! Weekends are best for such tasks and these next few weekends SHOULD be devoted to taxes.
And rapidly coming up on the horizon is Sharon B's "Sumptious Embroidery Class" - she's already started the Yahoo group and introductions are flying fast and furious.
So now that you've read my sob story, how about you all? Stitching? Have photos or similar sob stories to share? Love to hear them!