Order of posts...
Order of posts...
| | |
| --- | --- |
| | Mon, 02-04-2013 - 11:49am |
somewhere else here someone was talking about post order... I can't find it now --
Anyway, I have a couple of attachemnts to shwo you an anomaly that is now showing up pon my Sitchery board, in one folder, anyway...
What I see on the main page of the board is the posts in the order in which I post them OR in which I edit them, except that I have "stickied" two threads to the top of the folder so I can find them every day. In the Yarn folder, it looks like: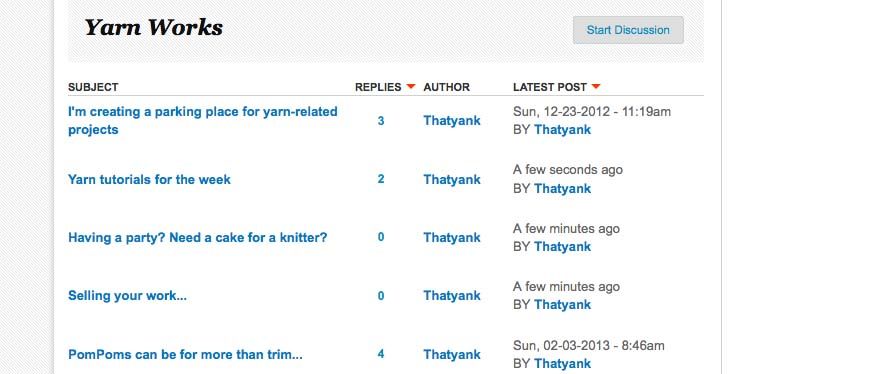 But if I go to "see all threads", this is what I see...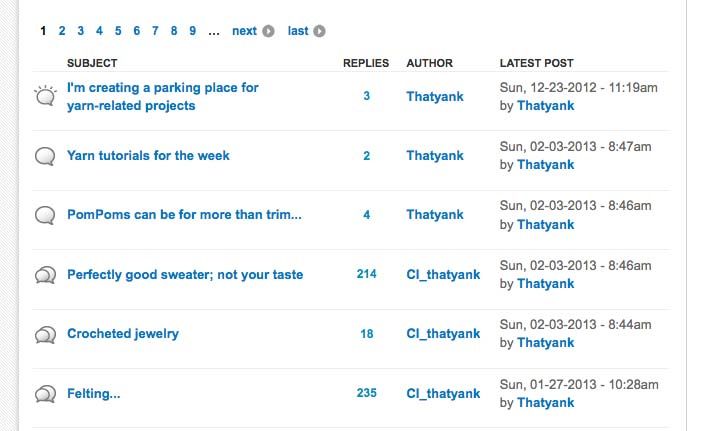 Notice the difference? I can't find a recent thread I posted if I have teh all threads panel open, which I often do becasue I'm trying to keep similar topics posted to the right OP. With seach not working wirth a hoot, I have to resort of scanning page afte apge manually, hoping I recognize something OR using my browser search, hoping the word I want is in the thread title and uses teh same caps and lower case as I do in teh saerch. VERY freustrating.
Now this isn't happening in all the folders on that board --- not sure why. But as you can see, there is no similarity between teh two panes in the Yarn folder. Any guesses?
Oh, Firefox, Mac OS, I appear to be signed in at the top by quick links isn't there (and it's been signing me out as I move fro reading a thread to repyling to it AND it has real issues (as I described eralier under editing issues) with actually loading a page. Rrefershing has become my habit of necessity, usually three or four times per click (click on reply or on open a new post --- refresh three times to get to a posting box; click on post --- refresh three times to get to the published thread) sometimes more. And then the Village has the audacity to tell me that either someone else has modified the thread OR that it has expired and I need to copy the contents and repost it!
Everything seems to be totally interconnected and I'm begnining to think someone needs to rewrite the entire software package...