Snap, Crackle, Filth...Is Kellogg's the New Cereal Killer?
Snap, Crackle, Filth...Is Kellogg's the New Cereal Killer?
Gross! This is the first I've heard of this. One would think they'd be extra careful with food children eat. Kellogg Gets Second FDA Warning on Listeria in 2 Years
http://www.bloomberg.com/news/2011-06-14/kellogg-gets-second-fda-warning-on-listeria-in-2-years-1-.html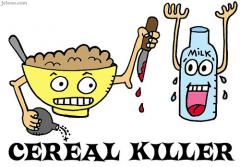 http://www.benzinga.com/general/politics/11/06/1166918/snap-crackle-filth-is-kelloggs-the-new-cereal-killer
It looks like the Special K might be more special than consumers intended it to be. In a shocking, graphically detailed letter, the FDA cited Kellogg's (NYSE: K) Augusta, Georgia plant for a series of health code and regulatory violations.
The most disgusting? Small swarms of flies inside the plant, including in and around food equipment. According to the FDA letter to Kellogg's, "Approximately twenty flies were observed exiting a drain located near spiral cooler (b)(4) and making contact with food contact surfaces. Approximately thirty flies were observed swarming in proximity of the flour sock of mixer (b)(4). Approximately eighty flies were observed after the back panel of mixer (b)(4) was removed."
The flies were not the only serious health concern the FDA found at the plant. According to the letter, the FDA found strains of Listeria monocytogenes (L. monocytogenes) in no less than fifteen different locations inside the plant, indicating that the infection had spread throughout the plant.
Listeria monocytogenes is one of the most virulent foodborne pathogens, with 20 to 30 percent of clinical infections resulting in death. Responsible for approximately 2,500 illnesses and 500 deaths in the United States annually, listeriosis is the leading cause of death among foodborne bacterial pathogens, with fatality rates exceeding even Salmonella and Clostridium botulinum.
This is not the first time the FDA has visited the plant with concerns. They took swabs for bacteria back in January of 2010 and again in February of 2011, and found the same strain of Listeria across the plant both times. The report indicates this is a serious problem for Kellogg's.
"The presence of a persistent strain of L. monocytogenes in your facility between January 2010 and February 2011 is significant in that it demonstrates that your cleaning and sanitation efforts were inadequate to remove this organism. We note that although your finished product cookies may not support the growth of L. monocytogenes, the positive environmental swabs are indicators of insanitary conditions in your facility and demonstrate a failure of cleaning and sanitation operations that may allow for contamination of foods with filth or pathogens."
Unsurprisingly, Kellogg's stock is seeing higher than average volume today as individuals sell the stock after the FDA warnings and regulatory violations.