Prince Charles and Camilla caught up in London violence after student fees vote
Prince Charles and Camilla caught up in London violence after student fees vote
Attack on royal car as tumult grips capital city's centre following MPs' vote for measure trebling English university fees
Article at link.....
http://www.guardian.co.uk/education/2010/dec/09/charles-camilla-car-attacked-fees-protest?intcmp=239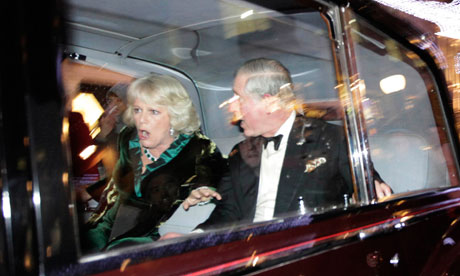 Prince Charles and Camilla, Duchess of Cornwall, react as their car is attacked by protesters in London. Photograph: Matt Dunham/AP
Prince Charles joked about student protests before Royal couple attacked
The Prince was attending a reception in Clarence House immediately before the journey to the Royal Variety Performance at the Palladium when he referred to the tens of thousands of students causing havoc.
He said: "Hopefully we'll be able to brave our way through, get there and be all right."
The Rolls-Royce Phantom VI was stopped by crowds of protesters on Regent Street and hit with a hail of missiles, including bottles and dustbins, as well as a tin of white paint, and a window was badly cracked before the Royal couple could escape.
Photo's, videos & more at link...........
Tuition fees protests and Charles and Camilla attack aftermath –
http://www.guardian.co.uk/education/blog/2010/dec/10/tuition-fees-protests-charles-camilla-attack-aftermath-live
The Prince of Wales joked about the risk that protesters in central London could pose to him and his wife, the Duchess of Cornwall, just minutes before the Royal couple's car came under determined attack.
Complete article at link..........
http://www.telegraph.co.uk/news/newstopics/theroyalfamily/8193645/Prince-Charles-joked-about-student-protests-before-Royal-couple-attacked.html