Getting flu shots?
Getting flu shots?
| | |
| --- | --- |
| | Sun, 10-18-2009 - 12:53pm |
Just got an email from my health provider, letting us know about the regular flu shot available, and information about getting the H1N1 vaccine when it arrives, also. Anybody going to get one or both?
I've never gotten the regular flu shot, even though my health provider has suggested it since I turned 50, which was quite a few years ago now. I don't normally get sick, and I've heard so much conflicting information about how sick the flu shot makes people, I just never wanted to get it.
Now there's the H1N! but my age group (I'm 62) isn't at major risk. It's seems like children and younger people are more at risk, but people my age seem to have more of a resistance, and don't get dangerously ill with it.
I am in a quandary this year, though, having had my heart surgery, whether that makes me more at risk, and should I seek one or both shots this year? I will be emailing my doctor to ask her advice. I'm not crazy about getting either shot. <:// This is what my provider says on their web site (from the CDC):
*Pregnant women because their risk of complications is higher and being vaccinated can potentially provide protection to infants who cannot be vaccinated.
*Household caregivers for children younger than six months old because younger infants are at higher risk of influenza-related complications and cannot be vaccinated.
*Health care and emergency medical services personnel.
*Children from 6 months through 18 years old because they're often in close contact with others in day care or school, which increases the chance that H1N1 flu could spread.
*Young adults ages 19 through 24 years old because the CDC has seen many cases of H1N1 flu in these healthy young adults and they often live, work, and study in close proximity.
*Adults ages 25 through 64 years old who have health conditions associated with higher risk of medical complication from influenza (for example, ongoing conditions such as asthma, diabetes, heart disease, and immune deficiencies).
Blessings,
Gypsy
)O(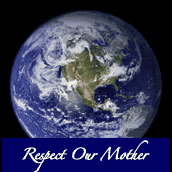 "What is life? It is the flash of a firefly in the night.
It is the breath of a buffalo in the wintertime.
It is the little shadow which runs across the grass
and loses itself in the sunset.
- Crowfoot, Blackfoot warrior and orator

Blessed Be!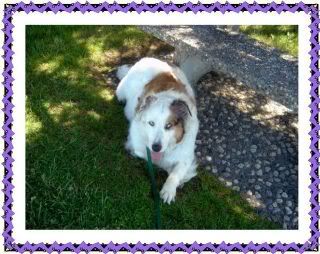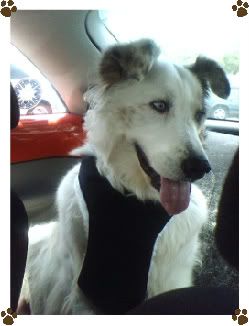 Mika Dog
"All things share the same breath;
the beast, the tree, the man.
The Air shares its spirit with
all the life it supports."
--Chief Seattle
"If there are no dogs in Heaven,
then when I die I want to go where they went."
~Will Rogers
"The greatness of a nation and its moral progress
can be judged by the way its animals are treated."
~~Mahatma Gandhi
"Life is a state of mind." ~~from Being There.