challenge of fighting obesity
challenge of fighting obesity
| | |
| --- | --- |
| | Mon, 02-01-2010 - 10:48am |
I thought this story did a good job of emphasizing just how hard it is to live a healthy lifestyle, especially after being raised on an unhealthy one with fast foods and high fat foods and no standards of daily exercise. And applies to *all* ages...
http://www.sfgate.com/cgi-bin/article.cgi?f=/n/a/2010/01/31/national/a210143S01.DTL
"Girl's odyssey shows challenge of fighting obesity
By LINDSEY TANNER, AP Medical Writer
Monday, February 1, 2010
(02-01) 01:40 PST CHICAGO, (AP) --
Paris Woods is hardly a poster child for the obesity epidemic. Lining up dripping wet with kids on her swim team, she's a blend of girlish chunkiness and womanly curves.
In street clothes — roomy pink sweats or skimpy tank tops revealing broad, brown swimmers' shoulders — the teen blends in with her friends, a fresh-faced, robust-looking All-American girl.
That's the problem.
Like nearly one-third of American teens, Paris Woods is overweight. Her doctor worries her weight will creep up into the obesity range. One out of four black girls her age is obese.
The more than 11 million U.S. teens who are overweight or obese face an increased risk for diseases once confined to adults, like diabetes, artery damage and liver trouble. Those problems along with high blood pressure and high cholesterol are showing up increasingly in kids.
Paris' pediatrician urged her to take part in an intensive experiment. The goal? To see if a yearlong program of weekly sessions with a nutritionist, exercise trainer and doctor, all preaching major lifestyle changes, could keep the 14-year-old from becoming obese.
It's the kind of intensive help that the influential U.S. Preventive Services Task Force said last month can work for teens.
Through successes, setbacks and even a bout with swine flu, Paris tried sticking with it. Skipped sessions stretched the program from 12 months into 20, but she didn't quit.
Did it work? Stay tuned — her experience is a reflection of many families' struggles with obesity."
(article continues...)
Blessings,
Gypsy
)O(
Strong like a mountain,
Flowing like a river."
~~Tai Chi Chih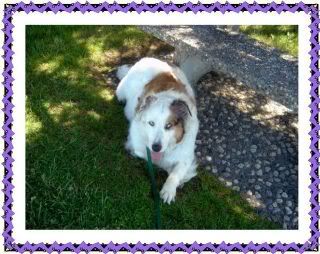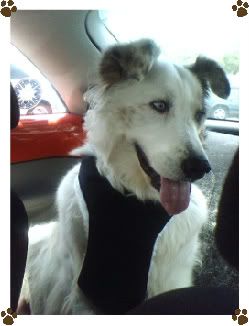 Mika Dog
"All things share the same breath;
the beast, the tree, the man.
The Air shares its spirit with
all the life it supports."
--Chief Seattle
"If there are no dogs in Heaven,
then when I die I want to go where they went."
~Will Rogers
"The greatness of a nation and its moral progress
can be judged by the way its animals are treated."
~~Mahatma Gandhi