Doctor says Boy is too skinny (9 mo)
Doctor says Boy is too skinny (9 mo)
I don't know if you remember me posting when Peter was a baby, but we eventually did make it almost all the way to exclusive nursing; but I'm not sure my supply was ever fully there.
Peter was fine at his 6 month checkup and had his nine month checkup today. They said he had fallen off the charts (off the curves for weight, was about 21% around 4 months).
I'm probably going to cram a lot in here but don't want to leave anything out...
His current weight at 9 months 10 days is 16.05. They weighed him when I came in and he was 16.03. They sent someone in to take another weight, and he'd been breastfeeding the whole time. 16.05 was the second weight--so obviously I'm producing something, and he's getting something. This was after not eating for about 4 hours. His height was in the 75th percentile--29 1/2 inches--so he's a long skinny guy. Honestly I'd kind of worried he was skinny but it makes me defensive when the doctor questions it... I can about count his ribs when he's naked but that's not what they commented on, just the placement on the graph. They want him back in a month for a weight check.
When his Daddy was little he was very skinny too, and there are tall people on both sides of our family--definitely a few tall skinny ones too. Daughter dropped on the curves her whole first year but they never noticed 'til I did and brought it up. She was breastfed 11 months, exclusively for 4. (Peter started solids at 4 months too; I wanted to go longer but it just wasn't working with him nursing all the time and a toddler sister).
At one point he was up to 3 big meals of solids but then for a while he hasn't seemed to need it. I feed him solids if either we are all eating and he can have some (it's been introduced), or if he seems hungry and my breasts don't seem very full. If I feel full I will generally nurse. Usually we only do one breast per feeding. It varies how many meals he gets, based on whether he is hungry.
Last week his cousins were visiting for a few days. One will be 3 in October; one will be two in October; my daughter is right in between them. He seemed to love the extra activity and didn't nurse as much; he did a little more self-feeding. We started the self-feeding only recently after finally figuring out how to get the high-chair tray to work, and I hadn't been spoonfeeding solids since then. Occasionally he will have 2 to 6 ounces of formula at night, especially if he wants to nurse all night long.
And he can nurse all night long. I think. He definitely usually wakes up around midnight, around 330, and around 530. Not sure if he stops when I'm not awake to put him back in bed and don't wake up to do it. But during the day, he has periods of happy playing where he doesn't want to eat. He will pull off and stop when he is done; he will not always take a bottle or solids. He does get full.
Sometimes oatmeal helps my breasts feel fuller.
I did give him Gerber tubs today at lunch time, while big sister napped. First tub peas (which he loves); second mixed veggies, which he doesn't love, but ate most of; third peaches, he wouldn't go for hardly at all; then I tried mixed fruit (banana/apple/pear) which he ate all of, and definitely wasn't as hungry by the end of. Then I nursed him, and he nodded off a few times, but not so much he'd stay asleep to go to bed. Took both sides. Eventually stopped to go get big sister up after around 2 hours of sleepy onandoff nursing. He wasn't too upset and is happy enough now that his playmate is up--though I think she might be feeding him cheerios... yup, she is. But he was mostly happy while I got her up and changed her, too, and wasn't eating then.
He has a posterior tongue tie, which was corrected around one month when he wasn't breastfeeding. He learned to breastfeed at 7 weeks and has loved it ever since. His tongue tie did grow back at some point. When I started solids it was because he was eating all the time--don't know if that was the tongue tie, my supply problems from when he was not eating, or a combination (I was not able to pump often enough to feed him exclusively breastmilk when he wasn't breastfeeding). I also have been diagnosed with PCOS. I've been on metformin in the past. We saw a lactation consultant a few times when he was having problems, and once more when I was having nipple pain, and she had recommended I try going back on it, but my doctor and Peter's doctor refused because I was breastfeeding. I don't trust my family practitioner group to know what's best for a breastfed baby; they said the growth charts they're using are "the only ones there are" and that solids at 4 months, 3 meals a day at 7 months was "right on target." But with all that's gone on I don't know if my mommy instincts are that much help either.
He has learned to crawl since his last doctor's visit, and is very active--crawls everywhere and pulls up on stools. His motor control is fine for his age (can self-feed cheerios); his vocalization is mostly just cooing or banging his head on my (or daddy's) chest or arm so it sounds like ba-ba-ba (or raspberries on skin).
His diapers have always been kinda borderline; my daughter's would be too. She always has access to water but just doesn't drink as much as some; I don't either, so I kinda think that's just a thing we have. Peter tends to have 4 or 5 wet diapers a day and poopy twice a day to every 3 days.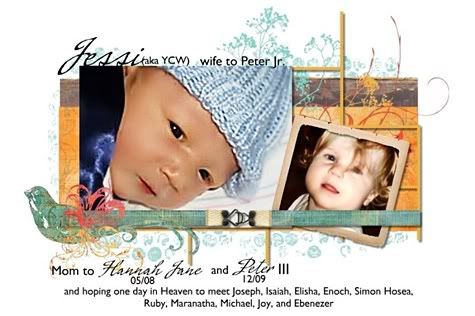 http://reconciledtogod.blogspot.com
/
signature by belle_petite