Our new bedroom suite is now legal
Our new bedroom suite is now legal
It passed inspection last Thursday and the carpet went in yesterday. We went shopping at Linens & Things (going out of business sale) and found bathroom accessories almost exactly the same colors as the walls (and the bed linens from which we picked the wall colors). The bed is shipping as of yesterday and DH went to Toledo this afternoon to pick up the television set for the room.
Hallway from the "old" part of the house ( the suite is half our old attic space) - bathroom straight ahead, bedroom to the right, linen closet, garage access and attic to the left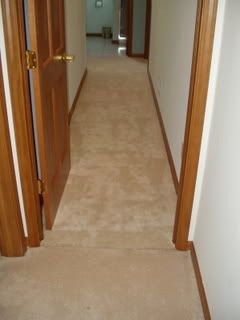 Bathroom - view to the left and view to the right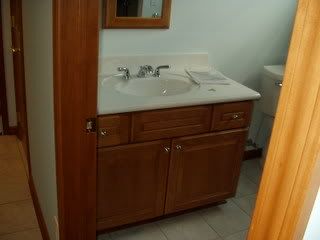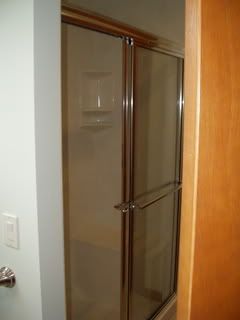 bedroom, from a new dormer window, looking toward the hallway. That carpet roll (leftovers) is in the second entry to the bathroom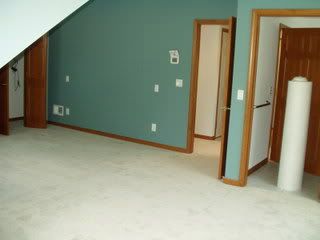 That color is really more blue than green --- one of those nasty-to-match colors!
Before the carpet, we had a cabinet built in on the dormer wall, under the skylights

Co-CL for "The Stitcher's Niche" and CL for "Remodel & Renovate"

Visit me at That Yank In... and Traveling with That Yank

Avatar made with Portrait Illustrator Maker

Stitchery WIPs: "Bath 5¢", "Walking to Town", a selection of 8 San Man snowman charts, 2 sets of curtain tie-backs using a DMC freebie chart and the DMC linen threads, a Kooler Design Studio chart form JanLynn called "Needlework Shop", "Tsunami Charity Sampler" from the fall 2007 Sampler & Needlework Quarterly, and "Autumn Leaves" from the December 2006 New Stitches