I've created a monster!
I've created a monster!
After making Taco the Amigurumi dog and bringing him and his buddy Chip to the office, all the ladies now want one! lol I'm thinking I'd rather teach them to make one and not make them all myself. I didn't get any made last night, guess I best get busy tonight! Only I have a Girl Scout party to attend, I don't know how much crocheting I'll be getting done. Tomorrow is the Archeology fair and so is Saturday morning. Sunday I have "nut" pickup for my Girl Scouts that sold nuts!
I think I need to crochet a nut for myself, I get myself into too much stuff and go nuts! lol
Jodi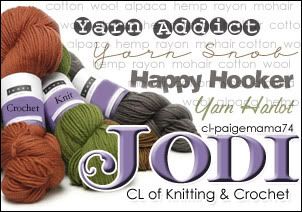 Thank you ecullworm for the awesome siggie!