The Friday Night Knitting Club
The Friday Night Knitting Club
by Kate Jacobs.
I believe I mentioned this novel before. It didn't get all the best reviews, but the ones who didn't have nice things to day seemed to not knit or crochet, so I don't thing they got the whole knitting club concept. ;-)
Has anyone else read the book? I really enjoyed reading it and I think it'll be one I'll read again which says a lot for the book, I'm not much of a re-reader when it comes to novels. To me the book was about the lives of these women in the knitting club and what they all went through, focused around the owner of the knitting store where they had their meetings.
If you have a chance to get the book, I highly recommend it! Ask your local library to get a copy for you...then ask them if you can start a knitting club at the library! ;-)
Jodi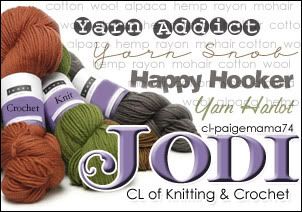 Thank you ecullworm for the awesome siggie!