My cousin's friend's brother's dad
My cousin's friend's brother's dad
| | |
| --- | --- |
| | Fri, 06-18-2010 - 11:45am |
You know how we often hear anectotes from people who know people who's friends acuaintence was afflicted because of his foreskin?  I see it brought up here, and see it over and over on PG's, and in conversation with friends.
Intactivists know this is silly, and one can always find a story to support anything.  For example, my grandma got toe cancer at age 70, and had to have her big toe amputated.  I don't want my kids to go through it so I'm going to amputate thier big toe when they are 24 hours old so they won't remember it. 
I just thought I'd report that the same is true for those who are circ'd.  I work in a hospital now, and have worked in a nursing home via clinicals in school.  So far, the only penile calamity I have seen has been due to a circumcision.  I've taken care of many intact patients - all who managed to survive into adulthood without their penis' turning black and falling off.  AMAZING!  Anyway, this week I took care of a lot of intact men, and the thought came to mind that I have never seen a foreskin cause a problem.  Not that I won't - because andy and all body parts can, and do get infected.  The answer, of course, is NOT to cut them off. 
BTW, my grandma really did get toe cancer, and did have her toe amputated :)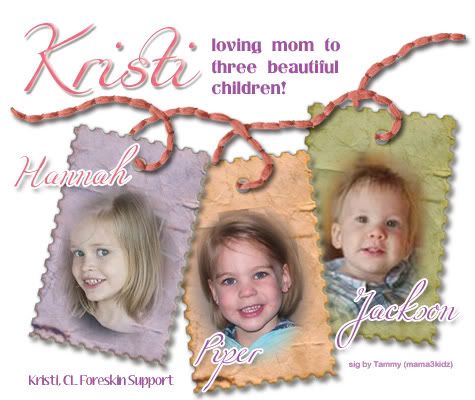 "Belief is not required.  Once you know this story, you'll hear it everywhere in your culture, and you'll be astonished that the people around you don't hear it as well but merely take it in."  Daniel Quinn, Ishmael.