The Birth of Annabelle (a doula's story)
The Birth of Annabelle (a doula's story)
The Birth of Annabelle Taylor
As a doula and a fourth time mom I am no stranger to labor or birth.  Though the birthing process is a familiar territory for me, it still has me in awe at how well it's designed.  When it comes to my birthing experience being drugged in a bed under managed care is not for me.  I wanted the experience to be instinctual, going back to the way my ancestors birthed.  I wanted was to be surrounded by those I loved and trusted, a goal best achieved by choosing a home birth assisted by midwives.  Once I made the decision to have a home birth I felt happy and comfortable, almost as if I had finally found an entire wardrobe tailored just for me.  Home birth fit me like a glove and I was so excited to finally feel that I my experience was going to be dictated by me and not by medical staff.
Right before labor began I cleaned and prepared a lot of frozen meals.  There was a great peace about what was about to unfold yet a sense of urgency to complete the tasks at hand before labor began.  As I cleaned the house from top to bottom on March 25th, I had to leave a few chores for my husband that were a bit physically challenging for me being so pregnant.  That evening I presented him with his tasks and went back to the bedroom to chat with him about the day while he helped me check off the last few things on my "to do" list.
Stephen was just putting the fitted sheets on our king bed when I felt a trickle of water come out of me.  We were in mid-conversation and I paused and said calmly "I think my water may have broken."   I wasn't totally sure since it wasn't the gush I had been used to, but I texted Jen, my midwife, to give her a heads up.  She suggested I get some sleep (as I knew she would) so after I showered and made my final preparations I laid down to sleep.  Just as I was dozing off I felt water pouring down my thighs and on the pad we had put underneath me.  Stephen was in the living room and I was unable to turn to grab the phone off the bed stand to call him in so I shouted for him to help me get out of bed and clean up.  It was exciting, but a very strange feeling.  My water had never broken before my labor started.  I knew that laying flat wasn't going to work well because it moved the baby's head up and caused more amniotic fluid to pour out.  In order to get the baby's head to have the "cork" effect I needed to sit up and sleep.  I tried a few positions but it was tough to get comfortable.  I finally dozed a little around midnight.  At around 2am I woke up with irregular contractions.  I timed a few and decided I was in early labor.  Sleeping wasn't working out but dozing off between them was helping me store energy.  They were intense and long, but not too hard so I moaned a little through the peaks and tried not to wake anyone in the house.  I looked at the birth necklace that my friends and family had made me.  I knew it would be ruined in the birth tub so I pinned it around the bun in my hair so it would stay with me the entire labor.  Around 4am I text messaged Jen that contractions had begun and she advised me to do my best to sleep.  The next couple of hours I had signs that my cervix was making changes and I felt relief to know that my body was making progress.  The sun rose and I shuffled out into the living room where my husband and son Noah were cuddled up on the couch.  The birth tub was set up and I was itching to get into the water already.  I texted Jen with an update and she suggested a wait a little longer before I got into the tub.  Stephen and Noah were awake now and Stephen, half asleep, mentioned going to work.  I told him that we were having a baby today and that he couldn't go to work.   I continued my low moans and rocking my hips until finally I told Stephen to fill the tub.  I wasn't going to wait any longer to jump into that delicious water.  At first it was a bit too hot but soon I settled into the water, which felt like a nice warm hug. 
My mom arrived as I was beginning to get into a good pattern of labor.  I was riding good, strong waves every 2-3 minutes.  My midwives were called to come and my older two children, who were with their aunt in a resort in Palm Springs, started on their way.  I became hot and my mom and husband fanned me and offered me a drink as I worked at bringing my baby down.  I felt calm and confident, something I have never really had before.  Usually by this point I am feeling panicky but instead I knew how to deal with each sensation and I felt very in tune with my body.  Before too long my midwife Jessica arrived.  I think the moment she walked through the door my body relaxed a lot more because things really picked up.  Jess jumped right in to walk me through the powerful waves.  I knew I was hitting transitional labor and my older two children had not yet arrived.  I felt that I could not give birth without them so I started asking for them.  Asking soon became crying for them, "Where are my kids?  I want my kids Jess."  Jess calmly reassured me they were on their way.  Jen showed up and saw that I was upset so she came behind me to calm me down.  My husband called to see where they were and they were very close so I worked at calming back down.  Finally they arrived with a grand loud entrance and I felt I could now have my baby.  My daughter Chloe came over and held my hand and stroked my arm and Austin looked on with uncontainable excitement.  Of course, the mind-body connection was very powerful for me and once I gave myself permission to give birth I felt stuck in the most intense part of labor.  I tried relaxing, repositioning, and really listening to my body but I knew something was holding things up.  I wanted to push, but I had no urge.  I asked Jen to check me because I was concerned that I wasn't as far along as I thought.  As she felt I said "If I'm anything less than an eight I don't want to know."  She reassured me I only had an anterior lip of cervix and that was all I had to overcome.  Looking back that lip was probably a result of holding back while waiting for everyone to arrive.  I began to get impatient, nauseated, hot, and angry.  I started moving all over the tub trying to move the baby into a good position.  The licensed midwife, Karen, arrived just in time to hear me yelling at my cervix "Get out of the way!"  I could see the confused look on sweet Karen's face and Jess leaned in to explain to her I was talking to my cervix.  I let out a few screams of frustration and a prayer.  I asked Jen to check me again and the lip was still there and although I wanted it out of the way I couldn't allow her to do it…the sensation was sending me through the roof.  She did manage to release a pocket of amniotic fluid, which seemed to help.  All I wanted to do was push and the urge was not intense enough.  I tried pushing through the lip and finally Jen said "Wendy, just reach up and feel where your baby is."  That idea changed my attitude from being at the mercy of my anterior lip of cervix to being a powerful woman in control of my birth.  I got on my knees and felt my baby's head all wrinkled up very low and ready to come.  I reached where the cervix was and pushed up against it.  The next thing I knew I felt that wonderful urge to push that I had been waiting for!  I pushed once and felt the head move clear down to crowning.  With the next push I felt the intense sensation of a head emerging, but I stayed very calm and said "Head's out."  Jen reached down and moved the cord from around the baby's neck.  Then I pushed once more and I felt a great release and knew my baby was out.  I reached down into the water and pulled up a warm little person right on my chest.  It was 11:31am on March 26th 2010.  Not forgetting my promise to my daughter to let her make the big announcement, I asked her to check and see if we had a boy or girl.  She peered over the tub and in an apathetic tone said "It's a boy."  Having caught a glimpse myself I asked her to check again.  She peered more closely and said "No, wait, it's a GIRL!"  Once my sweet big girl had her moment to shine I was able to let out my cries of joy.  "I have a GIRL!" I gushed, "I have ANOTHER girl!"  I sat in the tub taking her in and balanced right between laughing and crying.  Just as I predicted, she was a mellow little girl, and she didn't cry but took the entire scene in and was given APGARS of 10 and 10.  The older kids were thrilled to meet their new sister but Noah, the two year old, was nowhere to be found!  We finally located him riding in his car outside.  He refused to come in until dad went and got him and brought him in to meet his sister.  Noah simply adored her, smiling sweetly as he looked her over.  Stephen said "Say 'Hi Annabelle."' to Noah and it was then that she officially had her name.  The kids all gathered around and talked to her.  I never let go of her, not even when I was delivering my placenta.  She snuggled next to me and nursed as I was cared for by my wonderful midwife team.  I felt so complete…my last baby was here and now I was a mom of four gorgeous children.
Recovery from the birth was a bit tough, but my midwives were wonderful and stayed by my side the entire time calmly reassuring me that all was well.  It took some time but I finally made it to my bed and Annabelle was checked over and weighed.  She was healthy and wonderful and weighed in at 8lbs, 1oz and was 20 inches long. 
Looking back I couldn't be happier or feel more empowered that I gave birth in such an amazing way.  My daughter was born so gently in a familiar place with familiar and loving people surrounding her.  I can't imagine a better way to give birth.  I love telling people she was born at home, not for my own ego, but to open the door to talking about the experience and how amazing birth can be. 
Welcome to the world my precious baby Annabelle Taylor.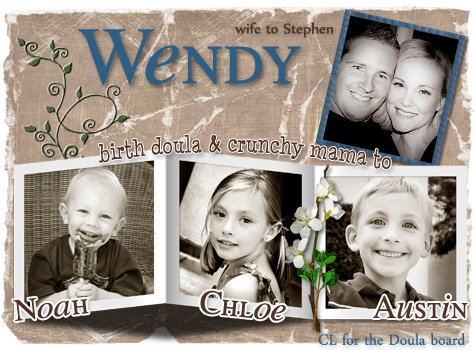 ...and to Annabelle, born March 26th, 2010 into her mother's arms in the comfort of her home in the water.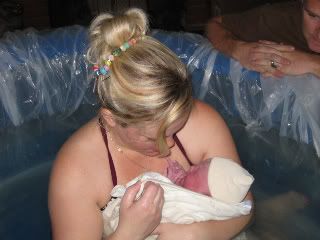 Pregnant??  You deserve a DOULA!  Follow me to the Doula Board!