My Memorial Day Babe
My Memorial Day Babe
Excuse the TMI and the length.  I don't hold back.
So, even though I was really frustrated with my 12 hour trist with labor last Wednesday, May 26th, I had really come to peace with being pregnant still.  Obviously, I needed to be, or I would have been able to labor past a 7-8 that night.  I was still concerned with the "legal clock," as we didn't want to have to deal with it, if we could avoid it, but we had a plan in place for that, as well, if it came to it.  Plus, I was still holding out for my 8 pounder.  ;)
Well, the weekend was fairly uneventful.  Saturday and Sunday, I had called Ross and asked him to come home early by about 30 minutes because of being increasingly uncomfortable, but really, when I was walking around with the baby so low and sitting on a bowling ball, like I had been for almost 2 weeks, it doesn't get much more uncomfortable than that.  LOL.
Monday morning, I woke up while Ross was getting ready for work, and I asked him to get me a glass of water.  He kissed me goodbye, and I told him I was feeling fine before he left.  This was around 7.  A few minutes later, I felt some stabbing stomach cramps, like I was going to be constipated all day.  I got up tried to go to the bathroom, drank some water, and laid back down.  I think Ian may have nursed, but I don't remember.  Around 7:30, I decided that I needed to get up and try to go to the bathroom again because I could not be doing that all day, by myself with the kids, who were luckily still sleeping.  It was SO painful, but not clear contractions, at all.  I got up in the middle, grabbed my phone, sat back down, and called Ross.  I told him that I wasn't sure if I was in labor, but I needed him to come home because I was in so much pain.  This was about 7:45.
After that, I decided to get into the bath to try to relax so that I could maybe go to the bathroom.  Ross got home, and he asked me if I had called Billye, my midwife.  I told him I didn't want to waste her time just because I couldn't poop.  Well, by 8:15, I was having definite, clear, hard contractions.  I knew I was nearing transition.  I told Ross that he needed to call Billye and tell her that I was coming up on transition hard and fast.  He came back.  I was on my hands and knees in the bath, and Ross was pouring water over my back.  We had my ipod going, and we were getting in the groove.  Really laboring well, not really making a sound.
At one point, we decided to move to the guest bathroom, if I wanted to still stay in the bath, because it's bigger, and there would be room for Billye to check me.  I ended up leaning back, sitting reclined, with the water flowing down my back as the bath filled, with Ross pouring water over my stomach.  A little bit after that, I told Ross that I really didn't think I would make it and that I needed something just to take the edge off, truely in transition.  He told me that I didn't need it, and Billye didn't have it to give to me, anyways.  He really was amazing.  He somehow also managed to get the kids fed, dressed, and settled, while attending to my constant need for the water to be poured over me, as it was what was keeping me focused.  The water really did nothing for pain relief for me, it was so intense, but the motion and sound kept me pretty much zoned out, keeping all the pain in my head, to myself, if that makes sense.  I didn't really make a sound, and I didn't talk unless I absolutely had to do so.
Billye showed up around 9:40, and I started begging her to check me and break my water, as I, again, felt like this was holding back my progress.  She couldn't really reach it, any way.  I went back to my zone and stayed there as best as I could.  On occassion, she would check his heart rate, which pulled me out, and at one point, I asked her to check me again and break my water.  It was the same story as before, though.  She had taken over the water pouring for Ross, and at some point, the other midwife and their apprentice had shown up.  Billye's daughter was hanging out with the kids.  Ross, at some point, had put his leg in the water for me to lean against, and he had give me his hands to grip.  Still the only things keeping me focused and sane were Ross and the water being poured over my stomach.  I wanted so badly to tell Ross how amazing I thought he was for helping me, but I really was afraid to talk outside of my zone.
I asked Billye to check me again, and again, to break my water, as I had starting having pushing contractions every other one.  This time, I only had a lip of cervix, but I must have a bag of steel because she was not to get it to rupture.  At this point, she asked me to get up and move around some, hoping that it would put enough pressure on that lip to move things down and out.  I had no intention of delivering in the tub.  So, I agreed to get up, and I did.  I didn't make it out of the tub, though.  I had one contraction standing, and I, immediately, got down on my hands and knees facing the wall of the tub, pushing.  This was when I really started making any noise, as I was working!  It took me a contraction to realize that I was for sure pushing him out.  I had to reach down and feel the bulge of his head and my water.  I let them know that he was coming out, and I felt imediate relief when his head came out.  It was amazing to just push with my body, as I felt my body telling me, instead of being instructed.  I pushed for maybe 3-4 contractions, and he was born at 11:06 am.  Ross caught him and pulled him up out of the water, but since he was behind me, it took a few minutes for me to get situated around the cord, which we didn't cut until after I delivered the placenta.  Then they handed me my sweet boy, Colin Tobiah! 
He's my biggest babe, by far!  Aidan was 7 lb, 1 oz.  Ian was 6 lb, 15 oz.  Toby was 7 lb, 12 oz!  Almost 8 pounds.  :)  He's doing wonderfully, scored 9 and 9 on APGARS, and he is so mellow compared to his siblings.  Nursing is going pretty well, and my milk started coming in yesterday.
Here are some pics..
10 minutes after birth: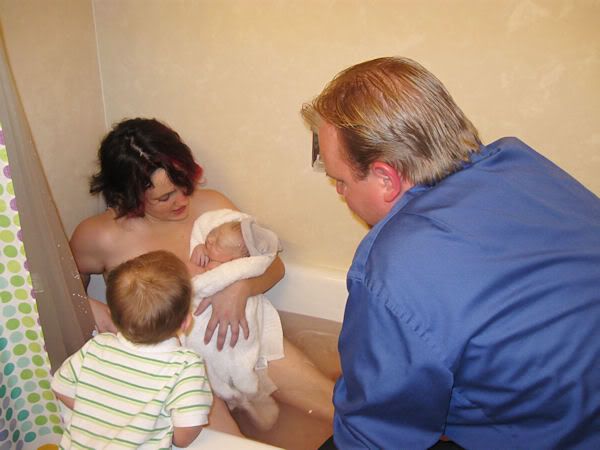 First nursing, about 15 minutes after birth: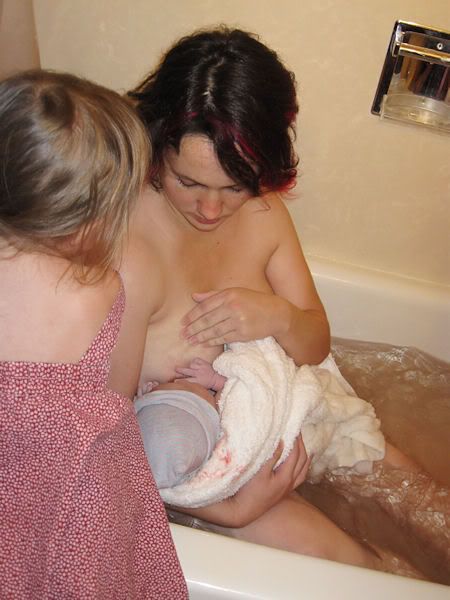 And pictures from yesterday: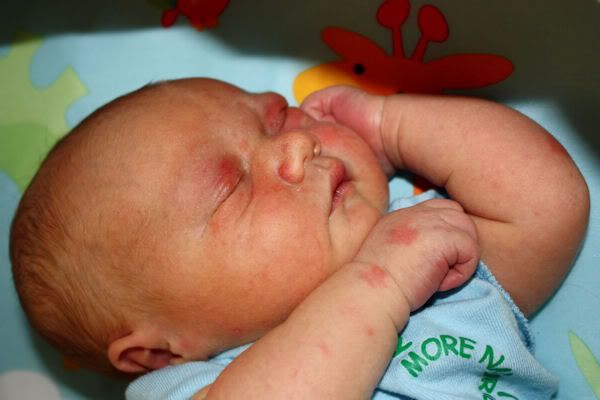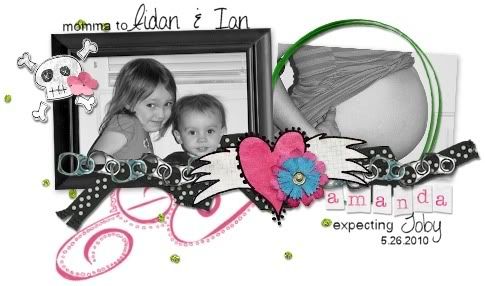 CL for Reflux  
"That's the promise of America - the idea that we are responsible for ourselves, but that we also rise or fall as one nation; the fundamental belief that I am my brother's keeper; I am my sister's keeper.  That's the promise we need to keep. That's the change we need right now."