What is my body doing to me?!?
What is my body doing to me?!?
Ok I am on CD 19.  I have had my usual ovarian cramps, but today... I have AF cramps and W! TMI.  bright red heavy spotting (or light AF Which is as heavy as AF gets for me).    Is this just a ruptured cyst?  Or did AF decide to come really early- even for me early?  My Temperature did drop yesterday back to my pre O temp.   I haven't had a cycle this short since my thyroid was out of wack.  I just had that checked 2 weeks ago so that shouldn't be it.  Why is it we do everything we can right and the body still has its own mind on what it wants to do?  Thanks I feel better now- sort of.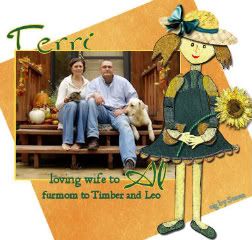 "Keep your face to the sunshine and you cannot see the shadows" - Helen Keller
DH and I are 33yo.  Been together since March 1994, Married in September 1999.  TTC since February 2002. 
DX:
  Graves Disease->hypothyroidism and functional ovarian cysts or unexplained ovarian dystfunction. 
DH DX:
  can seed an army.
Currently:
  Femara for cd 3-7, follicle study 10/29, HCG trigger likely 10/29,  IUI likely 10/31- yup Halloween- will it be a trick or a treat?  It was a big trick.  My follies hemorrhaged and are now considered cysts.  The cycle trigger and IUI are cancelled and I will be on forced break again (BCP) next cycle.