White balance tut...
White balance tut...
and challange.  We will hopefully be getting a challange folder, but this is still a tut, so I didn't wait to post it! 
Disclaimer…Before I go on to what I have learned about WB…I want to say that I am a beginner and this is just my interpretation of what I have learned from reading and researching.  Most of what I learned has come from thepioneerwoman.com & 2peasinabucket.com photography section.  PW and Miz. Booshay are my photography hero's.  And their explanations are so easy to follow and I hope that I am able to help others as they have helped me.  Please don't shoot me if you disagree with my description!  Lol!  All my explanations will be as simple and easy to understand as I can make them!
WB is basically the color cast or temperature that your picture will have.  All DLSR's have several WB presets and the ability to make your own CWB (custom white balance).  I'm not entirely sure about P&S's, but I am pretty sure you have the ability to change your WB.  You should at least have preset WB options and possibly the ability to set your own CWB.
I'll go over the presets of my Canon XSi and then how I set my CWB and when you should use what.
On the back of my camera next to my LCD screen I have a WB button.  If I press this button it shows me all of my WB presets that I can use.  For me personally, I use AWB (auto white balance) for most of my shooting.  Really the only time I use a different WB is when I am shooting indoors with artificial lighting.  With almost all outdoor shooting I use AWB.  I did my own little test when shooting outdoors and using the different presets I have and AWB did the best.  When we were in direct sunlight I changed my WB preset to Daylight and it was too warm and yellow for my taste and made the subjects blue eyes appear more green.  So I switched it to AWB and it was more true to my subjects tone.  Then we were in the shade so I set my WB to Shade and she was too blue and cold for my taste and made her eyes way too blue.  So I switched it back to AWB and it was true to her tone.  But shooting indoors is a whole different ball park! When shooting indoors with my AWB, there is a severe yellow color cast on my pictures!  Which can be fixed somewhat in PP (post processing) but it will effect the final results.  Of course, for best PP results, you want your SOOC shots to be the best they can be!
So here are my presets…
AWB ~ Auto White Balance
Daylight ~ for well…daylight!  Lol!
Shade ~ for well…shade!  :O)
Cloudy ~ for well…Cloudy days! 
Tungsten Light ~ for household light bulbs!
White Fluorescent Light ~ Overhead office type lighting!
Flash ~ when using your flash!
Custom ~ CWB when none of the presets work.  You can set your own!
In my experience, when shooting indoors, I find that setting my own CWB works the best.  And eventhough it's REALLY easy to set your own CWB, sometimes time doesn't permit this.  So I will usually use the Tungsten Light which works the best out of my presets.
So for me to change my WB from AWB to one of the presets, I simply push the little WB button on the back of my camera and select a preset and hit the little set button on the back of my camera!  But if none of them work and I want to set my CWB I will take a piece of white paper.  Go into the room that I will be shooting in and take a picture of the white paper.  I know…sounds weird!  Lol!  You need to make sure that the white paper fills the frame.  You don't want anything but white paper in your shot.  If my lens will not focus that close then I switch my lens to MF (manual focus) and take the shot. Focus is not an issue here.  Then on the back of my camera I hit menu.  In my 2nd tab I have an option that says "Custom WB".  I hit set and it now brings me to the pictures that are on my memory card.  I go through the pictures until I see the picture of the paper and hit set.  That's it!  Now my CWB is set.  You will need to do this in each room you shoot in.  Sometimes if the lighting is very similar, you can use the CWB you already have set.  But if the lighting is slightly different (could be depending on light bulbs you have or time of day) then you'll need to do it in each room.  I prefer the CWB indoors, but like I said, there are times that I just need to quickly change it, so I'll use the Tungsten Light that is the next best thing to CWB. 
So here is your challenge for WB.  Go to a room in your house and take something that is white, or if you have a person that will sit still and be patient (GOOD LUCK LOL) then use a person!  I used my beloved white Jack coffee cup.  Set in somewhat near a lamp with the lamp turned on.  Now take a picture in each WB preset and if you're able to, set your CWB and take a picture with that too!  Now you can start to get an idea of how important your WB is and what works best with your camera indoors.  Then for fun, you can try all the presets outside to.  But for this challenge, just post your SOOC shots from indoors!
Here are mine…
Here is my AWB...at first glance it doesn't look too bad.  Keep in mind that I'm not shooting a person.  We natually have yellow in our skin, so when shooting people, the yellow color cast will be stronger.  But knowing what my cup, walls, counter etc look like IRL, I know that there is way too much yellow in this pic!  So I aviod AWB indoors 100% of the time!
This is Daylight WB.  YUCK!  Try this one outside in the daylight too!  You might like the golden color you get, or it may be too golden for you!  It's all a matter of preference.  I personally never use this preset.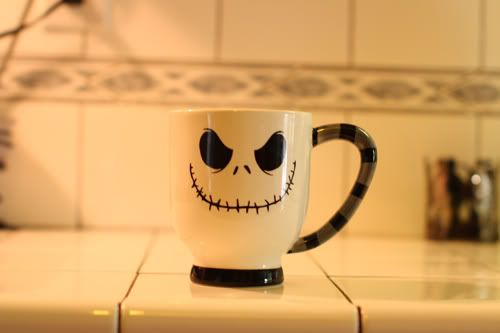 This is Shade WB...obviously this is horrible.  Try it outside in the shade and see if you like it.  Again for me, outside in the shade, the pics were too cold/blue for me.  With all of the WB's it also depends on the skin/hair color of the subject and what they are wearing.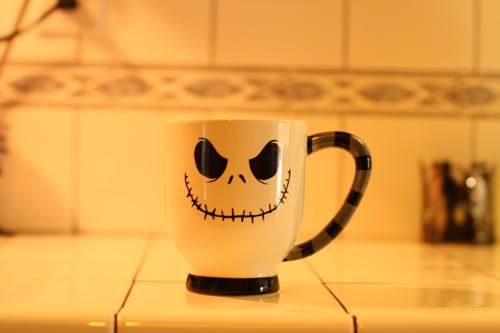 This is Cloudy WB.  ICK! I've yet to try this WB outside on cloudy days because I live in Southern California and we haven't had any cloudy days in too many months!  Lol!  But I assume for me, that this will be too blue out doors like the shade WB.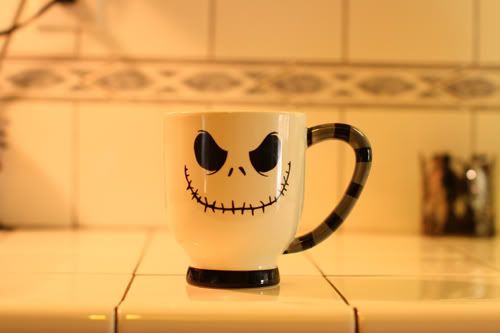 This is Tungsten Light...this is very nice!  In a time crunch, I use this default for indoor shooting.  There is still a tiny yellow color cast, but nothing I cannot get rid of in PS.
This is White Fluorescent Light.  This gives a purple color cast that is very unpleasant.  I have yet to try this WB under fluroescent lighting because I am never in this type of lighting.  But if you work where there are fluorescent lighting, I suggest trying this WB.
This is Flash WB.  Now keep in mind that I am BLONDE and when I took this pic, I didn't use my flash!  Haha!  So the result MAY come out better if the flash is used.  So make sure that when you're trying this WB, use your flash!  Hahaha!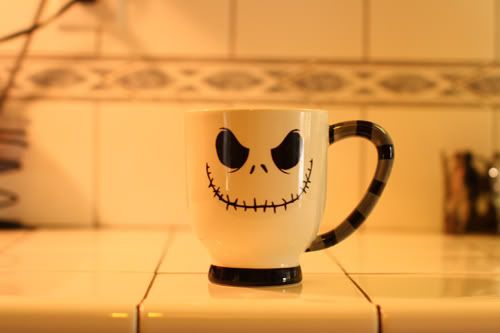 Now here we have CWB...my FAVORITE!  This picture is spot on.  No yellow color cast.  It is exactly what it looks like in my kitchen.  All I did was take a picture of one of the tiles and went to my menu and chose the white tile picture to set my CWB.
So as I said, play with all of your WB presets indoors and try to set your CWB and post your results here.  I do highly suggest to try all of the presets outside as well!  HAVE FUN!  :O)
And to add since I first posted this on SMFB, I now shoot in RAW 100% of the time and it's a lifesaver.  I always shoot in AWB now because I know I can edit my WB in ACR (Adobe Camera RAW) with any of the presets or do my CWB in there.  So if you shoot in RAW you don't need to worry about your WB in camera!