Just started college, again
Just started college, again
I just enrolled in our local community college, taking a Photography class.
I was the oldest one in the class, but I wasn't deterred. They looked just as confused as I did....LOL
I plan on taking more classes in the spring, just wanted to get my feet wet with something I enjoy, which is taking pictures.
Have any of you gone back to school in your 40's ??
Well Being (=) Equals a well heart, mind and soul.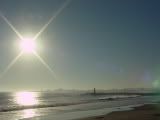 Capitola Beach