Good Moring Ladies!
Good Moring Ladies!
Did you have a nice weekend?? I had a pretty good one. Didn't go to the gym yesterday, so I'm rarin' to go today.
Started going to a new church. So far so good.
Worked around the house, and got some homework done.
How about you??
Well Being (=) Equals a well heart, mind and soul.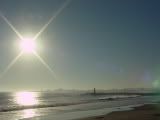 Capitola Beach