UK: Crowds gather to honour soldiers
UK: Crowds gather to honour soldiers
Repatriation of eight soldiers thou Wootton Bassett
http://www.youtube.com/watch?v=Mt5kjddDhBE
Everytime the war dead pass though Wootton Bassett hundreds gather silently to honour them.
See video at link......
http://news.bbc.co.uk/2/hi/uk_news/8206467.stm
Hundreds gathered to honour three soldiers killed by roadside bombs in Afghanistan as their hearses passed through the town of Wootton Bassett.
The bodies of Lance Bombardier Matthew Hatton, 23, Rifleman Daniel Wild, 19, and Capt Mark Hale, 42, were returned to nearby RAF Lyneham.
They were killed in blasts in Helmand province on Thursday.
Meanwhile, a soldier's widow said it was an "absolute honour" to receive the new Elizabeth Cross.
The newly-created medal was presented to Karen Upton before the funeral of her husband, Warrant Officer Sean Upton, 35, at Catterick Garrison in North Yorkshire.
It is an absolute honour to receive the very first Elizabeth Cross in Her Majesty's name and comforting to feel the support of Queen and country
WO Upton, from the 5th Regiment Royal Artillery, died in an explosion while on foot patrol in the Sangin district of Helmand province last month.
Mrs Upton, 32, said she would wear the Elizabeth Cross "with pride and treasure it always".
"It is an absolute honour to receive the very first Elizabeth Cross in Her Majesty's name and comforting to feel the support of Queen and country," she said.
"Sean and I grew up together, were childhood sweethearts and soul mates. He was a loving husband and devoted father.
"Sean was an outstanding soldier, loved his job and was part of the Army family."
The Elizabeth Cross is awarded to the next of kin of armed forces personnel killed on active service, in national recognition of their loss.
Two explosions
The funeral cortege of the three soldiers who were repatriated passed through the Wiltshire town of Wootton Bassett on Tuesday afternoon.
The three men were on foot patrol when they were killed
A private service at RAF Lyneham took place beforehand.
Lance Bombardier Hatton, from North Yorkshire, of 40 Regiment Royal Artillery, was hit by a makeshift bomb in Helmand on Thursday.
Rifleman Wild, from County Durham, and Capt Hale, from Bournemouth, both serving with the 2nd Battalion The Rifles, were carrying their wounded comrade when the three men were hit by the second explosion.
Capt Hale died later from his injuries, while Lance Bombardier Hatton, from Haxby, and Rifleman Wild, from Easington, died at the scene.
The three men were on foot patrol providing security for a meeting ahead of the country's presidential elections when they were killed.
Soon after their deaths, the number of British military fatalities in Afghanistan surpassed 200. It now stands at 204.
'Fearless soldier'
Lt Col Rupert Jones, commanding officer of 4 Rifles, described Capt Hale as "a legend".
Lt Col Rob Thomson, of the Rifles Battlegroup, said Rifleman Wild was a "fearless" soldier who was adored by his men.
Lance Bombardier Hatton's parents Jill and Philip said in a statement: "He was very brave and a credit to both us and the Army. We are really proud of him."
The MoD has named three soldiers killed on Sunday
On Monday, Defence Secretary Bob Ainsworth insisted that the UK campaign in Afghanistan remained "winnable", as MoD figures revealed the number of British military injuries in the country had more than doubled in a month.
A total of 94 UK soldiers were injured in action in Helmand in July, compared with 46 in June.
A further three soldiers killed in a blast in Afghanistan were named by the Ministry of Defence.
Fusilier Simon Annis, from Salford, Fusilier Louis Carter, from Nuneaton, Warwickshire, and Lance Corporal James Fullarton, from Coventry, were all members of the 2nd Battalion of the Royal Regiment of Fusiliers and died in an explosion near Sangin on Sunday.
Wootton Bassett pauses again to honour four more fallen soldiers
Bereaved relatives, elderly war veterans and service personnel turn out to see funeral procession through high street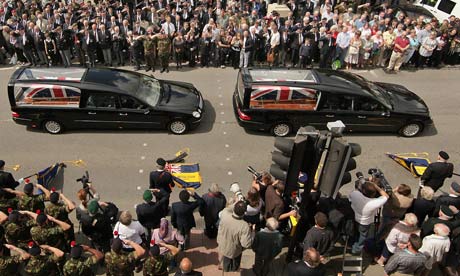 Mourners line the streets of Wootton Bassett to pay their respects to four British soldiers killed in Afghanistan. Photograph: Peter Macdiarmid/Getty Images
One former soldier had driven from Blackpool to Wiltshire to pay his respects. A husband and wife from Scotland were taking time out of their holiday to stand on Wootton Bassett high street and bear witness to the latest repatriations.
More.... http://www.guardian.co.uk/uk/2009/jul/28/wootton-bassett-soldiers-funeral