UK Election
UK Election
| | |
| --- | --- |
| | Fri, 04-23-2010 - 10:14am |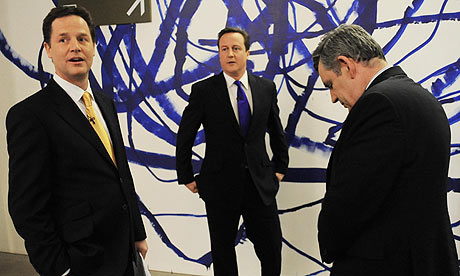 Above L to R: NIck Clegg, David Cameron and Gordon Brown. 
Guess which media empire Sky belongs? Our old 'friends' the Murdochs.
Media attacks on Nick Clegg put pressure on Conservatives
Liberal Democrat leader's election co-ordinator says it appears Tory high command had orchestrated campaign of negative stories about Nick Clegg in runup to TV debate.
Complete article at link......
http://www.guardian.co.uk/politics/2010/apr/23/nick-clegg-media-attacks
Pressure was today mounting on David Cameron over claims his aides had encouraged the rightwing media to publish smear stories against the Liberal Democrat leader, Nick Clegg, this week, as the election contest remained wide open in the aftermath of the second leaders' TV debate.
Clegg's election co-ordinator, Danny Alexander, said it appeared the Tory high command had orchestrated a campaign of negative stories in the runup to last night's debate in an attempt to neutralise his surge in the polls.
The accusation came as polls revealed that neither Clegg nor Cameron could claim a clear win from last night's debate.
Provisional viewing figures showed four million people watched the debate across the three channels that carried it live: Sky News, Sky Three and the BBC News channel. A further 300,000 watched a repeat on BBC2.
Sky came under fire for stoking the anti-Clegg campaign, with more than 100 people complaining to the TV regulator, Ofcom, about the conduct of the debate moderator, Adam Boulton.
**************************
Sky leaders' debate spin room: the live abortion of democracy
People appeared to to feel personally validated to be there, and firmly under the illusion that the public would kill to get a look in
http://www.guardian.co.uk/commentisfree/2010/apr/22/sky-leaders-debate-spin-room-abortion-democracy