Paris Day 4
Paris Day 4
| | |
| --- | --- |
| | Sat, 08-10-2013 - 11:35pm |
Day 4, Monday
We awoke to thunder, lightning and heavy rain.  I figured it could not last forever, so started getting ready maybe around 9:30.   The rain stopped so I grabbed an umbrella and the rain jacket I had bought from LL bean for this trip and went off to get coffee and food. First, I went up the hill,and got a Large starbucks coffee.  Then I decided to go down. I went to the boulangerie where we had bought croissants 2 days prior.  It had won best baguette in Paris a few years ago.  They had delicious looking sandwiches. So i bought one chicken and one ham and cheese for the 4 of us to share. I also bought a little flat bread/focaccia thing with mozarella and tomato.  And of course I bought a baguette!  I asked them what time they opened on tuesday and they said they do not open on tuesday! I said what about wednesday--they said they were closed too !  WWWWAAAAAAA.  As I was leaving it started POURING.   Ugh. Well, i continued on to the apartment. My legs were soaked when I arrived, but I was ok.
We devoured the sandwiches, we got ready
slowly

and the rain stopped.  So we headed out.  First stop was the Pantheon!!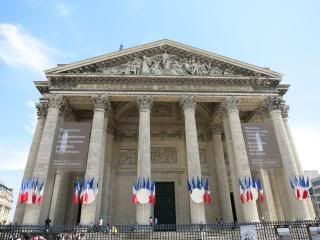 Our museum pass let us right in.  First stop--the bathrooms of course. They were ok. Not great. Then we wandered around. It was pretty.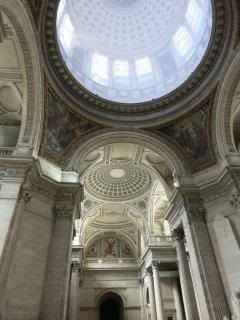 Many famous french men (and women!) are buried there (some only recently moved there). We found Victor Hugo. We never found Marie Curie (who was only moved there in the 1990s).  After a look around the gift shop, we were off!  We walked a few blocks to Jardins Luxembourg.  These were lovely gardens--which house the Palace luxembourg.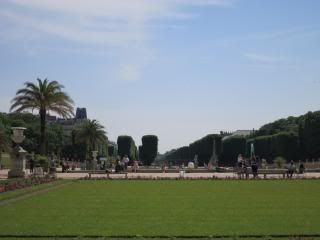 The smaller palace housed a museum which I thought was included in the museum pass.  We finally found the entrance but the line was long ( think because of a special exhibit)! No thanks!
We continued on our walk. My plan was to go to the smaller Galerie Lafayette that was in the neighborhood (rather than the bigger one farther away).  We walked and found a little bakery where we got snacks including a quiche. We bought very yummy and cheap Cafe Creme.
It felt so hot as we walked.  I said " too bad there isnt an Amorino gelato here!" And half a block later, we saw one!!  Yay!! This one was small so it didnt have ALL the flavors, but we all got stuff we liked and enjoyed it (side note-i googled and found there is on in the states--here in NYC!! So we went last weekend! It was as good).  We reached Galerie Lafayette.  We found the color Longchamps bag my mom wanted but couldn't find what I wanted.   We decided to use the bathroom, which we had to pay 50 cents for (and it wasnt that great!).
We looked around a bit and  found the men's section. My dad had wanted a tie that was "parisian"..  We looked around and then we finally asked an employee if he could point us to some good french ties as we wanted to buy something we could not get in the states.  He pointed us to a few things including american brands! Uh, no.  We continued looking and found a parisian brand that we hadnt heard of in the states and picked a nice tie. By then C had found the men's berets and she had been telling me for a couple years that she really wanted a beret from france. But these were the men's  ones.  So she was crying while I was paying for the tie.  We decided we were tired and it was time to go home...

We took the metro back home.  We picked up somethings from the grocery store and then decided to pick up dinner. I had noticed a rotisserie chicken place nearby so we stopped there and got a roast chicken, and 3 side dishes.  Then we stopped at a store and picked up a cheese that seemed to be less stinky than the last one!

We had our dinner, along with the baguette from earlier, and our wine... It was nice to have a relaxing dinner at home. Even though I didnt cook during the trip like I thought I would, it was still cheaper and more relaxing to have some meals at home...

We got ready for bed and DD and Dsis went to sleep.  Dh and I read a bit about versailles--and listened to a podcast that we had downloaded by Rick Steves.  We finally went to sleep. We had an early morning ahead of us.

Up next: Day 5,Versailles