Paris Day 5
Paris Day 5
| | |
| --- | --- |
| | Mon, 10-14-2013 - 11:59am |

Day 5, Tuesday June 18

We had to get up early since we had a long trip ahead of us. We got ready,I threw some dresses into the washer and hung them to dry,  and headed to the metro, picking up croissants on the way.  We had to switch metros and then transfer to the correct commuter rail.  We initially couldnt get a seat but after a couple stops, a few seats opened up.  We had an uneventful journey.  We got off the train and we followed the crowds to Versailles...We snapped some pics and got in the long line for ticket holders.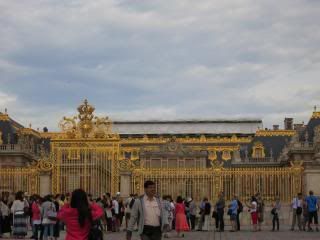 There wasnt a separate line for museum pass.  We saw the line grow behind us.  We snapped some more pics of the golden gates.  Finally, the line started moving!  As we got closer we heard a man behind us was getting angry at someone who was trying to cut the line. He kept saying to her " The end of the line is back there" .  She said "Oh my sister is in there". They argued for a bit, finally the man gave up.  The line kept moving, and we were finally inside! 


We took some pics in the courtyard and ---- you have got to be kidding--my low battery sign on my camera popped up!! I had recharged it 2 days prior. I was upset and angry (at what? the camera?!). But there was nothing I could do.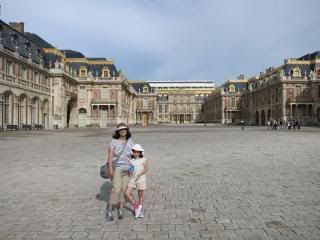 So we ventured in. We only picked up 2 audio tours (mistake as C decided to take one).  We made a quick bathroom stop and then started looking around.   I really needed some caffeine at that point.  We saw an info desk and went to ask where the cafe was.  The lady told us we had missed the one at the beginning and we cant turn back and so we will have to wait until we got to the other side of the palace.  We hadn't known that you cant turn back! How weird.  Anyways, I guess its good for crowd control.   Anyways, we continued on.  In one of the rooms, we saw the woman who had cut the line and she asked DH to take a pic of her! I muttered under my breath "where is your sister?".  We continued on.  DD did not let us have the audioguide! ugh.  We saw some beautiful rooms and we were RUN OVER by groups of asian tourists.  We took peeks at the gardens which we could see through the windows.  Finally we reached the hall of mirrors. It was beautiful but I think I was expecting more. 
Nevertheless, I had been saving my camera battery for THIS so I snapped a bunch of pictures... When we were done, we continued on.. to the cafe!! So the cafe at the end of the palace was Angelina, which is famous for their hot chocolate.  (there is one near the louvre).  So C got their famous hot chocolate (it was ok), DH and I got iced coffee and my sister I think got a cafe creme.  We shared a fruit bowl.  Everything was very expensive.  But it was a nice break. 

After a bathroom break, I saw the to go counter had nice looking baguette sandwiches.  I asked the man at the counter if we could take the sandwiches to eat in the gardens, in french.  He replied that unfortunately food is not allowed back in the palace (we still had a few rooms), but I could put the sandwiches in my purse and eat them in the gardens later.  So we bought 2 to share.  We finished the palace and headed to the gardens!

Normally the gardens are free, but when they have the "musical fountains" there is a charge (including for kids!).  So we paid and entered.

The gardens were huge. The fountains were on and there was just some music in the background.  I kind of expected more for the money we paid!! We enjoyed the gardens and walked around.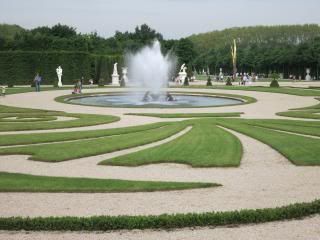 C was mainly looking at the ants on the ground.  We finally saw the bathrooms--as well as a huge group of school kids near by.  We hurried to the bathroom and got in line.  The huge group of kids lined up behind us! The bathroom was ok... Not great. Glad I had those disposable potty toppers!  After, we continued on our walk around the gardens.  We found a bunch of fountains....And then my sister twisted her hurt ankle. Not too bad but still.  (the worst was still to come).  Then we decided it was time to eat the sandwiches we had smuggled from Angelina.   We found a table in the sitting area near their tiny cafe and had our sandwiches. C continued looking for bugs.   It was getting hot so we decided to start making our way out.  We walked to the train station.  I bought some little eiffel tower key chains on the way.  We couldnt buy our ticket from the machine so had to wait in the line for the ticket counter but it was fast.... We took the train in and then transferred to the metro that would take us to... Laduree!! 

Even though we didnt have reservations we asked to be seated upstairs (the fancy area) and were immediately taken to a table.  First things first.  Potty break! Poor C had been waiting for a while. 
Then we ordered.  I got a different type of champagne than the last time.  A special one they had--it was sooo good.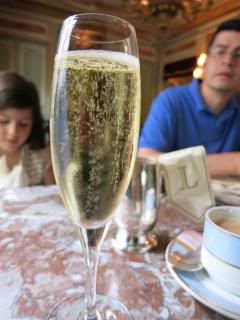 C had ice cream, my sister and I each got a different pastry and DH got a pastry as well.  Everything was just so delicious and worth every calorie!  We decided to pick up croissants for the next days breakfast.  As we waited in line I checked out the prices of the champagne bottles.  The rose one I had the first time was decently priced but the one from today was a bit pricey!  So i bought a bottle of the rose, we got a few croissants and then we saw these adorable pastries---one was decorated to look like a strawberry and the other was a pistachio religiuese. 

We headed to the metro with all our goodies.... We made it back to the apartment and realized we had no plans for dinner!! I had wanted to eat in the area.  Most of the restaurants however were pretty touristy. So we read some online reviews.  Finally DH found something that had good reviews for food but was said to be not as great atmopshere.  Welll the food sounded good so we made reservations.  DH decided to do laundry before we left for dinner.  The machine was a washer dryer combo but the options for dry time were like 45 min or 3 hours! Somehow he decided to choose 3 hours (i think my undies are tight now!).

We had a nice walk to the restaurant.  we saw a nice looking bakery on the way there... The restaurant was small... The menus were old looking and the sweet waitress was busy since she was serving by herself,  and she did not speak english that well. It was  perfect! The food was great.  A little homey... Price was sooo good.   It was a very Loooong dinner though... Afterwards we walked about to Sacre Couer and had our last look at the Eiffel tower.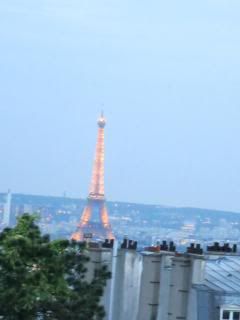 We headed back to the apartment, charged whatever needed to be charged,  finished packing and had our pastries...  

Then it was time to sleep--we had a big day ahead of us!!

Up next: Day 6---Disneyland Paris!!