Paris Day 6-Disneyland Paris!!
Paris Day 6-Disneyland Paris!!
| | |
| --- | --- |
| | Sun, 01-12-2014 - 11:15pm |
Day 6, June 19.  Disneyland Paris!!

Today was the day to leave the city and go to disneyland!! yay!!
We got up and got ready. I headed out to the bakery I had seen the night before and got a baguette.  I wanted  to pick up cafe cremes but they told me that only had plain coffee so I got two--which is basically two shots of espresso!

Back at the apartment I made 3 coffees out of the espresso by using a lot of milk. We had baguette and croissants. YUM!!  We threw out everything from the fridge and took the garbage downstairs. We had half a case of bottled waters left so I distributed them between our luggage. Once we had finished packing, we figured out how to get everything downstairs...DH and C then waited just inside the building while Dsis and I walked to the office to return the keys...I saw a van across from the building but since it was still before our pick up time (I had booked a car service), I figured it was not our driver.   While my sister and I were climbing the stairs in the office building to return the key, my cell rang but I missed the call.  we returned the keys and headed back to the apartment building. My phone rang again--it was our ride. Turns out it was the van I had seen earlier.. Our driver was friendly, we packed up the van and were on our way!!

It was about 1 hour to Disneyland. I was sooo excited!!  Our car service was great. We used EZSHUTTLE.  (also to go back to the airport--highly recommend them!).  Finally, we were at Disneyland hotel! It was beautiful.I felt the outside was even prettier than the grand floridian!  I got in line to check in (long line!).  There were some crazy kids in line while I waited. Finally , it was my turn! Our room was not ready since it was only about 11 am but we got our park tickets, "EZ pass" (which was our ticket for the morning breakfast and extra magichours) and our bonus fast passes ( 1 per person per day, a benefit of staying at  disneyland hotel). 

So then... we walked out the back entrance and were just a few steps fromthe entrance of  disneyland park!! yay!!!  We entered and strolled down Main Street USA. It was beautiful!!!!  Finally, we saw the castle---Magnifique!!
We headed left because DD wanted to go on big thunder first!  When we got there there was quite a wait. No problem--we had our special fast passes (which by the way cannot be used from 1-4pm).  DH picked up regular fast passes and we all got in line with the special fast pass.  We still had to wait a bit but were fnally on! The ride was great---a little more intense than the US versions.

We realized we were hungry and I knew that a place I wanted to try was near by.  So we went to Hakuna Matata for lunch!! I got two counter service meals to share--a chicken curry type thing and chicken fingers.  Food was pretty good!!  We had time to kill before our next big thunder fastpass. So we headed over to Pirates! I love the theming of the outside of the ride, looks like a big pirate ship.  The ride was otherwise similar to what we are used to.  We then headed to an Aladdin walk through. It was cute.  just a few scenes from the movie.  We browsed some  stores.  C saw a stuffed animal she wanted--I thought it was Oscar the Chimp but the label said it was a baby gorilla. Not quite sure why there were baby animal plush toys.  Anyways, we told her she had to behave if she wanted it.

After we rode on Big thunder again, we started heading back to the hub.  I thought it would be a good idea to go on Phantom Manor (haunted mansion).  There was hardly any wait. This was one of the rides Ihad been most looking forward to.  It was great!!
We continued on to fantasyland!!  The line to Peter Pan was of course too long but thats ok because i was planning on getting other rides out of the way. So we went on Snow White and Pinochio.  I noticed I could get a free coffee in the afternoon with my counter service receipt. So I picked one up and then we went to  Its a Small world after my coffee break.  After that we wandered to tomorrowland.  We decided to pick up fast passes for Buzz !  We then wandered around--- One different thing there is Les Mysteres du Nautilus. This is basically a walk through through a submarine.  It was mildly interesting.  Afterwards we browsed through some shops while waiting for our fast pass time.  Finally it was time for our ride! It was fun. A little different than US versions. 
We then had to rush back to our room to get ready for dinner. But the skies opened up and it was POURING!!!!! We went through the covered arcade behind main street but then we had to run a bit to the hotel.  We were wet but it was ok. I had to get in line to find out our room number.  We were on the next floor, the same floor as restaurants and lounges. Convenient!
 We got to our room--it looked just like the GF room!! I snapped some pics and we called for our luggage.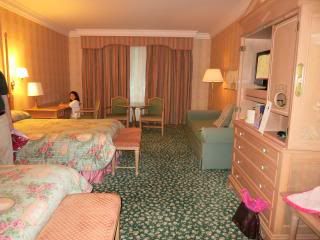 We quickly got ready for dinner and rushed out.  It was really raining hard and we had to go to Disney Village (like downtown disney) for dinner at Cafe Mickey!!  Once there we waited in a long line where someone was trying to cut us and told us she had already been waiting for 10 minutes (turns out her husband was in line trying to get a walk in table but was insuccessful).  We finally checked in and I tried to discreetly confirm with the host that they we had pre ordered a birthday cake. 
Dinner here is a la carte-which is great for a character meal!  C ordered a burger, Dsis and my DH each got pasta dishes and I got chicken caesar salad.  Food was fine.  We were seated by the window and watched the rain and wind.  Periodically we would hear  announcements for birthdays being celbrated--and would watch cakes be brought out.  Often Mickey would be there with the cake too!  C was getting aggravated and kept saying it was her birthday too! Anyways,  the characters came by while we ate. They were all very sweet.  We met Minnie and Goofy.  Gepetto also came by-he spent  a lot of time and took pics with DH. I said " awaww they are both fathers".  But Mickey had not come to our table...
Finally, our waiter brought our cake and who came with it? Mickey!!!!!!!  C was so excited that while everyone was singing happy birthday, she was trying to hand Mickey her autograph book!!!  Mickey spent some time with us and it was so much fun!! We ate our yummy chocolate cake but opted not to take the leftovers.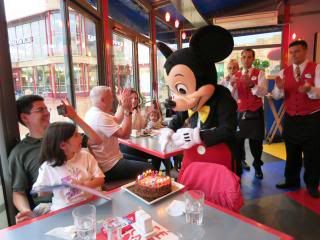 We left happy and checked out some stores on the way back. We bought a few souvenirs and went to the hotel.  I decided I wanted to have a nice drink at the lounge at the hotel so thats where we headed next.  We did not know yet if the nighttime fireworks would be on because of the weather so thought we would relax.  We ordered Bacardi Royals as we had heard about them.  Dsis ordered hot tea (that cost almost asmuch as the drinks!).  Afterwards, since we realized it was not raining, we decided to go back to the park to see disney "Dreams".  The fireworks were great--some of it was similar to The magic the memories and you at WDW.  Afterwards, we walked to the hotel--so nice to be so close-and got ready for bed. The tub was soooo high---it was so hard to get in.  It was even higher than at the apartment we had rented. What is it with these europeans?
Anyways, we went to bed. We had a busy day ahead.


 Up next: Day 7, when things went very wrong.