Day 2 - Magic Kingdom
Day 2 - Magic Kingdom
| | |
| --- | --- |
| | Thu, 12-12-2013 - 10:10am |
Todays plan was Magic Kingdom all day with a break inbetween to swim/relax.  I was pretty excited!  Magic Kingdom at Christmastime is something I've wanted to see since I was about 20 years old and they first began showing MK Christmas specials on HGTV (which they no longer show and I still miss...)
Anthony woke up around 6:00 and we were all up shortly after.  Showered and were ready to be out the door of the hotel at 8:00 after a light breakfast of cheerios and craisins for the kids and I.  Love the pod coffee maker they have in AKL!  Similar to the Keurig system but cleaner for mutilple people to use it since the water doesn't sit inside the tank like with Keurig... It really came in handy throughout the week for me!
8:30AM and we were through the now non-existent turnstiles waiting for the opening show!  I was thrilled to be at the park well before rope drop and so far the crowds were looking good!
We watched the opening show, which always makes me tear up and were off to a great start!!!!  So far the decorations were living up to what I was hoping to see.
We walked straight back to Fantasyland where we were held until just 9:00AM on the dot (I think the show happened at 8:50) and headed to Enchanted Tales with Belle.  This was one of the few things we missed last time and I had heard fantastic things from friends so was super excited to try it!!!
We were part of the first show and were taken back to the area with the talking wardrobe and my kids were having a BLAST totally giggling and loving the wardrobe!!!
Well, then they started giving the kids parts in the show... Gabi is deathly afraid of performing and came to me and said she didn't want to take part... I told her not to worry and just say "No, thank you." if she was given a role.  Well Anthony was given Chip and Gabi Mrs. Potts and she just burst into tears.  :(  I feel bad that she is so scared of things but really wanted to see Anthony too so DH told her to get it together (which thankfully she did) and we LOVED watching Anthony perform as Chip.  He even led the parade around the room behind Belle to the Be Our Guest song.  He isn't in school yet so it was very cool to see him doing so well and following the directions!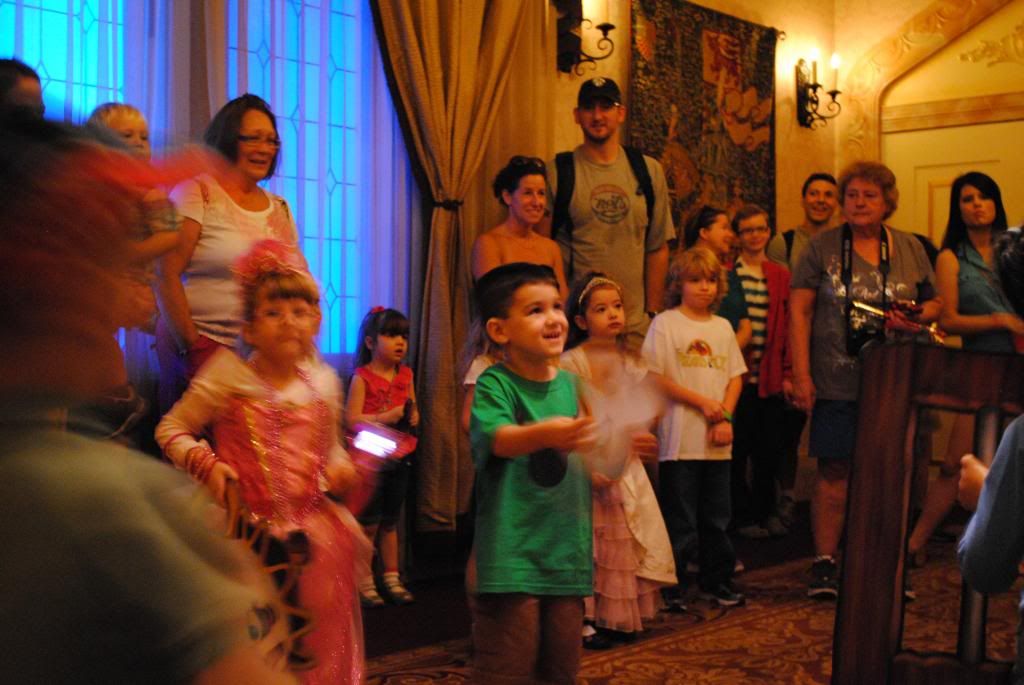 After that the kids are introduced to Belle.  Gabi was looking a little jealous so I asked the cast member helping Belle if she could get in line to meet Belle even though she was to scared to participate in the show and she was!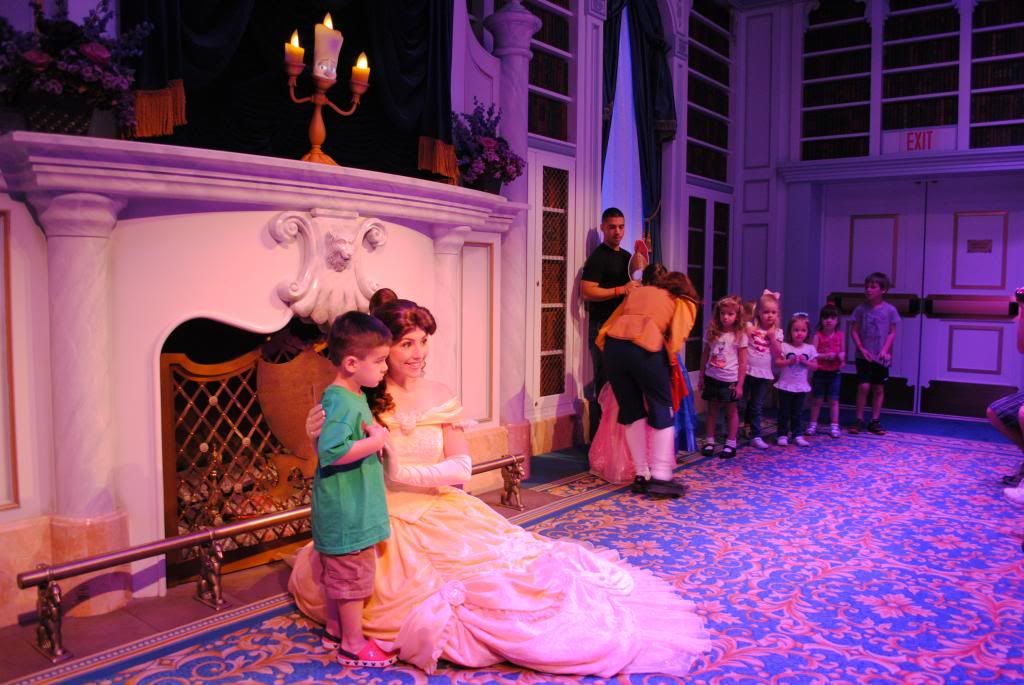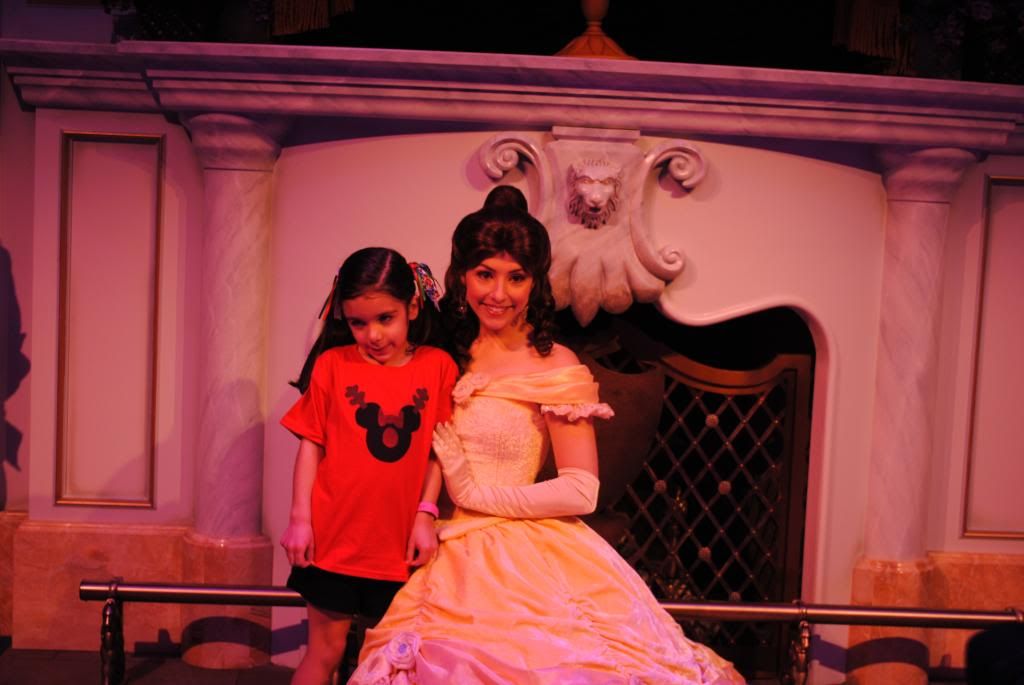 You can see she's still a bit nervous here but fortunately she did well!
Next up we headed to Under the Sea.  The wait said 20 minutes and I wasn't sure that was worth it so early in the morning but DH said it was... Well, we ended up walking right onto the ride!  We loved it just like last year!  After that we headed towards Dumbo.  Pretty much the only thing Anthony remembers from his trip at 2 years old was the Dumbo playground and he just needed to get into that little fire engine!  It was amazing to see how much he grew in a year when he got in that thing.  The top pic is from this year and the bottom one is just a comparison from last year...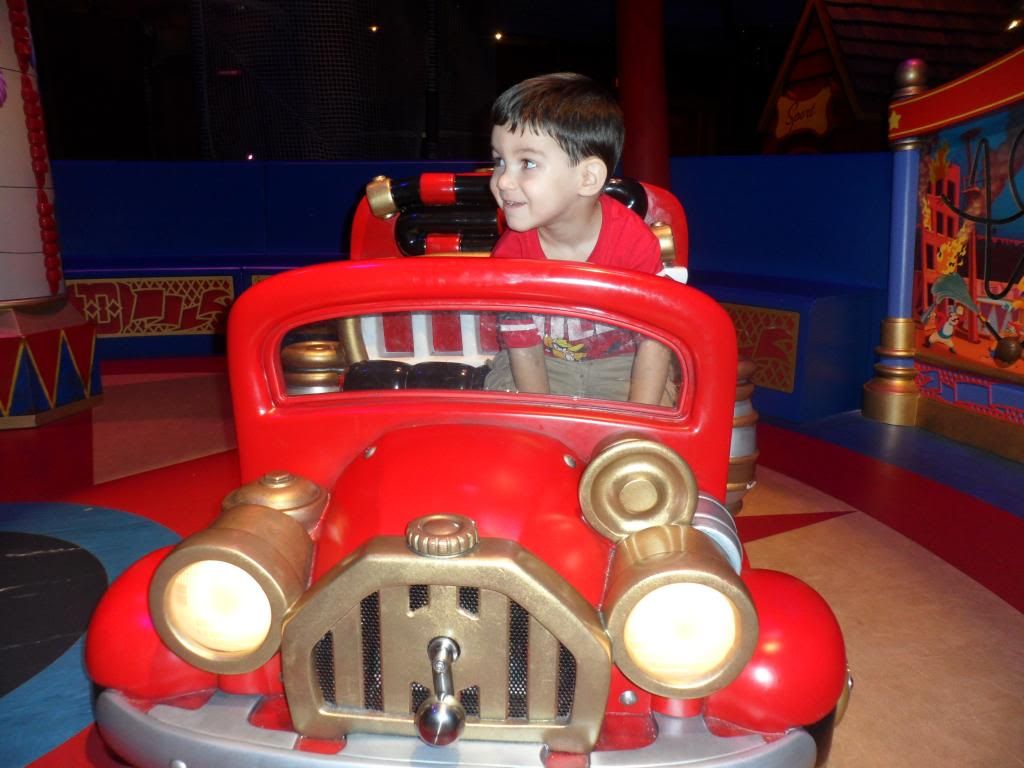 We rode Dumbo and headed to meet Daisy and Minnie in the circus show.  Daisy was the only Mickey Mouse Clubhouse friend we weren't scheduled to meet and Gabi loves her so I didn't want to chance missing her in the parks somewhere.  The new meet and greet area is nice and wasn't too busy.  We realized here that Anthony was getting a blister from his crocs.  He was pretty upset about it too. :(  I had forgotten that he always gets blisters when we switch to sandals in the spring/summer and his feet were sensitive from being in socks at home so much...  A bandaid fixed the situation for the time being and I knew we would stick to sneakers for him in the parks the rest of the week.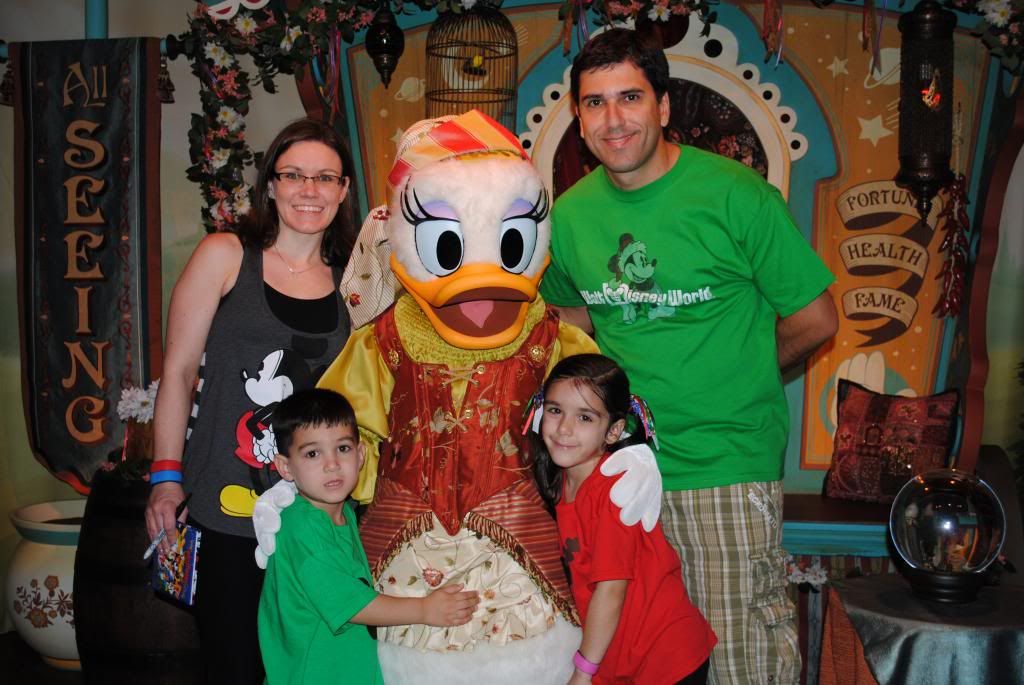 After that we rode Goofy's Barnstormer, which Anthony loved and Gabi managed not to cry on (a step in the right direction for her...)  Then headed to the carrousel.  Oddly this was another first for Miss Gabi!  She has always ridden carrousels sitting in the seat but managed to get on a horse and enjoy it this time!!!
We had 11:30 ADR's at Crystal Palace for lunch today so we headed there next!  Lunch was good, I love the cous cous here as well as the other cold salads and DH and the kids seemed to enjoy everything as well.  We met Piglet, Eyeore, and Pooh pretty quickly.  
At the end of lunch we still hadn't met Tigger but paid and and waited... and waited... and waited... Our server stopped by at one point to see if we needed anything and I explained that we were just waiting for Tigger and he said no problem.  I felt bad tying his table up for so long though.  About 20 minutes after we were done eating a cast member came over and explained that Tigger had about 5 tables more and then would be over.  I asked Gabi if she needed to wait and of course she did!  Poor Anthony couldn't wait though and fell asleep on Saulo's lap  before seeing Tigger.
We did finally meet Tigger and then headed out of the park, stopping at The Emporium to purchase Gabi a Santa Duffy.  She has wanted a Duffy since last year (not sure why she didn't choose one then) and was thrilled.  We saw the Dapper Dans on our way out, they really impress me and cracked me up with a Small World doll impression I had never seen.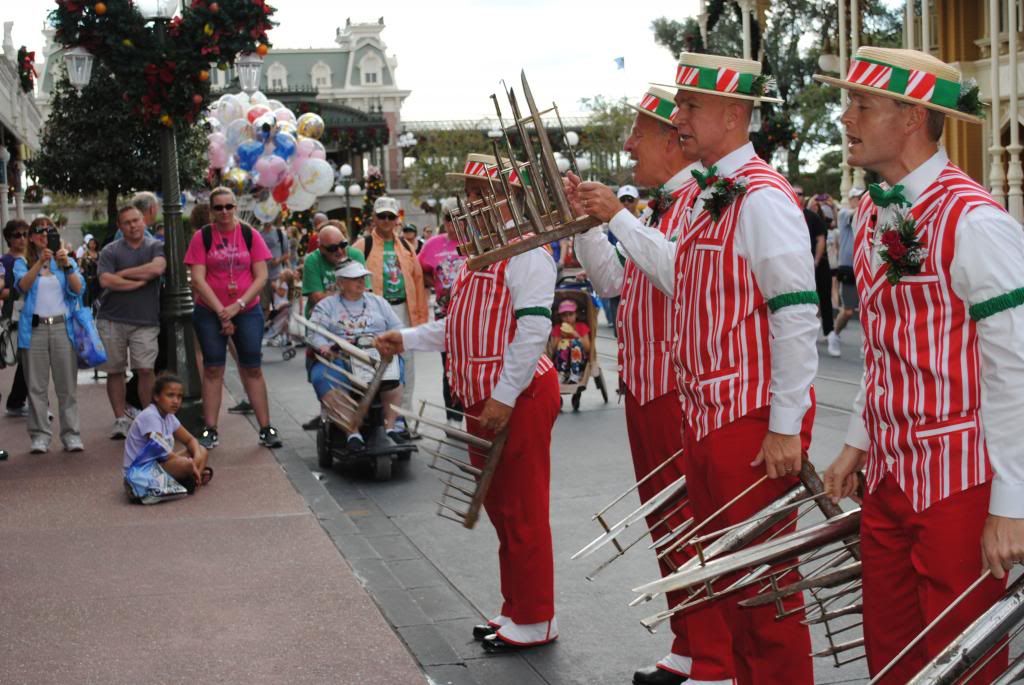 After that we were out and on our way back to AKL to swim and relax.  We did stop for a few photos though...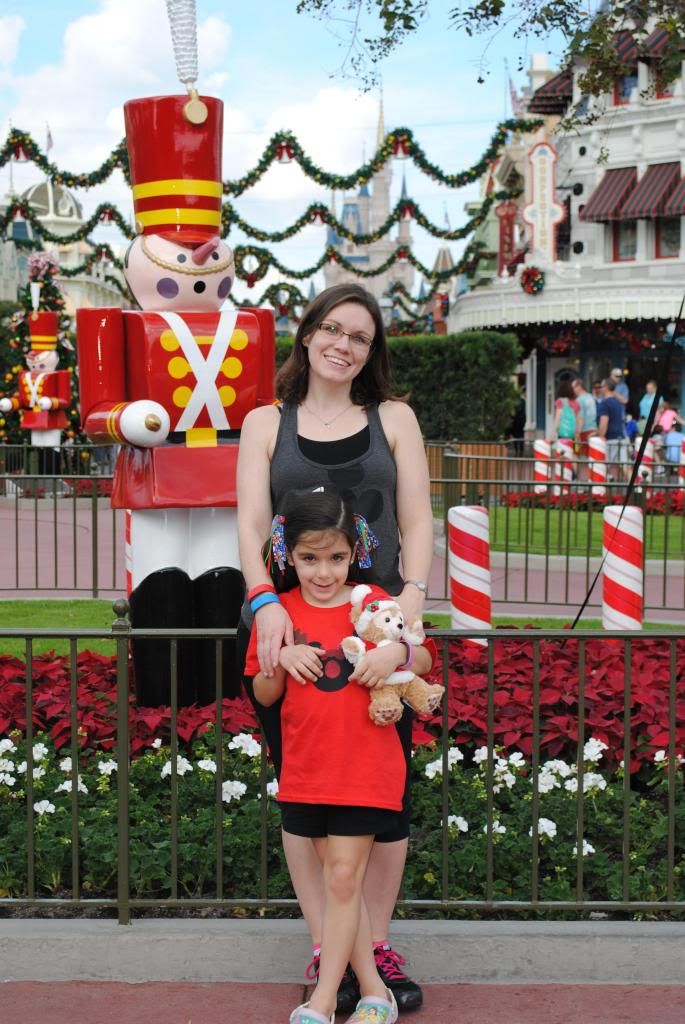 We ferryied back to TTC and then to AKL and were in our room at 2:05.  I took Gabi down to the lobby to make an ornament.  It was a really cute craft for $5.  Some of the older kids were making covering their entire ornaments in little shell pieces and they looked amazing!  The whole experience was interesting though... The cast member helping (a gentleman from Africa, I couldn't see his badge though so not sure what country) was talking to a mom with her two young girls about life at home vs. American life... Questions like why are you here? differences in lifestyle? home life? house style?  All very interesting things...  Then she asked if he would ever consider marrying a woman from America and bringing her home and things got VERY interesting.  He is not interested in an American woman because us American ladies are not 'submissive' enough for most African men and he also plans to practice polygamy.  I find cultural differances fascinating and am not in anyway opposed him wanting to live the life he grew up with but this left me a bit unsettled... There was a girl about 12 years old there without her parents and I felt bad that she was listening to this... I could see myself sending Gabi to do something in her tween years like this and wouldn't want her coming back with questions about submissiveness and polygamy!!!!  All in all a cute craft though and I'm glad we did it!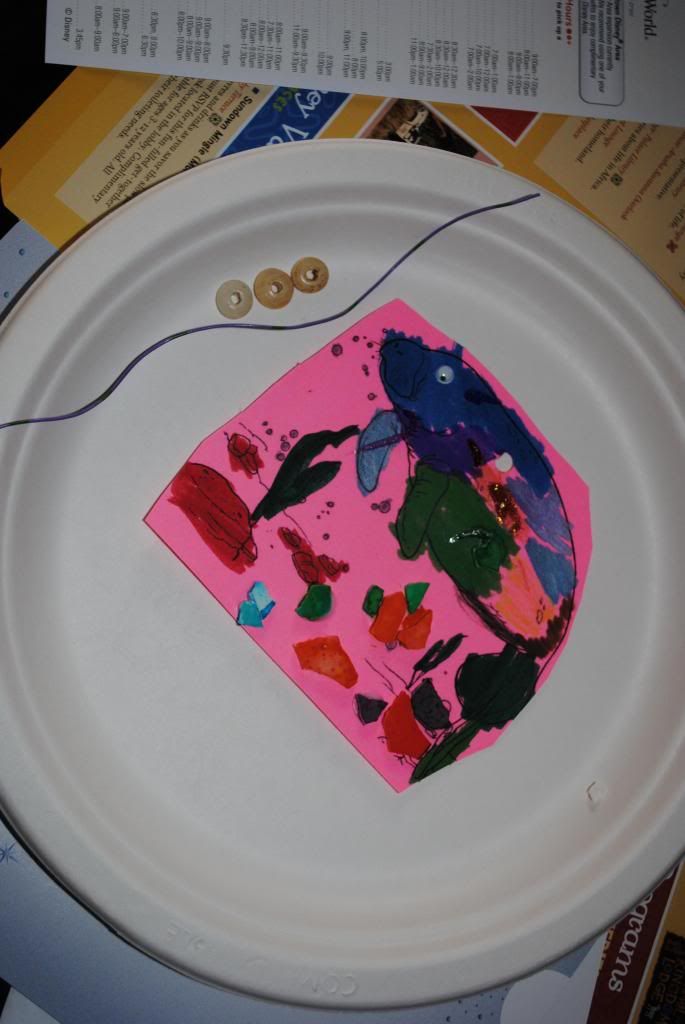 I'd say we spent about three hours in the resort relaxing, swimming, and showering and headed back to Magic Kingdom around 5:00.  We had FP+ reservations for the Jungle Cruise, Magic Carpets, and Splash Mountain.  Gabi fell asleep in the car and slept through the monorail, gate and until we woke her for the Jungle Cruise, which is currently the Jingle Cruise.  It was cute but I'm not sure we'd ride again at night.  My kids were pretty creeped out by it!  Next up were the Magic Carpets, always a fun time for my kiddos...  We were supposed to do Slash Mountain next but decided that would be better for the day because we didn't want to be wet and cold so headed to dinner at Peco's Bills.  This place screams Disney to me for some reason so I was thrilled to be there, lol!  The park was VERY busy at this point but we headed down to the Haunted Mansion to ride.  The kids did okay here (not as well as previous years) but still really liked the queue area.  
After that the park was PACKED we had a really tough time making our way through Frontierland and Adventureland to get out.  Anthony fell asleep again and we bought Gabi a Dole Whip to enjoy because she is obsessed with Orange Leaf pineappe frozen yogurt back home.  I didn't want to do the parade and fireworks tonight because we would be doing them the next night at the Christmas party.  Well, the castle show started and we just had to pause. Celebrate the Magic is seriously one of the most amazing things!!!! I tried to capture it but couldn't either night.  Also, it has an Elsa section, which delighted Gabriella.  She watched on Saulo's shoulders, dripping ice cream on his head and then we headed back to AKL for a good nights sleep.