Day 3, Part Two - MVMCP!!!!!!
Day 3, Part Two - MVMCP!!!!!!
We spent an hour or so swimming after the pony rides and an hour or more just relaxing in the room and then it was time to get ready for Mickey's Very Merry Christmas Party!  I was pretty excited and Gabi was off the walls!  We dressed and got ready to go, fortunately the days were hot on our trip but the nights cooled down quite a bit or my planned PJ outfits wouldn't have worked and I loved them, lol! I took the kids down to the lobby for some pictures while Saulo showered and got ready for the night.
When we came back we spent a few minutes watching this guy from our balcony before heading out for the night.
I'll be honest here and tell you my kiddos were silly and giddy in the car and I squelched it by insisting they fall asleep.  :(  It probably sounds awful but at home they go to bed at 7:00 and our 'relaxing' morning was actually much busier than a day at home was so I had no idea how they would stay awake until midnight without a nap... Fortunately they did fall asleep and we were on our way!  These two greeted us at the parking gates to MK!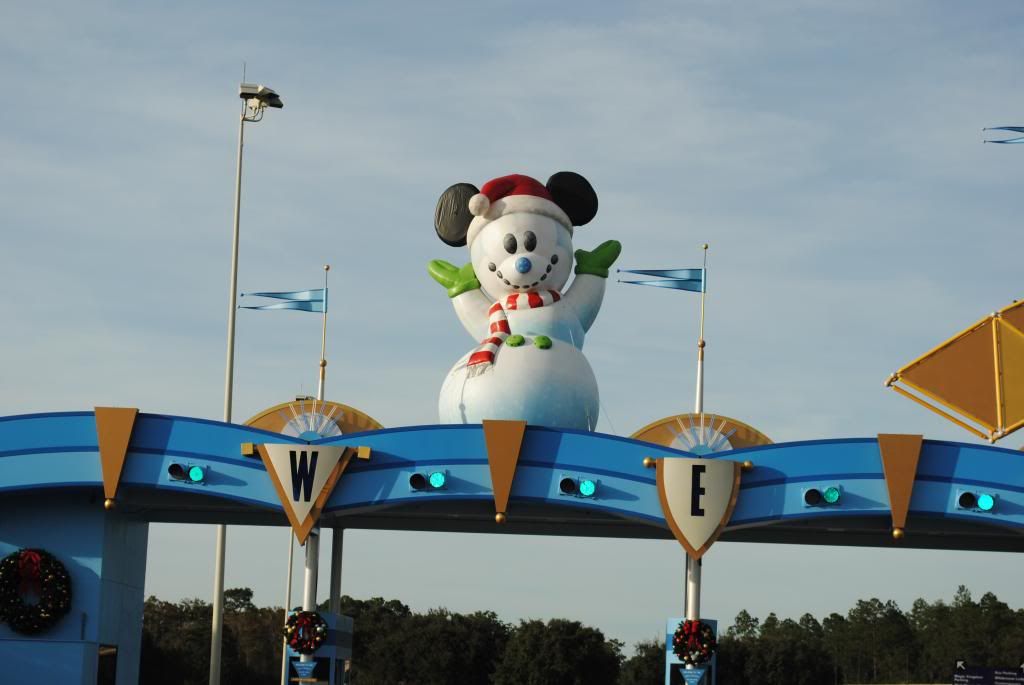 We parked at the TTC in the AAA Diamond lot (if you have AAA and bring a car, I highly recommend booking through them because the diamond lot means you never need to use the trams) and transferred the sleeping kiddos into the stroller and ferried over to the MK since the monorail was close.  I was sort of dissapointed at first because the party was sold out and it was so insanely busy getting into the park but things worked out just fine!!!  It took about an hour to get from the car to Main St and when we did we found this cool band that I'm not sure I've ever seen before!
The kids were still sleeping though so we kept right on moving!  They had even slept through getting there wristbands on!  We stopped by Buzz Lightyears Space Ranger Spin for paper FP's and headed into Fantasyland.  It must have been after 5:30 by now and we walked onto Winnie the Pooh and Peter Pan with our FP+ reservations, which were back to back.  We walked by Pinnochios Village House and got to play with Pinnochio even though we weren't eating there!  We also stopped at some point to try and pull the sword from the stone.
After that we grabbed dinner at Cosmic Rays and sat outside to watch them flip the castle lights on!  Sooooo pretty!  Then we rode Buzz and headed towards Main St.  to secure a spot for the parade and castle show.  It was just after 7:00 at this point and the plan was to have Saulo stay there while I took the kids a few places...  First stop was Tianna's meet and greet.  We have never met her and it was on the top of Gabi's list!  She wasn't there when we arrived but we were told she was on her way so we hopped in a short line.  Well, twenty minutes later and it turned out that Tiana was held up at her restaurant and she would not be arriving until about 8:00.  Well, I wanted us back in front of the castle at 8:00 so we headed to the next stop...
We tried the Woody and Jesse dance party, but my kids were too scared.  Anthony was excited at first but the noise got to him or maybe it was Gabi's total frozen body that made him nervous.  She did really well though, in years past the noise here would have had her in tears but she just stuck close and waited until didn't panic!   Walking around there were CM's stopping us about every 50 feet or so asking to see our wristbands and Saulo said he saw them escort two groups away from Main st when he was waiting for us.
It was getting close to 8:00 by now so we headed to Columbia Harbour House for some snickerdoodle cookies, hot cocoa, and apple juice and headed back to meet Saulo for the show!  He had moved since we last saw him but not far... Unfortunately I didn't realize the parade route for the party is different than the normal night time parade and had us seated in the center of the circle at the end of Main St.  Somehow he found out the correct route and shifted us to in front of the castle just one family back from the curb which was still pretty good, given the crowds.  Gabi and Anthony both loved the castle show and Gabi LOVED the parade.  Anthony was a bit tired, despite the nap and sat in the stroller for a bit at that point.  After the parade came the Celebrate the Magic show on the castle (the same as the night before but we still LOVED it) and the fireworks!!!  We used earplugs for the kids and while they didn't love them, no one complained either... another first for us!
After the fireworks we headed to meet Tinkerbell!  Her line was long (maybe 45 minutes) but totally worth it!  She was with her twin Perriwinkle and the interaction was fantastic!  They really had lots to say to my kiddos!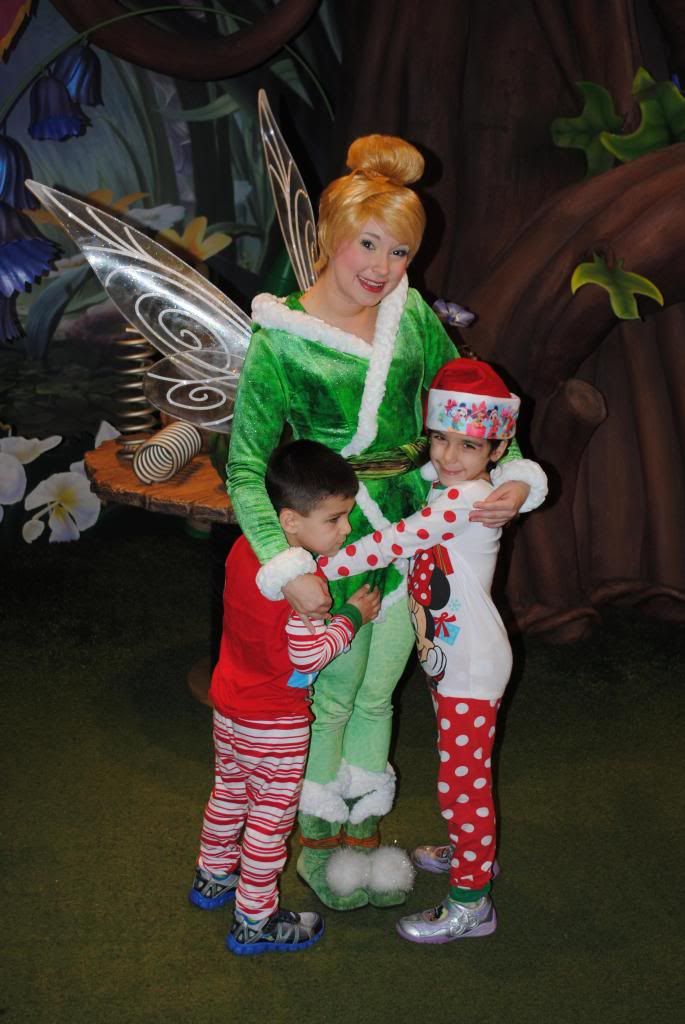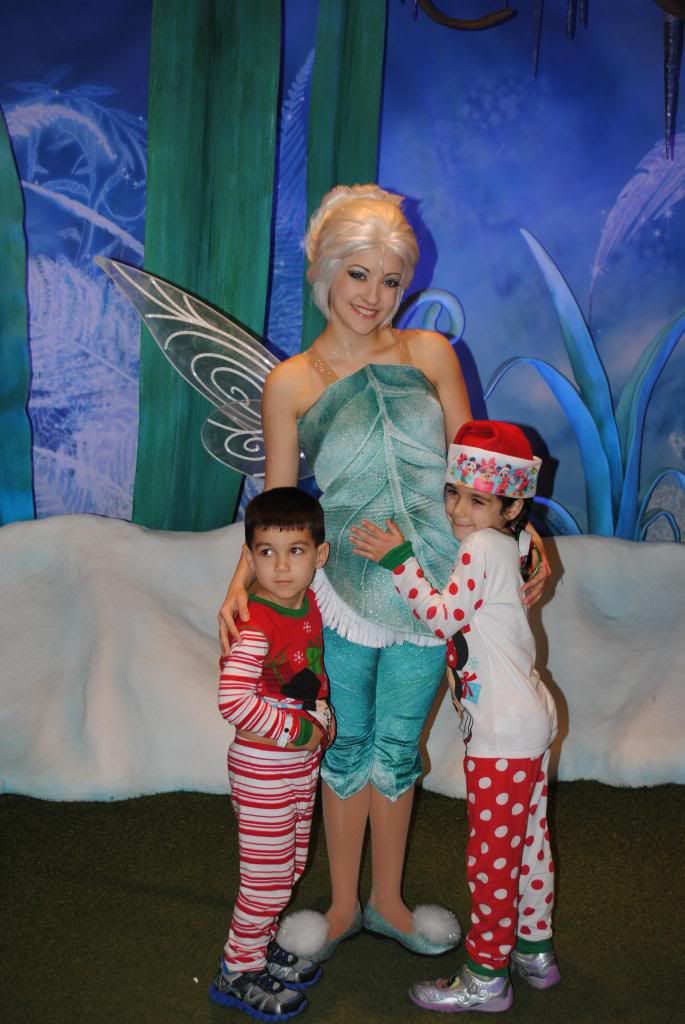 You can see in the pictures that Anthony is pretty nervous with the face characters... This didn't change until the very end of the trip but more often than not he did give them a chance!
We rode POTC after that while waiting for the second parade to pass through Frontierland and headed back to Fantasyland to meet Flynn and Rapunzel along with Snow White and her Prince.  Another long line, close to an hour, but worth it as the kids didn't complain and the characters were awesome!!!! We had fantastic character interactions in the parks pretty much the whole trip!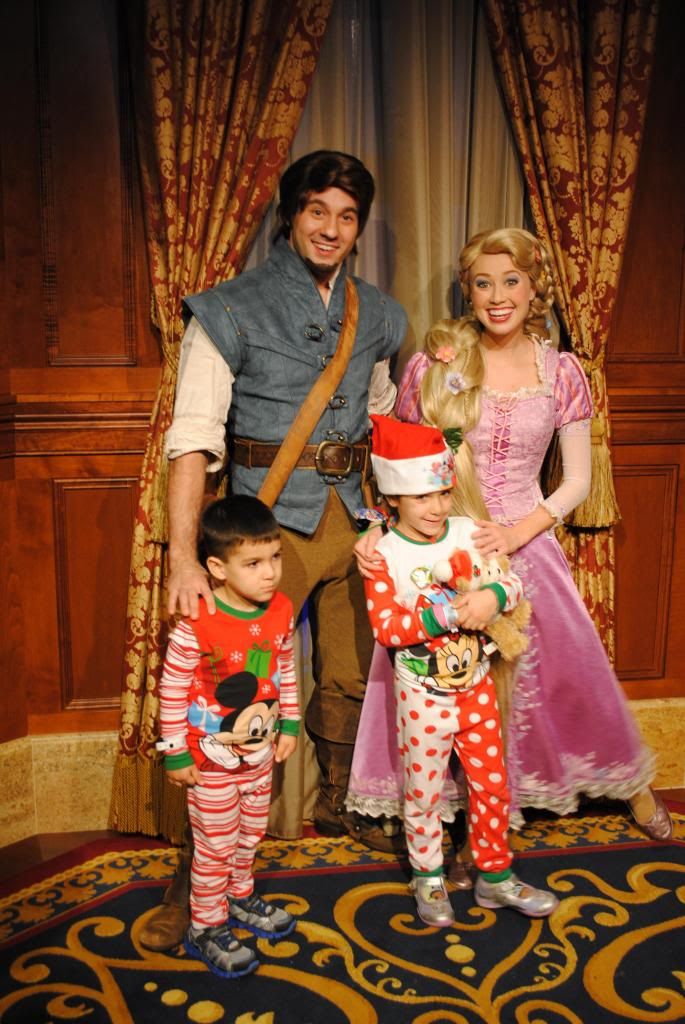 The new Princess Fairytale Hall was beautiful and made a very pretty place to wait!!!  By now it was midnight and the party was over.  We had a great night and the kids made it through awake!  It was snowing on Main St. on our way out and both Gabi and Anthonywere thrilled!!!  All in all, a perfect night!
My night pictures aren't the best but that is snow falling in Florida.  By the time we were back to TTC the kiddos were asleep in the stroller again...
We headed back to AKL and were met with complete darkness!!!!  There was a scheduled power outage from midnight to 7:00 AM that night.  They gave us a flashlight on our way in and asked if we needed an escort to our room but since we were the second room off the lobby on the main floor we declined.  I was glad the kids were sleeping.  They never knew of the power outage and were just excited to find a new flashlight in the morning, lol.
Up next... Hollywood Studios