Day 4, Hollywood Studios
Day 4, Hollywood Studios
| | |
| --- | --- |
| | Wed, 12-18-2013 - 11:16am |
Our plan for today was to sleep in and head to Hollywood Studios for lunch and the afternoon/early evening.  Well, 8:00 arrived and that was the end of our sleeping 'in'.  My are just ridiculously early risers!  I showered and got the kids ready for the day and took them down to The Mara for muffins and bagels for breakfast.  We let Saulo sleep a bit while we were there and brought him back a cheese danish.  I realized that we were already on Day 4 and had yet to use any of our snack credits so figured we'd better start!  We hung in the room after that for a bit but by 10:30 we were ready to get moving.  We left the hotel and headed to Hollywood Studios.  I had no big plans for the day except lunch at Hollywood and Vine at 1:30 and Fantasmic FP+ reservations for Fantasmic at 5:55.  
We arrived at the park, parked and walked up to this beautiful Christmas tree!!!
We headed into the park and back towards the Muppets 3D show.  Gabi really liked this one last time so I figured it was a good place to start.  We grabbed paper fastpasses on our way to Star Tours and headed over.  I realized when we walked into the Muppets show that I left my regular glasses in the car (or did I???) and would be stuck in my sunglasses all day unless I wanted to head back...  Oh well, at least they are presciption as well.  We liked the movie (Gabi LOVED it) and headed to Star Tours.  We rode, no one really liked it but no one really complained either.  There was a part where our vessel was attacked by something underwater that shook Anthony up a little but other than saying he didn't like it he seemed okay.  Where to next... Gabi wanted the Disney Jr show but the next time would have conflicted with our lunch ADR so I suggested we head to Honey I Shrunk the Kids playground.  We had never been here.  It was fun but BUSY and Anthony wound up in tears more than once.  He and Gabi stuck together but he just got really nervous!  It would be a great place with less kids though...
When we were done playing we jumped in line for Santa Goofy, who was scheduled to arrive in ten minutes but he never showed up.  :(  A cast member said he was going to be about 30 minutes late after we waited the ten minutes but we needed to get to lunch so we moved on...
We checked in at Hollywood and Vine almost 30 minutes early but were sat right away!  It was nice to sit because the park was hot today.  It was 86 and I think since we had been in the teens and twenties at home the week before it just was getting to us!  Lunch was good, they have a bunch of options that I always like (I could live off their spoon cornbread, lol.)  I know it gets a bad wrap but we always have great service and food that is good here.  
Gabi loved seeing June.  I don't know what it is about her but Gabi has always loved her even though she hasn't watched Little Einsteins in years.
Anthony loved seeing Oso, not so much for the character himself, but he loved Paw Pilot, lol!
They both LOVED Manny!
Jake was there too, but didn't seem to be their favorite this time around.  When lunch was done we headed to the Disney Jr Live on Stage show and LOVED it!  Doc McStuffins and Sofia the First are very popular in our house with both kids so the new show was nice!
After the show I took Gabi over to the drawing class at Art of Animation and Saulo headed back to the playground with Anthony.  Gabi wants to be an artist or an art teacher when she grows up so she was excited for this.  She found it really stressful and hard though.  In the end she was happy with her Tigger but at first she was nervous he wasn't coming out the way it was 'supposed' to.  She is a perfectionist at school so the drawing style was tough.  
I think she did a really good job though!!!!!  She and I jumped in line for Wreck It Ralph and Venellope after that and called the boys to join us.  Both kids were a little nervous around Ralph, I felt bad for him...
After we met the characters we headed to TSMM to ride with FP+ reservations.  Thankfully we had them because we would not have waited 90 minutes!  It's a fun ride, but not anyones favorite.  Both my kids actually like the Buzz ride in MK better...
Next up was meeting Sofia.  Her line was closing for the day soon but we were able to hop in.  We waited 30 minutes or so and the kids had snacks in the stroller while we waited.  I actually didn't mind waiting for characters this trip.  It added nice down time into our days.
We had FP+ reservations for TOT and RNRRC around that time so headed down that way.  TIP:  it's a little complicated but you can book different FP+ resis for the same time but different attractions if the members of your family want to split up.  I knew only we would ride these so had two FP+ resis for each ride vs. the usual 4...  Saulo rode TOT and I rode RNRRC while the kids played with stickers at the kids activity table near RNRRC.  Gabi asked for coloring, which she had done in previous years but the girl thinks they discontinued coloring because it was making a mess of the table, lol.  
After that it was time to head into Fantasmic.  No waiting in that long line thanks to FP+ which was great.  We were heading to get snacks when Anthony suddenly started bawling about a light up toy.  Now we hadn't bought him anything yet because he hadn't asked for anything so we were more than happy to get it, he just needed to ask, lol.  Saulo took the kids back to the cart with toys while I got pretzels and nachos for us all to munch.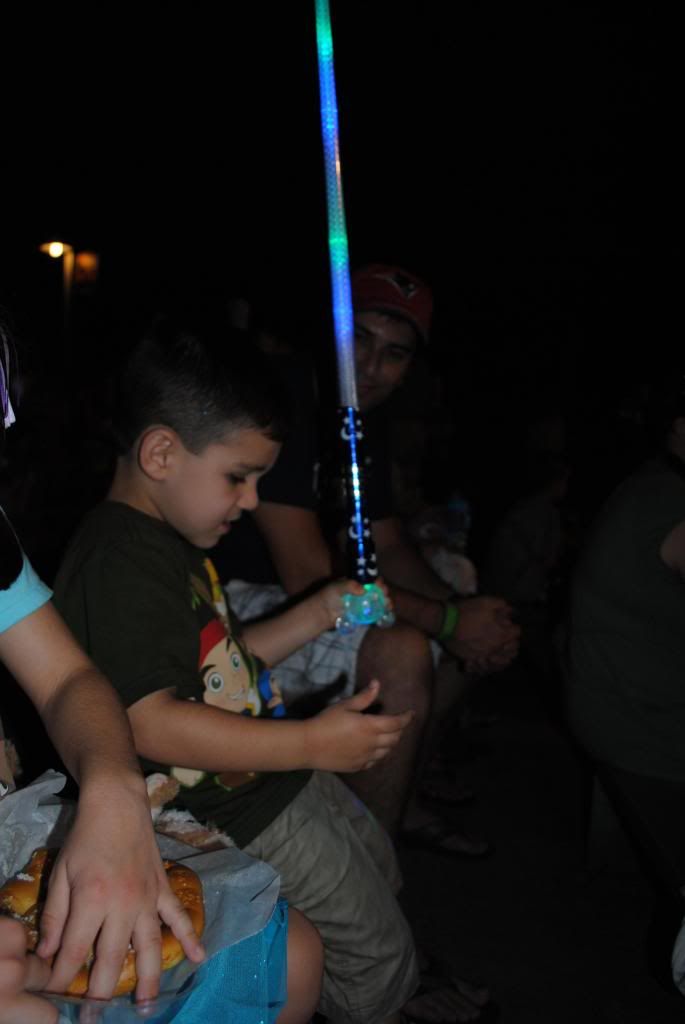 He was really happy with this sword/lightsaber thing and has even used it at home, which is a plus in my book!  I think the kids enjoyed the preshow MUCH more than the actual show.   They did a sing off while waiting and my kids loved it.  The show itself was too scary for us.  I thought Gabi would be okay this year because she's watched so many Disney movies now but she wasn't... Anthony wasn't either but chose to fall asleep rather than be scared, lol.
We headed out (very slowly) after the show and made our way to the Osborne Lights!  What a gorgeous show and it was SNOWING!!!!  Gabi thought the snow was bubble soap this time, lol.  No fooling her...  We really enjoyed the lights.  We didn't stay for long but walked through and tried to see everything.
Gabi really liked the 'dancing' part of the light show!!!  
By now Anthony had been sleeping at least an hour and it was time to head back to AKL.  It had been a much longer day than I expected... I was so excited to get in the car and find my glasses but they weren't there.  :(  I have worn glasses since I was 8 years old and four days into a vacation I had lost them for the first time...  We checked the room when we returned (even though I knew they weren't there) and lost and found but they never showed back up.  :(  I was lucky we were vacationing in good weather and fortunately my sunglasses got me through the remainder of the trip!