Day 5 - Animal Kingdom and AKL
Day 5 - Animal Kingdom and AKL
| | |
| --- | --- |
| | Wed, 12-18-2013 - 11:57am |
I promised myself we would relax today!!!!  Like I said before, Saulo really likes to relax...  I happen to relax better when busy but I did want today to be about giving him and the kids some downtime.  
Anthony woke up at 5:00 so I brought him into our bed to snuggle and fortunately he fell right back to sleep!  I woke at 7:30 without an alarm and showered and my family woke shortly after.  We headed out of the room a few minutes before nine and down to The Mara for a light breakfast.  I didn't care what time we got to the park as long as it was before 10:00 when our FP+ for the safari would expire and we didn't have far to drive, lol.  
We found another beautiful Christmas tree when we arrived!
We headed back to the Safari and had our first not so great moment of the trip.  We used the FP line and like many other families had to park the stroller while we were in line.  This is how Disney does it on this ride.  Well... apparently Anthony got out too slowly and Gabi was in the way of the couple behind us because the walked past us and then the lady kind of pushed Gabi out of the way... Saulo said "Don't Touch my Daughter!" in a stern but not too loud voice and the lady looked back and said "I didn't PUSH her!"  Thankfully, Saulo didn't lose his cool and just said "Just don't TOUCH her at all!"  I didn't mind him saying something, I don't think the lady should have touched her...I would never move a strangers kid and I certainly would say excuse me before doing so!!!!  We didn't even realize they were trying to get by before it was too late!  Gabi was shaken but not crying so that was good and we headed to the opposite line when we got down to the Safari so we wouldn't ride with them, lol.  We rode and had a great time!  The elephant family was out along with a male and female lion!!!
After the Safari we reparked the stroller (without issue) and headed to the train to Rafiki's planet watch.  This place is an absolutely favorite with my kids!!!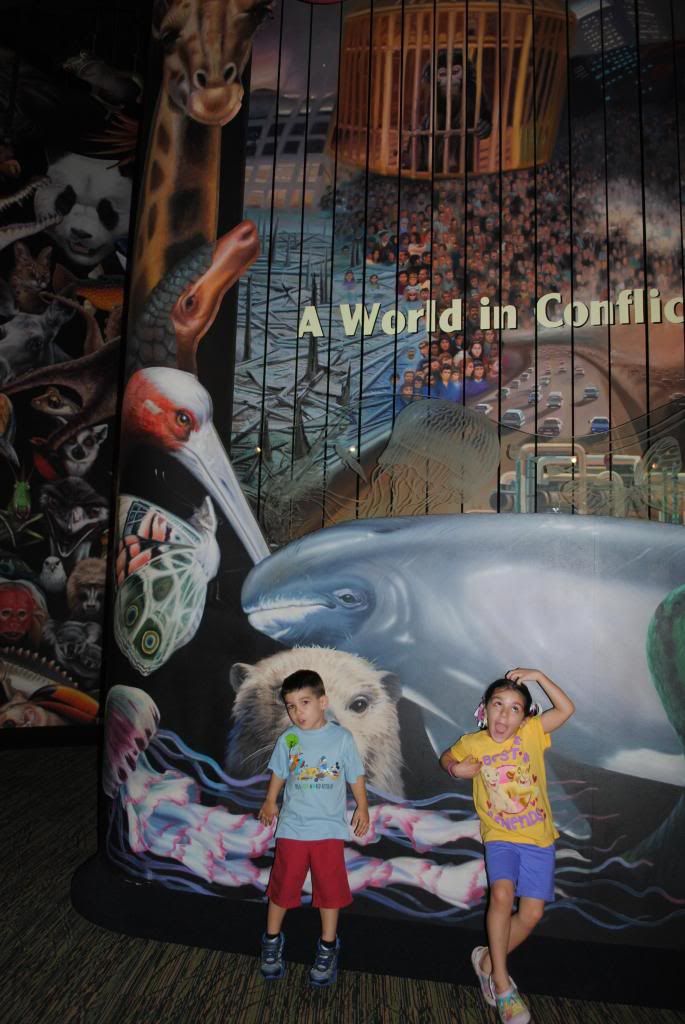 They love meeting Rafiki everytime!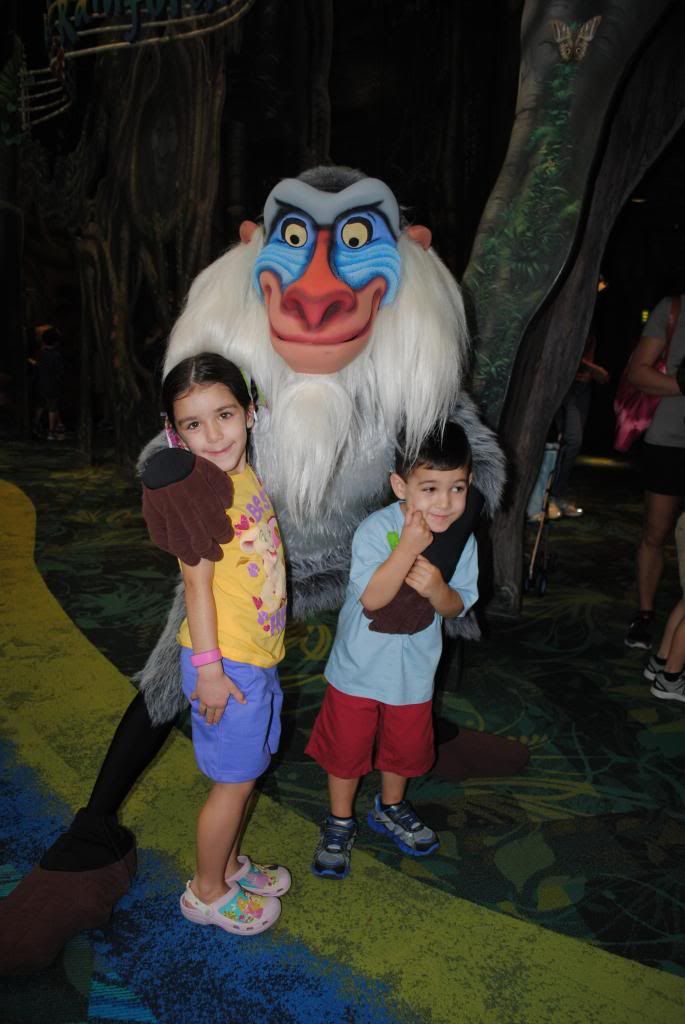 And LOVE LOVE LOVE the conservation station...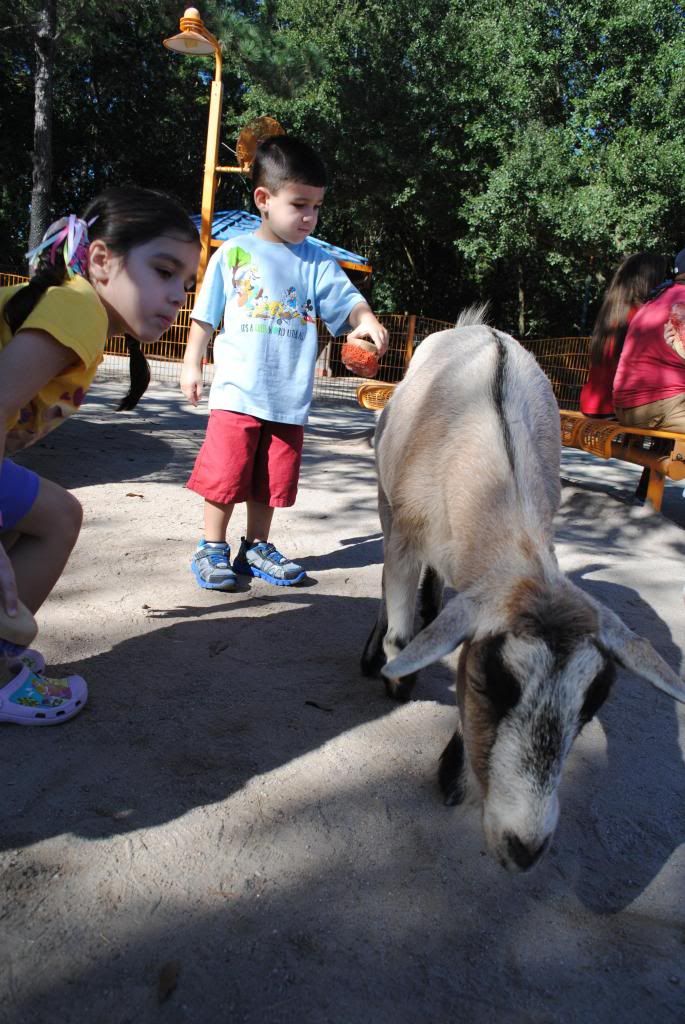 We headed to Triceratops spin after this, were loaded into the dino's and then had to get out because the ride wouldn't go up. :(  Gabi was so disappointed... I felt bad because we probably wouldn't be back that way.
Next up was lunch at Rainforest Cafe.  The food was good but the restaurant was freezing and loud and no one really cared for the experience.  We have one at home about 1.5 hours away, and I've felt guilty for years that I haven't taken the kids but no need for that guilt anymore!!!!
This was it for Animal Kingdom...
We headed to the hotel and rested in the room for a bit and then headed out to swim.  We wanted to try the pool at Kidani Village today.  The kids really liked it!  I wish I brought my camera but just didn't think of it.  In addition to a great twisty water slide they have a little water slide that Anthony could do on his own, plus the splash pad/spray area!!!!  I absolutely panicked though at one point because we though Anthony went up the line for the big slide when he really headed to the splash pad.  We found him in 3-5 minutes but I was terrified in that time!  Also, here Saulo's Magic Band fell off... No big deal, I asked the lifeguard if they had spotted one, they asked me what color, responded with green, what's the name, Saulo.... and he gave it to me.  Nice to know they don't just hand them out!!!  Oh and Gabi made a scratch art ornament poolside as well!  We really had fun here!
We showered after that and headed down to explore the animals outside our resort and roast marshmallows.  Saw some great giraffes we hadn't been seeing from our room and had a good time at the campfire.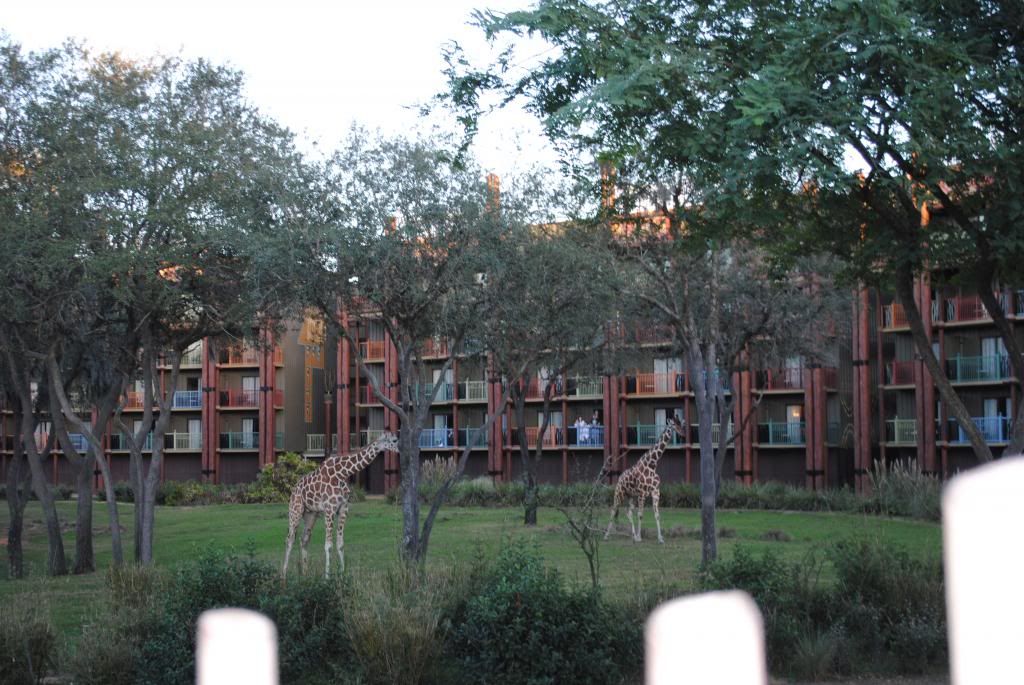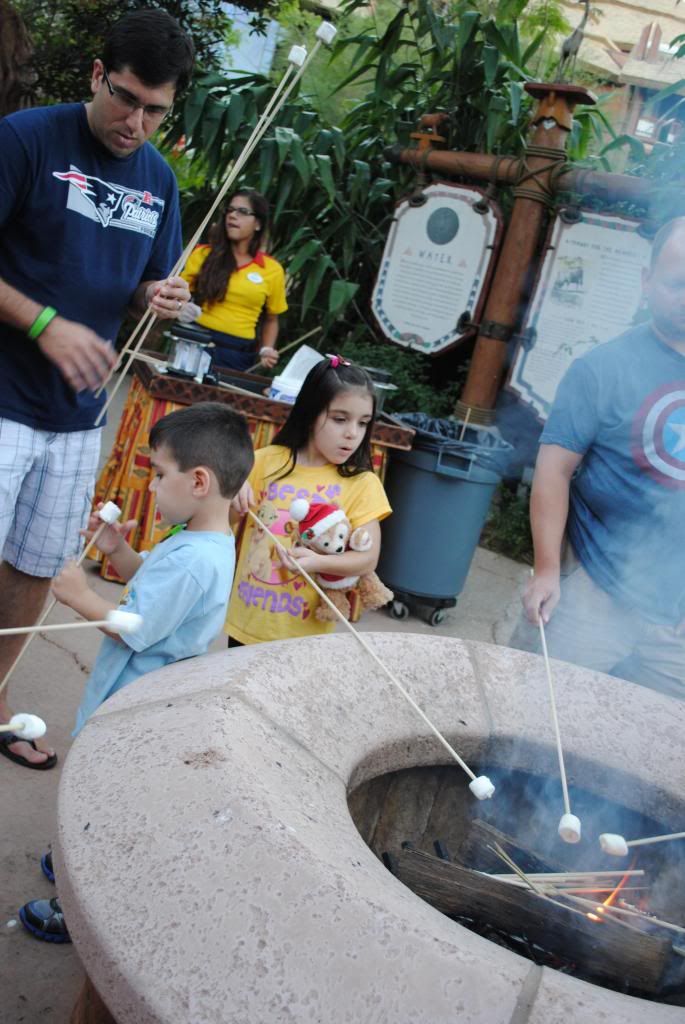 While we were exploring someone was kind enough to offer to take a family picture of us, notice my big old sunglasses even though it's probably 6:00pm, lol!
We decided to head out of Disney property for dinner this night.  Neither Saulo or I felt like The Mara and we had no ADR's planned so Texas Roadhouse it was! It was only a 10 minute drive and my kids love this place at home and so do we, lol.  Saulo just had steak, me a salad, and the kids ate peanuts galore, and burgers!
After dinner we went to check out the night vision goggles.  It was fun!  The two CM's here were awesome explaining things and talking to the kids about their light up sneakers, Gabi's cartwheeling habit, and Anthony's Mickey sword. 
It was a good day and I felt like my family was able to relax.  I checked on my glasses again at the front desk but no luck...
Up next... Epcot