Day 6, Epcot Part One
Day 6, Epcot Part One
After a much needed relaxing night we were ready to face the day at 8:30AM and were on our way to Epcot!!!  The kiddos ate cheerios and craisins in the car and we had granola bars because neither Saulo or I were in the mood to head to The Mara...  We were at the gates of Epcot and into the park right at 9:00. We had a decent sized to-do list for today so I was glad we were there right away.  This year there were several topiaries right in the front of the park that were adorable - Bambi, Thumper, Goofy and Pluto, and Stitch.  I captured this fantastic picture in front of Stitch...  A lot of this trip Anthony was just a bit nervous about rides or characters and you don't see his true personality coming out in  the pictures, but here it is, in all it's glory!
First up today was Spaceship Earth.  Gabi was not pleased we didn't ride earlier in the week and I had promised it would be at the top of our list.  We walked onto the ride, rode up to where the wooly mammoths are and then stopped.  We stayed there for about 10 minutes, maybe 15 and then the lights were switched on and we had to walk out of the ride.  It took another 10 minutes for someone to come and get us to walk us down.  Gabi was close to tears but we were given fp's for later in the day and we moved on...
I had FP+ reservations for Test Track from 9-10 so we headed there next.  This time I rode with Anthony and Gabi with Saulo and again everyone loved it!  When we were done with Test Track it was 10:15.  Elsa and Anna (from Frozen) were scheduled to appear in Norway beginning at 11:00.  I knew the event was popular so we headed to World Showcase next.  Thank goodness I did because we were the second to last family let in for the 11:00 meet.  The mom behind me with her daughter said they tried the day before around 12:00 and the line was already backed up to 4:50!!!! Can you imagine???  I honestly can't!!!  But, thankfully, we didn't need to worry about that.  This was the number two thing for Gabi to do this trip (after the Great Piggy Bank Adventure,lol) and I would have felt awful if we missed it.  The kids were good in line.  Saulo took Anthony to the bathroom a few times, I took Gabi over to a display in one of the Norway buildings about the making of the movie that she liked and the time passed painlessly.  We finally got to meet the sisters a minute or two before 12:00.  If someone told me five years ago I would spend two hours of my day in Epcot meeting characters I would have laughed in their faces, but it was worth every minute!!!!
After meeting the sisters Gabi bought a 4 pack of mini dolls from the movie and Anthony bought a talking Olaf, who has been a huge hit with everyone whose been to our house these past few weeks, lol.  Next, we used FP+ reservations to walk onto the Norway ride.  The wait was only 15 minutes but I was happy not to wait in it.  It was 12:30 by now and we were all hungry.  My orginal plan had been for us to eat lunch at the Mexican pavillion quick service restaurant out doors but the line for the princesses had been in 85 degree sun and Anthony just looked like he needed air conditioning.  Soooo, we headed to the American Pavillion...  We stopped to meet Mulan along the way.  Gabi was excited because she dressed as Mulan for Halloween this year, but Anthony chose to stay in the stroller...
The food in America was really yummy and the apple crisp for dessert was fantastic!  Everyone was happy and refreshed so we headed off to explore the rest of World Showcase.  We didn't stop to see any of the performers or storytellers but we did check out all the decorations throughout WS.  
I love this shot of Spaceship Earth from the America Pavillion.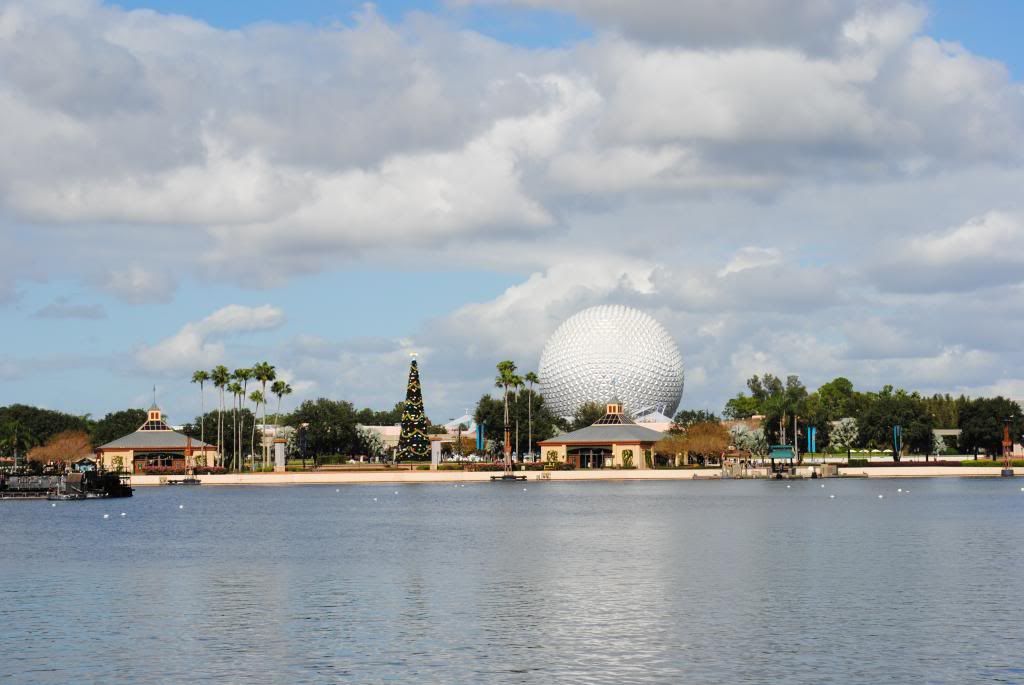 And thought the tree in America was beautiful!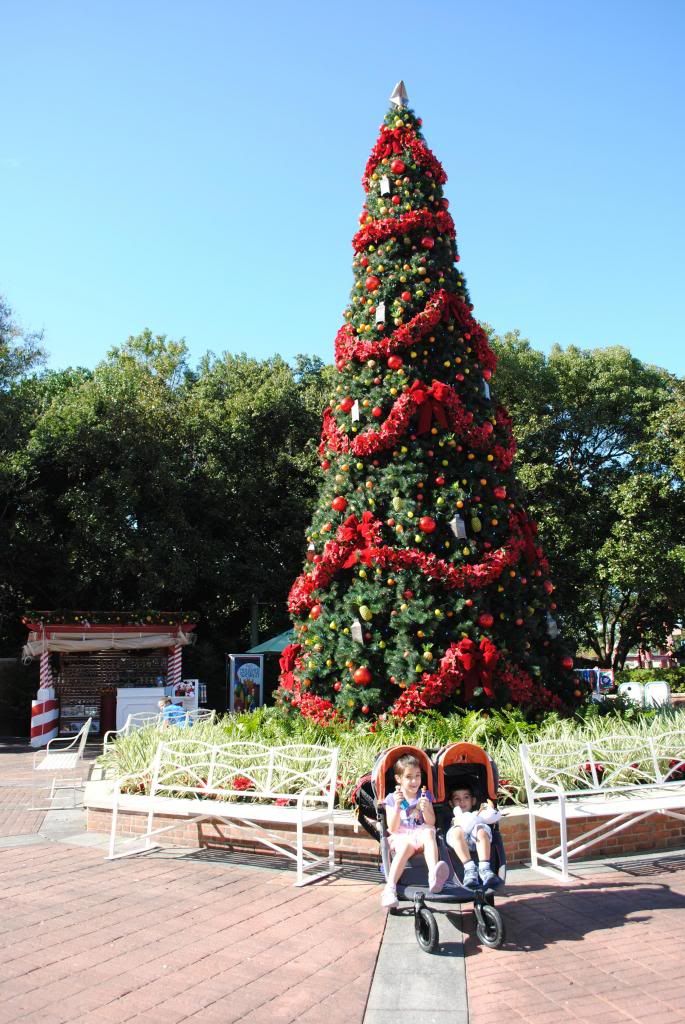 France had gorgeous decorations!!!!  There were three giant Christmas ornaments with popular places pictured inside that I just loved!
And of course we had to stop and make a 'call' in England.
We made it around WS fairly quickly and headed back towards FW by 1:15.  I could have stayed much longer but we had dinner reservations back in Epcot at 5:45 and I wanted to give the family a chance to swim...  It really was hot and my water loving babies only get 30 minutes a week of swim lessons all winter long!  So we made our way through FW.  Joyful Noise was singing some beautiful renditions of popular Christmas carols as we passed through and I bought a few pins for my brother and SIL, since they are into pin trading on my way out. 
We headed back to AKL and were down by the pool around 2:15.