Day 6, Epcot - Part Two
Day 6, Epcot - Part Two
| | |
| --- | --- |
| | Fri, 12-20-2013 - 10:14pm |
We spent about an hour and a half at the pool and headed back to the room for quick showers and to head back to Epcot for the night.  Garden Grill was the only dinner reservation we had this trip and I"ve decided we won't do plan many on future trips.  I always feel stressed having to get back to the park by a certain time... But by 5:00 we were on our way... In the car Gabi asked if we could meet Duffy and all of a sudden I remembered my long to-do list that I had kind of forgotten about while we were strolling WS in the morning!!!!  The only thing that would be a struggle would be meeting Duffy since it was already after 5:00 and we had 5:45 ADR's plus Duffy was only available to meet until 6:30.  Saulo made the decission that we would be late for dinner if need be but we weren't going to disapoint Gabi with not meeting Duffy.  I'm glad he did... We ran (okay jogged) over to WS and hopped in line at 5:30.  The line wasn't too long so things were looking good!!!  Gabi loved him and I think Anthony did too!  What she especially loved was his reaction to her Duffy Bear (that she had been carrying all week long!)  You can see it peeking out of his hands here.
After Duffy we booked it over to dinner!  We checked in just a few minutes after our scheduled time and all seemed to be okay.  I requested a booth on the bottom level of the restaurant, which I highly recommend.  For anyone who doesn't know Garden Grill revolves around The Land ride and the scenary changes throughout your meal.  When we took Gabi here at 18months we sat in the upper level and I didn't love it.  I was willing to try again though and was really happy this time around!  
Remember that gingerbread village from earlier in the week we had discovered here... Today it was bigger!  I still haven't figured out exactly what it was but there were several scenes from FW and WS as well as some of the monorail resorts and the castle.  I really loved it!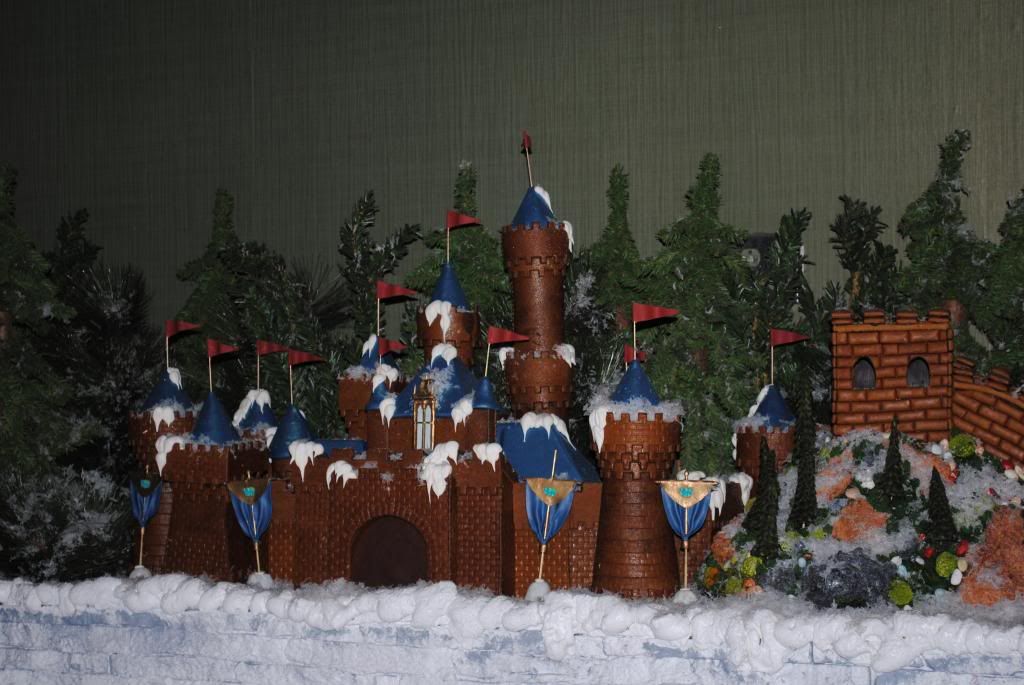 Food here is just okay to me.  I'm not a huge meat eater so the steak and turkey aren't my favorite and after hosting Thanksgiving just the week before and eating all my own leftovers I wasn't much in the mood for stuffing and mashed potatoes, lol.  The salad was delicious though and I ate more rolls and butter than I care to admit though so I was happy!  Anthony LOVED the characters here!  I don't have it captured on camera, but I'll never forget the sheer joy in his eyes when he first saw Mickey heading our way.  It was such a sweet moment.
The kids dessert here is pretty cute too!  They bake cupcakes in the shape of ice cream cones and the frosting is made to look like ice cream!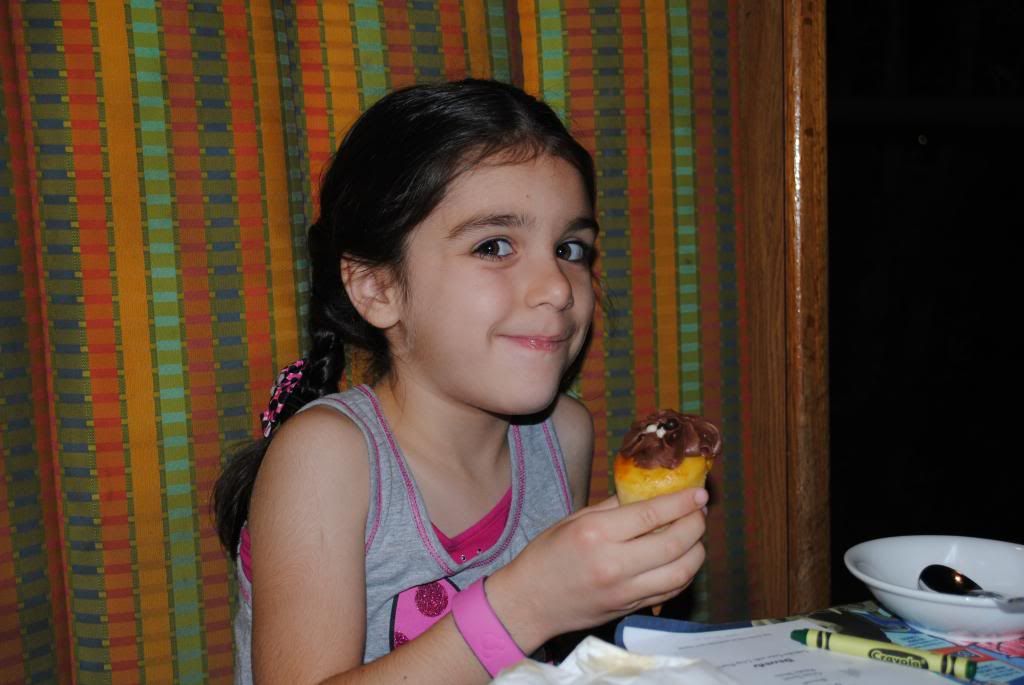 After dinner the night got a little hectic...  We had FP+ reservations for Soarin at 7:45 but also needed to ride Donald's in Mexico, Living With the Land, and Spaceship Earth.  Soooo, off to World Showcase we went.  The tree on your way into WS was really beautiful at night.  I'm not the best night time photographer to say the least but I tried, lol!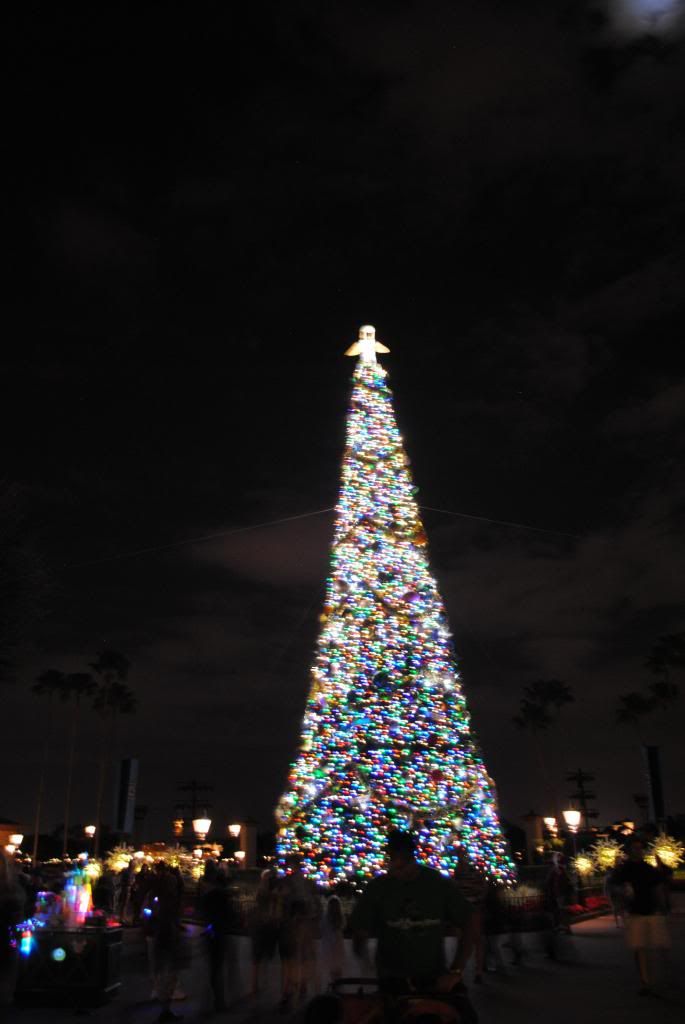 We walked right onto Donalds and loved it!  Then we retraced our steps (again) and headed to The Land.  We tried to ride Living with The Land but it was already closed for the evening, oh well, no one was too upset.  Our Soarin' FP was going to be ready in 10 minutes so we headed in that direction.  I found a great shot glass for my dad's collection there so was thrilled.  We headed in to the ride right after 7:45.  Well, now things just got out of hand, lol!  The FP line was about 10 minutes.  We waited and were assigned to a row when Anthony announced he needed to go potty.  I told him he had to wait... It would only be a few minutes for the ride doors to open and then the ride isn't all that long.  He can hold it, if need be... Well we headed into the ride line and the girl had miscounted our row so our family didn't fit.  She told us to come back out and we would be first onto the next ride.  I wasn't mad, it was just bad timing because by now Anthony was starting to squirm... I asked the girl if there was a bathroom he could use and there was, but it was waaay back at the entrance to the ride...  Well, I didn't think he would make it so out we went...  FYI, they give you a baby swap pass if you have to head to the bathroom so you don't have to wait again.  We went back into the ride and the CM who gave us the pass wasn't there.  The two who were sent us to a different bay to load onto the ride.  I explained that my family was still in Line A vs. Line B and he didn't think anyone was there!!!  I couldn't imagine they had ridden without us buuut, you never know.  He called down and they were still there so we headed down.  We finally made it and rode!!!  The girl felt really bad and gave us FP's so we could ride again but Anthony was getting really tired and we still needed to get to Spaceship Earth so we just moved on.  
We headed straight towards Spaceship Earth and walked right on.  It wasn't as enjoyable as usual though because I didn't hold Gabi up for the camera like DH does so her face didn't show on the monitor at the end... only mine.  She was seriously disapointed when we got off!  Also, Anthony fell asleep while riding, lol.  Well Saulo took Anthony to the stroller to sleep and I took Gabi back onto the ride.  This time I made sure she showed in the moniter when they were snapping pictures (without my glasses I hadn't paid attention the first time but had Gabi help me this time, lol.)  She loved it this time and it was a nice end to our night.  We walked back waving Bye to Epcot and saing "See you next time!"  
It had been a really busy night but at least we got everything on our must do list done and no one was disappointed.  
Up Next... Magic Kingdom and dining with Royalty!