Day 7, Part 1 - CRT
Day 7, Part 1 - CRT
I set an alarm this morning for the first time all week.  We had 8:20 ADR's at CRT!!!  Gabi was excited for this ADR but to be honest so were Saulo and I.  I had only been there as a child when it was King Stephan's Banquet Hall but didn't remember much about the experience.  I showered first thing this morning and headed down to the concierge desk before anyone else was up.  All week I had been trying to change my FP+ reservations for this morning on my phone without any luck.  I had tried the app and the website and couldn't do it.  They had me shut the wifi off my phone but still no luck, so they tried to change them from their computer but said there must be a sitewide problem because they could not select a park for me to visit.  They suggested I stop at one of the FP+ kiosks when I got into the park.  That took about 10 minutes and I headed back to the room after to get my family moving, lol.
Everyone was ready to go by 7:30 and we headed out the door of AKL and to MK!   Since the park didn't open until 9:00 only the Resort Monorail was operating which took a little longer than I wanted it too but we were walking into MK at 8:10, so plenty of time to get to our ADR.  This Christmas tree had popped up since the last time we were there!  I read somewhere recently it gets taken down for the parade taping which occured a day after we were in MK for MVMCP but I was happy to see it today, lol!
After seeing the tree we wandered down Main St and snapped a few photos in front of the castle before heading.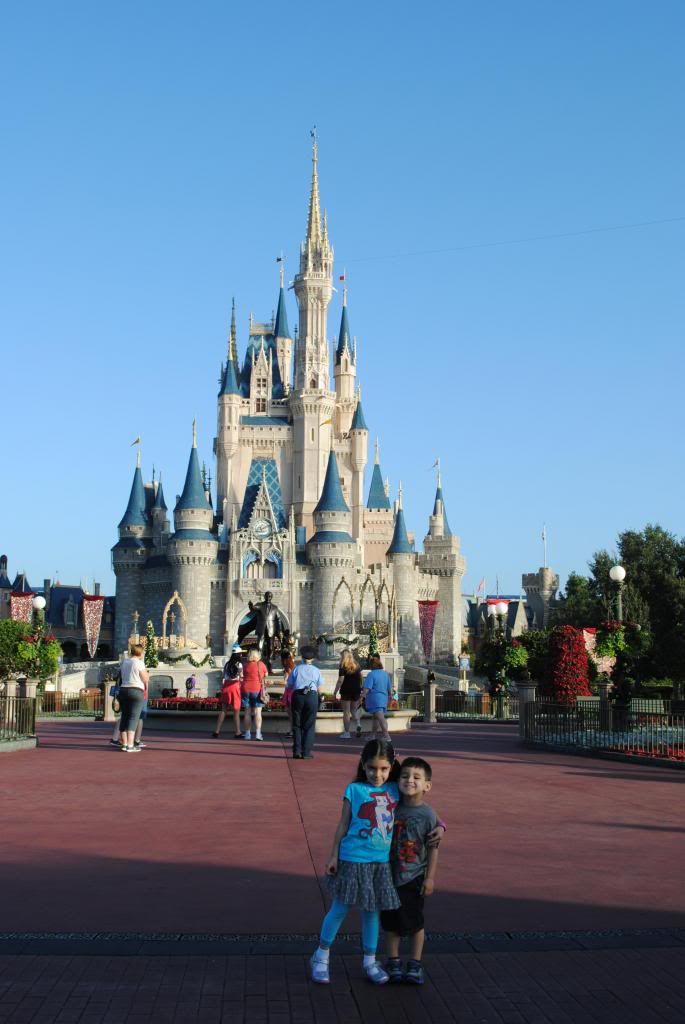 We checked into CRT right at 8:20 and headed inside to get in line for Cinderella.  It was a nice little meet and greet area.  Lots of fun details in the room where you wait, like Jaque and Gus Gus up in a corner watching and a suit of armor that Anthony liked.  After meeting Cinderella we headed up the stairs to be seated.  We sat right in the middle of the restaurant and it really was beautiful!  The kids were each given a wishing star when we sat and then Anthony received a sword and Gabi a magic wand.  They were over the moon with excitement!!!!
Breakfast was yummy.  It is no longer all you care to enjoy but we didn't have any issue with wanting more food.  Our server brought a big basket of patries after getting our drinks that were really good.  The kids loved the Mickey shaped blueberry muffins and Saulo and I both enjoyed the apple one and the cinnamon roll.  We declined more when offered since we were already getting filled up.  I had a quiche for breakfast, Saulo had steak and eggs and the kids had french toast sticks and eggs...we helped eat thier bacon, lol. 
While we were enjoying the food the princess came around.  We saw Snow White first, then Aurora.  Neither one is a favorite of my kids but Anthony seemed to have gained confidence in meeting the face characters by this point in the trip, which was nice.  Maybe the sword gave him confidence, lol!
After Aurora, we met Ariel.  This is far from my best picture with her but Gabi LOVES Ariel and she was telling Ariel a story and I just loved watching her.  The conversation was about Olaf, from Frozen, and then had turned to Flounder... It was a nice little moment for her and I was so proud of how confident she was while telling her story.
Last up, was Jasmine.  We had met her in Adventureland when Gabi was 3 but for some reason when had started crying when we got to the front of the line so it was nice to have a better interaction.  
We finished breakfast around 9:30 and were all very happy with the experience.  I am not sure if the experience would ever be as magical as this first one.  The characters were great but the wishing stars, wand, and sword made it really special.  The kids loved the wishing star ceremony and all that it entailed.  If Gabi wants to go back next trip, we will, just not sure it will be the same.