Day 7, Part 2 - MK
Day 7, Part 2 - MK
We headed out of CRT and into Fantasyland just after 9:30.  My first order of business was to get our FP+ reservations switched.  We went to the Ariel/Pooh paper FP kiosk and asked where we could find someone to help us and close by there were some CM's in turquoise shirts with booths that contained an ipad or some other touch screen tablet behind glass that allowed me to easily switch our FP+ times.  It wasn't complicated or overly time consuming but it would have been easier to do on my own in my room since I knew 5 days before that I wanted to switch them...While I was taking care of that Saulo grabbed paper FP's for the Ariel ride.
It was about 9:45 by now and we were ready to explore MK for the final time this trip!  We started with Peter Pan because Anthony was asking for it.  The line said 30 minutes but it was closer to 15-20 minutes!  Next up, was Ariel in New Fantasyland but first we took a bathroom break at the prettiest bathroom ever!!!!!!!!!!!!!!   Seriously, the new Rapunzel bathroom is both convienently located near Peter Pan and Small World and absolutely beautiful!!!!  Gabi was in love with the area, lol!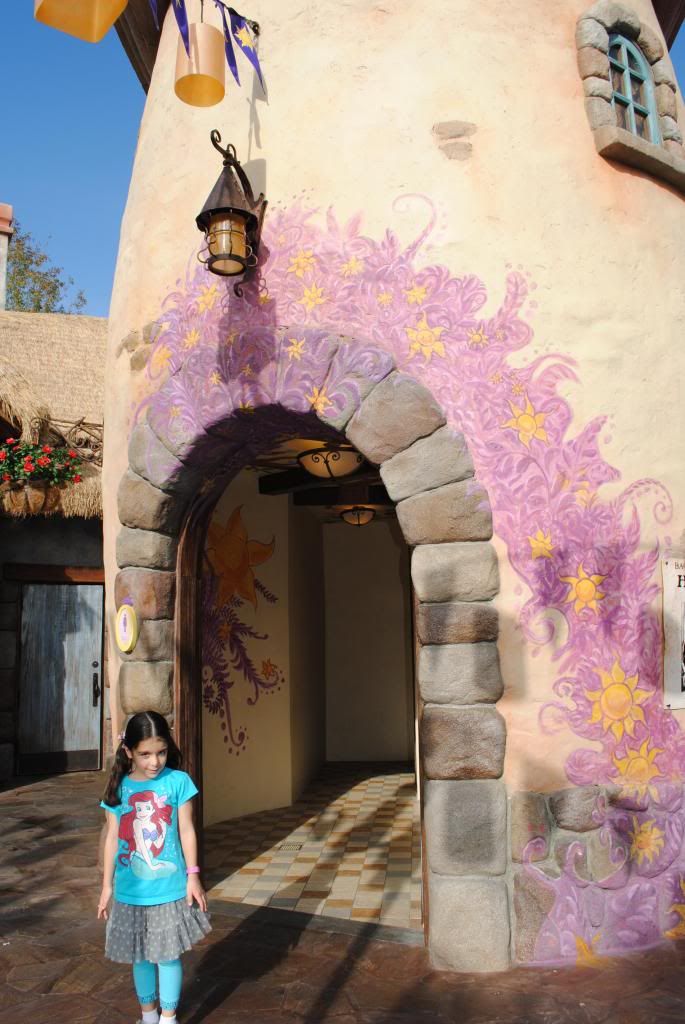 After our bathroom break, we headed into New Fantasyland to ride Ariel one more time with our paper FP's which allowed us to skip the 35 minute wait!!!  We headed into Tomorrowland next, we hadn't been able to explore most of this area yet and the kids were excited to be here!  We rode the Speedway first and the kids were given Mickey licenses.  This is always a family favorite.
We grabbed paper FP's for Buzz and then got in line for Monster's University.  The wait for Monster's was about 20 minutes, but totally worth it!!!!  I crack up during this show every time!!!!  I made a big mistake next and took us on Stitch's Great Escape.  Gabi loves this ride but poor Anthony was terrified!  Looking back, I should have realized he would be scared...he loves the roller coasters but hates the thrill rides that are visual...  After Stitch we used our Buzz Lightyear FP's and then rode the Transit Authority.  
It was turning out to be a busy morning in MK with sports teams from Pop Warner.  They didn't bother us at all and were nothing but respectful but they did ruin the PUSH experience for others when they pointed out the guy who was in charge of PUSH... The guy had to make a quick exit after that, lol!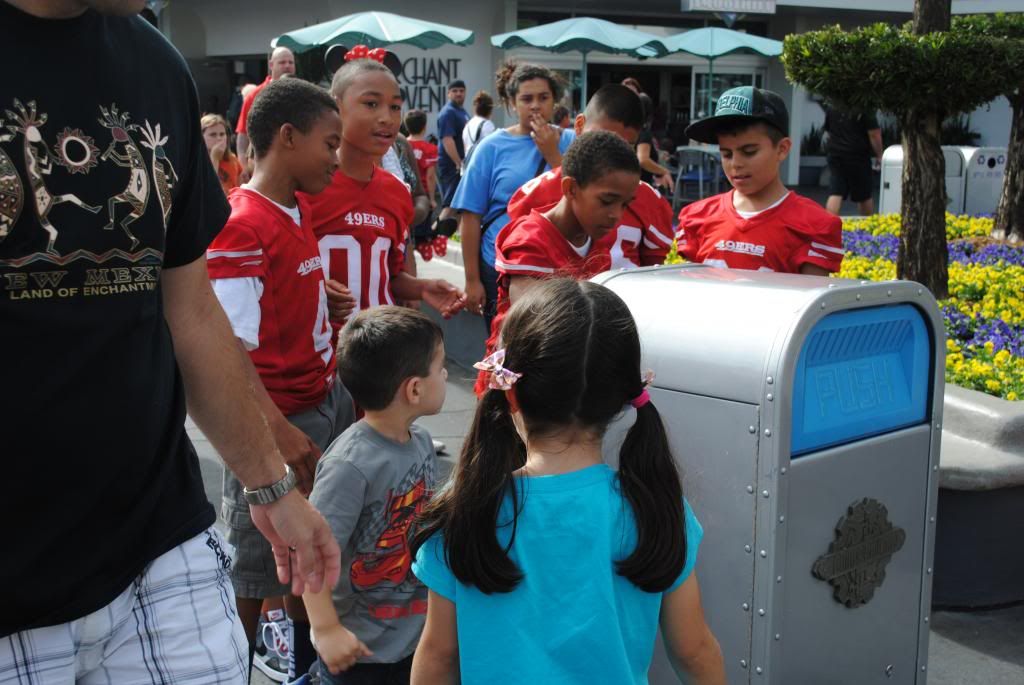 We headed out of Tomorrowland after that and back into Fantasyland.  We had back to back FP+ reservations for Dumbo and Winnie the Pooh that we would be able to use in just a few minutes.  I had really good luck booking FP+ times back to back and riding attractions that are close to eachother back to back by using the end of the first window and the beginning of the next window.  We rode the two rides and then Saulo insisted on lunch, lol!!!  It had been a really busy morning for all of us and he and the kids were hungry!!!!!
We had lunch at Pinnochio's Village Haus, not our favorite, but just fine and then hopped in line for Mickey's Philharmagic.  So far Anthony had refused to wear his 3D glasses but we insisted he keep them on here and we finally got him reaching for the gems and other things like Gabi has been doing for a few years!  It was so cute!!!!
We headed into Liberty Square next to see The Hall of Presidents.  I was excited, lol!!!!  I hadn't seen it since 2001 and Saulo had never seen it.  He was making fun of me because I've been talking about how much I enjoy it for years and how bummed I always am that we don't make it there but he agreed with me that it really was an enjoyable show!!!  Even Gabi liked it!  She had lots of questions during it that I was proud of her for thinking of.
Next up was Splash Mountain... We had FP+ reservations and Anthony was seriously excited, lol.  Gabi was given the option of riding or not and chose to ride.  She had watched youtube videos of the ride and loved the Braer Rabbit scenes.  She did pretty well...  Loved everything except the last drop and only cried a few tears after that one.  I just asked if she would ride it again and she claims to be thinking about it, which means she must not have hated it, lol.
That was about all that was on our must do list for today.  It was probably about 3:00 by this point and we were tired but had really enjoyed our day.  Saulo suggested we take the Magic Kingdom railroad all the way around from Frontierland and back and that sounded like a perfect way to end our day!  We hopped onto the second train after a short wait and just enjoyed going around.  There were some very cool behind the scenes set up's that I had never seen before.  It was a lot of fun!
I did feel a little bad for the people in front of and behind us because Gabi spent the entire train ride singing "Let it Go" from Frozen pretty loudly with her little dolls we had gotten the day before, lol.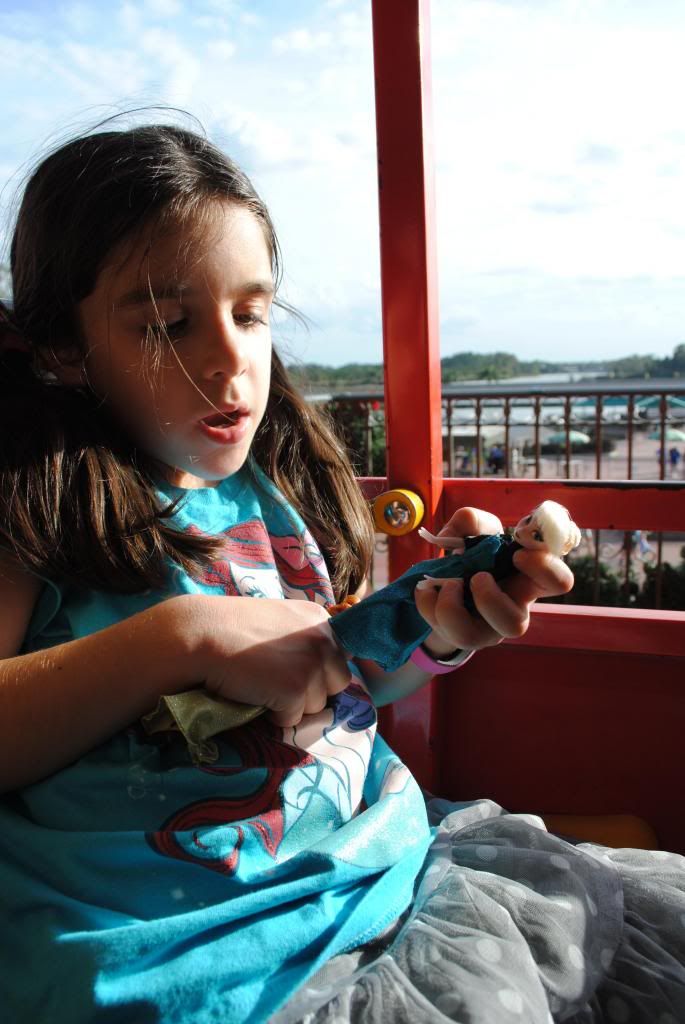 We were done with rides for the day now but decided a stop at the Ice Cream Parlour would be a nice treat!  We grabbed Anthony a popcorn, you guys might remember he had a dairy allergy as a little one that he has since out grown but he still doesn't like many plain dairy products inluding ice cream, silly boy!!!!  Saulo, Gabi, and I got ice cream sundaes and we took today them to the lower level of outdoor tables to eat them.  It was a gorgeous eating area and beautiful scene to end our day.  Unfortunately, I think it's a smoking area as well, but live and learn, we won't sit there again, lol.
After ice cream we headed of Magic Kingdom, waving good bye and making promises that we'd be back in a year or two.  The kids were sad, especially Gabi but they got over it quickly when I mentioned an early evening swim!!!!!
Back at AKL we relaxed in the room for a bit and put on bathing suits to swim and headed down to the pool.  We had thought about going to DTD this evening for dinner and a little shopping but the kids were having so much fun swimming we decided to just stay at the hotel.  We swam for quite a while and then had dinner at The Mara.  Someone was kind enough to snap a picture of our family just before dinner when I was taking pictures, we met some really nice people this trip.  We used up some snack credits buying Mickey Mouse rice krispie treats for Gabi's teacher and classroom aids, did a little shopping at the gift shop, and headed to bed.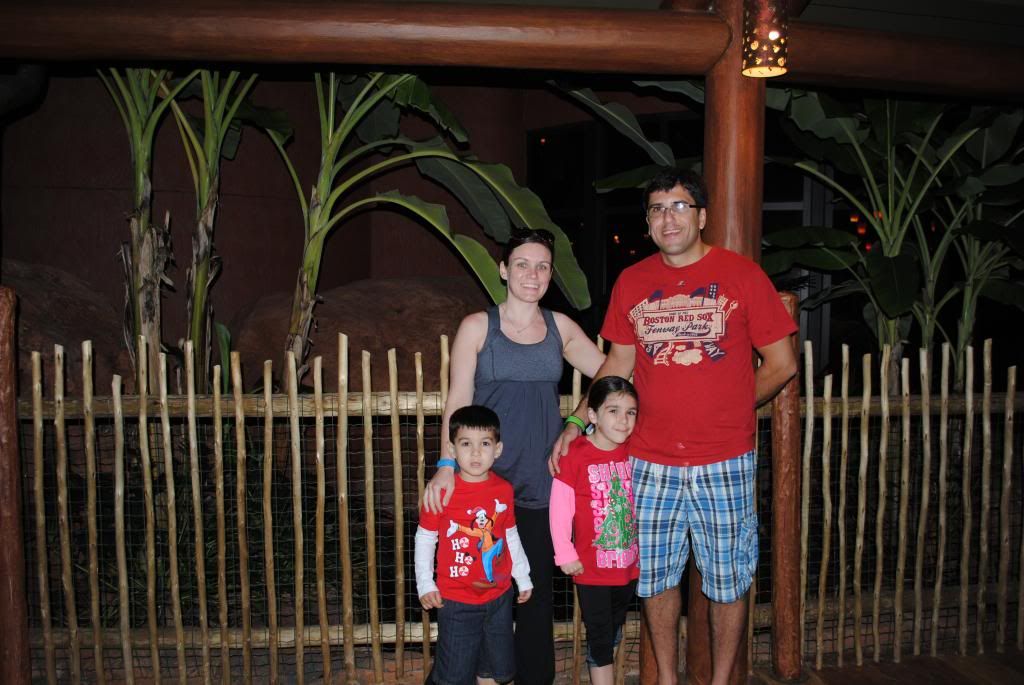 Up next:  Saying goodbye to AKL and heading home!