Need your opinions!
Need your opinions!
| | |
| --- | --- |
| | Tue, 12-30-2008 - 11:44am |
Hello ladies! DH and I have finally decided on a few boys names we really really like. Our top three are Weston, Cooper, and Riker/Ryker. However, we can't agree on the y/i in the last one. So we made a poll on the baby name board. If you don't mind would you be willing to go over and vote for us? I won't tell you which one I prefer so that its fair! ;) I know we are not TTC yet but its fun to think about a few things ahead of time, and this is one of the few baby related things DH will discuss with me. Thanks for your votes!
Oh and feel free to comment here if you want to!
http://messageboards.ivillage.com/n/mb/message.asp?webtag=iv-ppbabyname&msg=54198.1&x=y
Powered by
CGISpy.com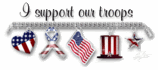 Edited 12/30/2008 12:01 pm ET by squeaker02