Fire at Tennessee mosque project
Fire at Tennessee mosque project
http://www.usatoday.com/news/nation/2010-08-30-tennessee-mosque-fire_N.htm
Fire at Tennessee mosque project troubles city

Updated 3d 7h ago |

By Bob Smietana The (Nashville) Tennessean
MURFREESBORO, Tenn. — Mark West believes in freedom of religion.
That belief brought West out Monday night to a candlelight vigil in support of local Muslims in front of the Rutherford County Courthouse.
It also inspired the life-long Baptist to make a donation to the building fund for a new mosque in Murfreesboro.
"I'm going down to Islamic Center of Nashville tomorrow and make a $100 donation," West said. "One hundred bucks is hard to come by these days, but it's a statement."
West was among about 150 people to attend the vigil, organized in response to the recent fire at the construction site for the new mosque. Many in the crowd held candles or signs proclaiming such messages as "We're all in this together" and "My God is not a bigot."
The gathering came two days after a fire of suspicious origin damaged construction equipment at the site of a planned mosque near Murfreesboro. Police say four pieces of equipment were doused with an accelerant and one set ablaze early Saturday.
Federal authorities continue to investigate Saturday's fire, said Eric Kehn, spokesman for the Nashville office of the Bureau of Alcohol, Tobacco, Firearms and Explosives. They have yet to rule that the fire was arson.
Joel Siskovic of the FBI's Memphis office, said the bureau is investigating the fire in case it is a civil rights violation.
Just outside the vigil, a small group protested the mosque.
Collier Hopson drove his pickup to the vigil. In the back was a plywood sign bearing the spray-painted words "No Mosque."
He said mosques should be banned. "I don't support their beliefs," Hopson said. " No one wants them here." Standing in front of the pickup, Kimberly Kelly agreed. She said she is afraid of Muslims and that the violence from Iraq and other countries could come to Murfreesboro."
(article continues...)

Blessings,
Gypsy
)O(
Strong like a mountain,
Flowing like a river."
~~Tai Chi Chih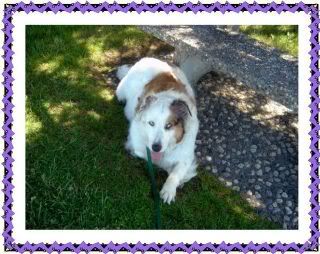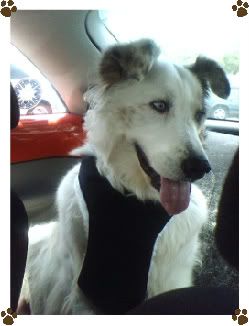 Mika Dog
"All things share the same breath;
the beast, the tree, the man.
The Air shares its spirit with
all the life it supports."
--Chief Seattle
"If there are no dogs in Heaven,
then when I die I want to go where they went."
~Will Rogers
"The greatness of a nation and its moral progress
can be judged by the way its animals are treated."
~~Mahatma Gandhi