No religious hair cut=isolation in jail?
No religious hair cut=isolation in jail?
http://www.sfgate.com/cgi-bin/article.cgi?f=/n/a/2010/06/30/national/a080540D35.DTL
"48 Va. inmates in segregation over grooming policy
By DENA POTTER, Associated Press Writer
Wednesday, June 30, 2010

(06-30) 10:14 PDT Richmond, Va. (AP) --
Nearly 50 Virginia prisoners are being held in perpetual isolation because they refuse to cut their hair, several for religious reasons.
The Associated Press reported in May that 10 Rastafarian inmates had been in segregation for more than 10 years for refusing to comply with the state's grooming policy, which calls for hair to be kept above the shirt collar and bans beards. The Department of Corrections confirmed the status of those inmates then, but wouldn't reveal how many others were being segregated for not cutting their hair.
Secretary of Public Safety Marla Graff Decker ordered the department to put together a list of all inmates who were being held in isolation because of the policy, department spokesman Larry Traylor said. Traylor refused to provide the list to the AP, but divulged the numbers.
The review found that 48 inmates were being held in segregation for refusing to follow the policy. Of those, 13 are Rastafarians, who view growing their hair unbridled as a tenet of their religion.
Traylor said he did not know the remaining inmates' religions or reasons for disregarding the policy, nor did he know how long those others had been in segregation. The policy went into effect Dec. 15, 1999.
Taylor Thornley, a spokeswoman for Gov. Bob McDonnell and Decker, would not comment on whether the review means officials are considering changing the policy.
"She was merely doing due diligence in her role as Secretary of Public Safety," Thornley said of Decker, who refused to be interviewed.
Traylor said the corrections department was not contemplating a change. If the prisoners choose to cut their hair, they can come out of segregation, he said.
In addition to the Rastafarians, it is likely that Muslims, Jews, Hindus, Native Americans and others whose religious beliefs call for them not to cut their hair account for many of the others being segregated, said Kent Willis, executive director of the American Civil Liberties Union of Virginia.
"It really is appalling to think that nearly 50 individuals are in the cruel confines of indefinite segregation solely because DOC had a hunch that they might be a security risk," Willis said.
"It is time for DOC to make the right decision and eliminate this policy," he said.
The department says the policy is needed to prevent inmates from hiding contraband, such as weapons, in their long hair or beards, and also to keep them from quickly changing their appearance if they escape."
(article continues...)
Blessings,
Gypsy
)O(
Strong like a mountain,
Flowing like a river."
~~Tai Chi Chih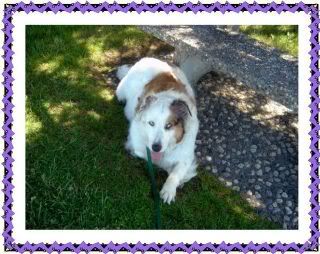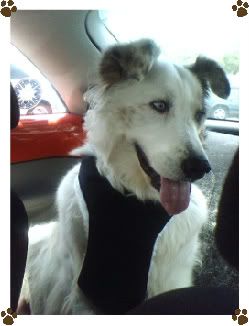 Mika Dog
"All things share the same breath;
the beast, the tree, the man.
The Air shares its spirit with
all the life it supports."
--Chief Seattle
"If there are no dogs in Heaven,
then when I die I want to go where they went."
~Will Rogers
"The greatness of a nation and its moral progress
can be judged by the way its animals are treated."
~~Mahatma Gandhi