Scientist inspired by Dalai Lama studies
Scientist inspired by Dalai Lama studies
http://www.google.com/hostednews/ap/article/ALeqM5hrjfWFuu_SffV-xhSoMpkyOg0nCwD9FMR6B00
from the article:
"Scientist inspired by Dalai Lama studies happiness
By RYAN J. FOLEY (AP) – 2 days ago
MADISON, Wis. — After hearing about his cutting-edge research on the brain and emotions through mutual friends, the Dalai Lama invited Richard Davidson to his home in India in 1992 to pose a question.
Scientists often study depression, anxiety and fear, but why not devote your work to the causes of positive human qualities like happiness and compassion? the exiled Tibetan spiritual leader asked.
"I couldn't give him a good answer," recalled Davidson, a University of Wisconsin-Madison neuroscientist.
Since then, Davidson has become a partner in the Dalai Lama's attempts to build a connection between Buddhism and western science. This weekend, the Dalai Lama will mark the opening of the Center for Investigating Healthy Minds at the university's Waisman Center, where more than a dozen researchers will study the science behind positive qualities of mind. Davidson said the center will be the only one in the world with a meditation room next to a brain imaging laboratory.
Davidson's research has used brain imaging technology on Buddhist monks and other veteran practitioners of meditation to try to learn how their training affects mental health.
His team's findings suggest meditation and other "contemplative practices" can improve compassion, empathy, kindness and attention. They support the concept that even adult brains can change through experience and learning.
"He's made some interesting discoveries about meditation, and I think he is doing very good science," said John Wiley, who was university chancellor from 2001 to 2008 and is interim director of the Wisconsin Institutes for Discovery.
Initially, "a significant number of his colleagues around the world were suspicious and thought that it wasn't adequately grounded in hard science," Wiley said. "He's proved them wrong."
The appearance comes as the Dalai Lama has spent more time promoting research into traditional Buddhist meditative practices and urging scientists to help create a more ethical and peaceful world."
(article continues...)

Blessings,
Gypsy
)O(
Strong like a mountain,
Flowing like a river."
~~Tai Chi Chih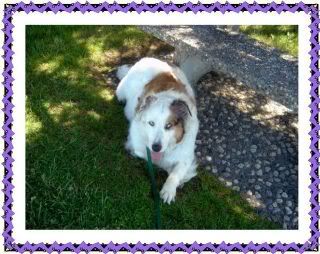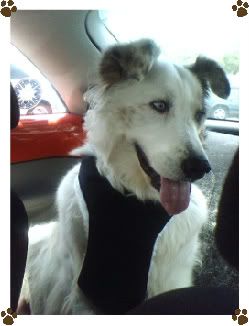 Mika Dog
"All things share the same breath;
the beast, the tree, the man.
The Air shares its spirit with
all the life it supports."
--Chief Seattle
"If there are no dogs in Heaven,
then when I die I want to go where they went."
~Will Rogers
"The greatness of a nation and its moral progress
can be judged by the way its animals are treated."
~~Mahatma Gandhi