teen's death after exorcism
teen's death after exorcism
http://news.yahoo.com/s/ap/20100403/ap_on_re_la_am_ca/cb_guyana_exorcism_death
"Guyana cops look into teen's death after exorcism
By BERT WILKINSON, Associated Press Writer Bert Wilkinson, Associated Press Writer 1 hr 2 mins ago
CANAL NUMBER TWO, Guyana – A 15-year-old girl has died after neighbors and a local pastor tried to treat her convulsions with an exorcism at a church, and Guyanese police said Friday they are investigating.
Sangeeta Persaud began to convulse Sunday as she drank tea for breakfast at her grandmother's home in Canal Number Two, a farming village west of the capital, Georgetown, the grandmother told The Associated Press.
Chaitranie Ramotar said she became worried and called the girl's mother, who brought the pastor to the house.
"I experienced the same thing at age 12," Nankumarie Jaikissoon, the teen's mother, told the AP. "That is why I did not rush her to the hospital. My heart did not tell me to rush her to the hospital."
The pastor, Ewart Cummings, said he decided to take the girl to his small, concrete church, where he and several elders spent five hours praying for her as they pressed on her stomach and head. They also made her drink an anointing oil, he told the AP.
At times, the teen would bark and make other strange noises, Cummings said.
"I did nothing wrong," he said. "I just responded as pastor of the church. ... Ungodly people would not understand certain things like driving out spirits."
Cummings said he drove the girl to the hospital around 5 p.m. because she had calmed down but was weak. She died at 10 p.m."
(article continues...)
Blessings,
Gypsy
)O(
Strong like a mountain,
Flowing like a river."
~~Tai Chi Chih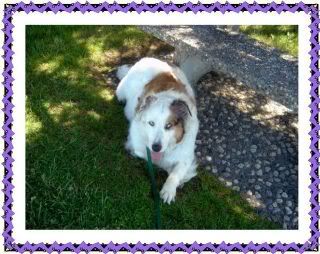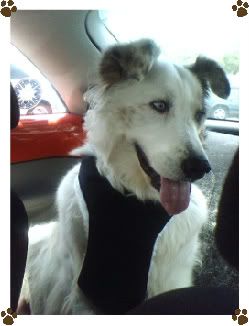 Mika Dog
"All things share the same breath;
the beast, the tree, the man.
The Air shares its spirit with
all the life it supports."
--Chief Seattle
"If there are no dogs in Heaven,
then when I die I want to go where they went."
~Will Rogers
"The greatness of a nation and its moral progress
can be judged by the way its animals are treated."
~~Mahatma Gandhi