Using religion to sell fake medicine...
Using religion to sell fake medicine...
| | |
| --- | --- |
| | Fri, 10-09-2009 - 11:39am |
http://www.google.com/hostednews/ap/article/ALeqM5hvjTfQ9zvGIPLwiEMFJ5qPbcHBngD9B78DS00
From the article:
"Calif. doc who hailed herbal cancer cure arrested
By GREG RISLING (AP) – 14 hours ago
LOS ANGELES — Prosecutors brought fraud charges Thursday against a family doctor accused of promising terminally ill cancer patients in their darkest hours that they would be cured with an herbal treatment.
Using her influence as an ordained Pentecostal minister, Dr. Christine Daniel tapped into the vessel of faith to entice people from across the nation to try her regimen. She even appeared on cable's Trinity Broadcasting Network in 2002 touting her cancer cure and its 60 percent success rate, according to federal investigators.
Authorities arrested Daniel, 55, at her San Fernando Valley home Thursday and charged her with two counts each of wire and mail fraud. If convicted, she faces up to 80 years in prison.
In court documents, authorities contend Daniel took advantage of patients who desperately sought alternative measures after enduring draining rounds of chemotherapy and radiation.
In all, federal prosecutors said Daniel siphoned about $1.1 million from 55 families between 2001 and 2004. At least six patients ranging in age from 4 to 69 died within seven months after seeing Daniel.
"This is an example of a doctor who is preying upon the most vulnerable people in our society," said Assistant U.S. Attorney Joseph Johns. "These patients were told they were being cured, but they were being eaten alive by cancer."
A phone message left for Daniel's attorney, Manuel Miller, was not immediately returned. Daniel was scheduled to appear in federal court Friday.
Prosecutors said Daniel concocted a remedy known, among other names, as "C-Extract" that she claimed would help treat cancer and other afflictions such as multiple sclerosis, hepatitis, and Alzheimer's and Parkinson's diseases.
Some of her patients were drawn to her from her appearance on TBN's "Praise the Lord." Daniel told viewers she collected herbs from around the world, and, when they were combined with prayer, there was a good chance their cancer could be cured.
"We have seen the dead raised," Daniel said on the broadcast, according to the indictment."
(article continues...)
Blessings,
Gypsy
)O(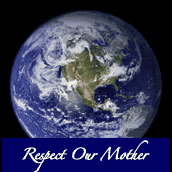 "What is life? It is the flash of a firefly in the night.
It is the breath of a buffalo in the wintertime.
It is the little shadow which runs across the grass
and loses itself in the sunset.
- Crowfoot, Blackfoot warrior and orator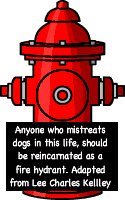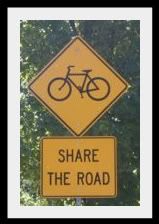 Dog fighting is cruelty, which is a human activity and a human illness.
It's not the dog's fault.
All dogs need to be evaluated as individuals."
--Tim Racer, one of BAD RAP's founders
http://www.badrap.org/rescue
/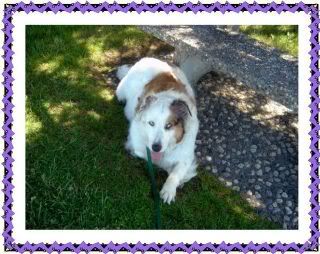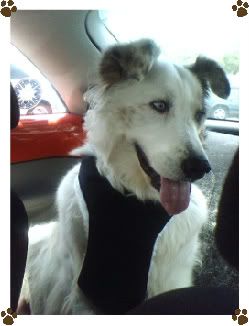 Mika Dog
"All things share the same breath;
the beast, the tree, the man.
The Air shares its spirit with
all the life it supports."
--Chief Seattle
"If there are no dogs in Heaven,
then when I die I want to go where they went."
~Will Rogers
"The greatness of a nation and its moral progress
can be judged by the way its animals are treated."
~~Mahatma Gandhi
"Life is a state of mind." ~~from Being There.