Gypsy's Back on the Wagon Journal
Gypsy's Back on the Wagon Journal
Finally got back to a WW meeting Monday. It had been nearly 2 full months -- and I managed to gain 10 lbs. :O UGH! The emotional binge eating for comfort in response to stress and worry over DH, plus that arrogance that I "can handle" eating the old favorites and not measure. :// BTDT and I know better. Still, when I feel "under attack," food is what I turn to again and again. That connection, a dysfunctional one at that, was learned in my childhood. It's embedded deep in my psyche at this point. It will never go away as my first response of choice. Not in this lifetime. That will never change. I have to finally face that fact. What I *can* change is how I *choose* to respond. Making it a conscious choice, rather than just an automatic unthinking kneejerk reaching for food. :o(
As of Monday I am again tracking and pointing out my food. Going back online @ WW and keeping my journal up to date. So far so good. Easier to stay on track if I write it all down, measure, see how many points are left for the day, after planning out the day's meals in the morning. That way when I want to snack or not measure, I can see the dangers and choose how I want to spend any points left for the day, for snacks or add-ons in a meal.
I had to temporarily cut back from my "maintenance" daily points in order to lose the extra pounds. Also, with not walking everyday as my hip continues to heal, and the reduced mileage, also requires less daily food, thus less points. :/ I don't need as much fuel, especially carbs, if I'm not burning them in the longer walks... As the mileage goes up, and I reach goal weight again, I will go back to my "maintenance" level of daily points.
I want to develop a new kneejerk response to stress or worry ~~ instead of reaching for food, do some t'ai chi chih moves instead. Or "walk it off" with my Mika dog. :)
Blessings,
Gypsy
)O(
Strong like a mountain,
Flowing like a river."
~~Tai Chi Chih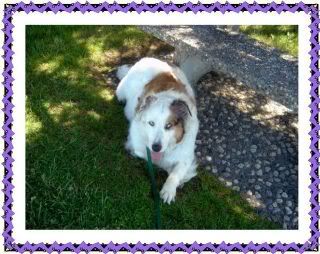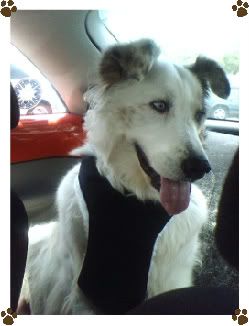 Mika Dog
"All things share the same breath;
the beast, the tree, the man.
The Air shares its spirit with
all the life it supports."
--Chief Seattle
"If there are no dogs in Heaven,
then when I die I want to go where they went."
~Will Rogers
"The greatness of a nation and its moral progress
can be judged by the way its animals are treated."
~~Mahatma Gandhi