Gypsy's June 2010
Gypsy's June 2010
| | |
| --- | --- |
| | Tue, 06-01-2010 - 10:12pm |
Well, today started out pretty good, through lunch. But an afternoon snack did me in...I just had to have it. :o\ At least I walked 63 minutes with Mika against a strong wind, and a ramped up pace, plus my 20 min. T'ai Chi Chih and stretching.
Breakfast: 1 med. banana, 1 c. FF milk, 2 c. black coffee, 1 WW Sweet & Salty, 1 Kashi Roasted Almond bar.
Morning snack: Kashi Almond Flax bar.
Lunch: 1 hi fiber muffin, 6 slcs. thin sliced deli turkey, Dijon mustard, 1 c. FF milk, 1 c. low sodium V8, 1 serving stick pretzels.
Snack: MY DOWNFALL, ROFL! :D 7 low fat oatmeal raisin cookies.
Dinner: Gardenberger on sandwich thin, Dijon, lettuce & tomato slices, 1 slc. light Jarlsberg cheese, 2 dill pickles, 1 c. FF milk, 1 ear white corn plain.
Dessert: SF Jello chocolate pudding cup & 1 WW Mint Chocolate Crisp.
With my "cookie monster attack" I used up 15 of my 35 weekly points already, and it's only Tuesday. Will have to accumulate plenty of Activity Points in case I run out, ROFL! :P
Blessings,
Gypsy
)O(
Strong like a mountain,
Flowing like a river."
~~Tai Chi Chih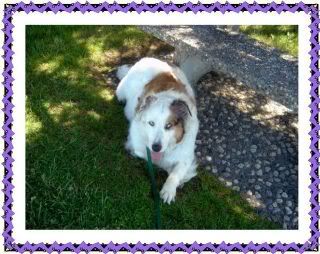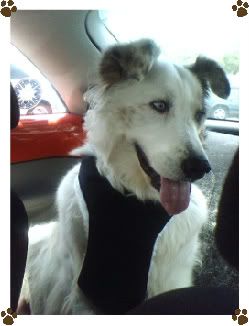 Mika Dog
"All things share the same breath;
the beast, the tree, the man.
The Air shares its spirit with
all the life it supports."
--Chief Seattle
"If there are no dogs in Heaven,
then when I die I want to go where they went."
~Will Rogers
"The greatness of a nation and its moral progress
can be judged by the way its animals are treated."
~~Mahatma Gandhi

Edited 6/2/2010 12:50 am ET by gypsywolfwoman