Gypsy's March 2010
Gypsy's March 2010
Well, the battle continues. Can't seem to stick to goal of 155. Am about 162-164 right now. Just celebrated my birthday, and was a "bad girl" last week, too. ROFL! I am frustrated but also fighting my body and mostly my taste buds. I am just tired of eating "watered down" tasting foods. Which is what low fat ends up being. :// I pretty much have that lifestyle down, but I am so yearning and craving "real cheese" rather than watered down tasting low fat stuff or non fat stuff. Same with baked snack chips, etc. Frustrated finding low sodium because food mfg. companies have realized that when they take out the fat, they also take out a lot of the flavor. So they up sodium/salt because, hey, it's cheaper than a lot of fancy spices (which I use at home to make foods taste good and not BLAH with low salt...).
I have had achy hip joints and low back. The chiropractor says it's not me out of alignment. Can't afford also my acupuncturist, or I'd go see her, too. :// I think it's my statin drug. Which I need for my heart post surgery, apparently, even if my cholesterol is good due to low fat diet and WW. But it *can* produce joint and muscle pain. So I've been on Motrin or Tylenol several doses a day just to keep walking so I don't gain wait. And this makes me ANGRY!!!! Because I was off all that pain med for achy joints after Dec. 08 when I'd lost enough of the excess weight on WW, like 60 lbs. worth; and now I'm like stuck with the dang pain meds yet again! Grrrrrrr! :// I need to walk Mika everyday or starve myself. Starving is not an option, to keep the weight off. That doesn't work. So, I am binging some also because I'm frustrated.
Another reason for the aches & pains is the need for parathyroid surgery because of a benign tumor, which causes the parathyroid to dump calcium in my blood. :// I was to have this surgery last year, but flunked the EKG, and ended up with heart surgery instead. UGH! So, now I am going for this minor surgery again... I will have the pre-op appt. on this coming Wednesday, including another EKG, plus chat with the anesthesiologist, lab work, etc. Then surgery is Wednesday 3/17. Supposed to be a one night stay and then home. There will be a few restrictions like walking Mika or lifting, maybe driving for awhile, too. Due to it's neck surgery. I am not looking forward to more "house arrest" but hope it'll be less invasive and less restrictive for less time than last year with the heart surgery.
My doc also promised me we would address the need for the statin if the aches & pains are not resolved from the surgery. Because statins are known for this side effect. If side effects limit my exercise and thus sabotage my weight maintenance, I am really going to fight staying on the drug. Quality of life is important and I'm only 63. I will not be relegated to sitting in a rocking chair, gaining weight, and become inactive. ://
So, while I should be journaling and pointing out my food, I'm not. I'm sketchy in attending my WW meetings as well, and I need to be there. Sigh... Self-destructive behaviors, I know... :o( Just can't deal with it right now. My pedometer died. I have to get a new lithium battery but haven't as yet. I still clock my time and track my heart rate, and keep log sheets I mail in to the Multfit people. I will end that year-long post heart surgery program after this month. At this point, I have a lot of records of steps per minute of walking with Mika, so it's no big deal. But I liked wearing the pedometer as soon as I got up in the morning (went on right after hearing aids & eye glasses, LOL!). Wearing it is a reminder to stay on track, have goals as to # of steps per day or to reach during each walk, and so on. I get lazy without it. :P So, will get that rectified soon.
So, that's me at the moment. ;))
Blessings,
Gypsy
)O(
Strong like a mountain,
Flowing like a river."
~~Tai Chi Chih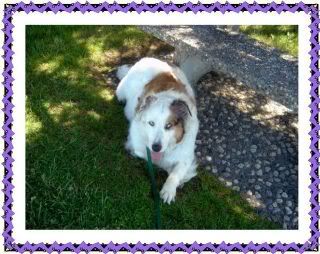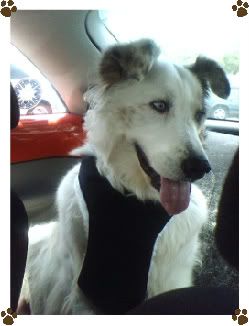 Mika Dog
"All things share the same breath;
the beast, the tree, the man.
The Air shares its spirit with
all the life it supports."
--Chief Seattle
"If there are no dogs in Heaven,
then when I die I want to go where they went."
~Will Rogers
"The greatness of a nation and its moral progress
can be judged by the way its animals are treated."
~~Mahatma Gandhi