Help settle the dispute in my house!
Help settle the dispute in my house!
| | |
| --- | --- |
| | Sun, 07-04-2010 - 10:24am |
I'm only 7 weeks pregnant, but we're both ahead of ourselves insisting this is a boy. Just play along ;)
Okay, so FIL does not have a mn, he's just Niko followed by a 4-syllable crazy Greek last name. DH is Niko Dieter (mn after his uncle). DH is insisting that our son have Niko somewhere in the name as well - as a concession he's saying mn is fine. FIL is pushing his own father's name, Cleanthes on us big time so the name would be Niko Cleanthes followed by a LONG and CRAZY Greek name. That is the worst case scenario in my book. The poor baby would saddled with a 100-syllable, all Greek name. No, thanks!
Options and their problems:
- Niko Cleanthes, I hate it
- Niko Fox (Fox is my grandfather's nick name and I'm in LOVE LOVE LOVE with it) At least with this scenario, it follows the pattern of Niko = first name. The baby won't technically a "third" since the MNs are all different, but it is somewhat of a tradition.
- Fox Myers. This is my dream name! Myers is my maiden name, but DH argues since I'm not close with my family I shouldn't use it. I still like it and it's my name after all!! I know my dad would be SO happy to be included and he'll never have any other opportunities to pass on his name because my brother is very ill. Still, it's kind of a weighted name. I've even told DH I'll have another baby after this one and let him name it Umbrella Stand if he wants.
- Some other option that you suggest. I'm not super keen on the idea of two or more middle names just because it's really getting long, right? It may be the only way to get peace.
Thoughts? Sorry to be a bug on the board lately. Haha, I'll prob be hounding everyone with girl dilemmas in a few months. I'm pushing for team green but getting lots of opposition on that as well :/
www.highglossandsauce.blogspot.com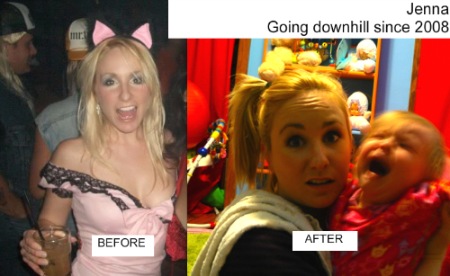 Due with #2 on February 17!
Edited 7/4/2010 10:30 am ET by velvetminxx