I think I'm doomed to Maria
I think I'm doomed to Maria
| | |
| --- | --- |
| | Sat, 07-24-2010 - 10:35pm |
Well the "Juliet" conversation went pretty easily - all I have to do is agree to use Maria as the middle name. Yick. First of all, my MIL (Maria) is an overbearing linebacker who would love nothing more than to oust me from my life and install herself as lady of my house. She steamrolls me every chance she gets and of course, my baby's name isn't going to be much different. She announced a few weeks ago that we should name the baby after her. Yay. So I guess if this baby is a girl, I have to go with it. Juliet is my choice, Maria is her name.
Juliet Maria. It's not that terrible, right? Is it bad to cringe every time you say your baby's full name, or will I eventually come around? Ugh.
For anyone who hasn't been following my saga, I'm pretty much at the mercy of my in-laws at every turn in life.
www.highglossandsauce.com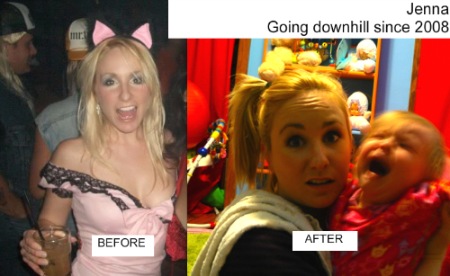 Due with #2 on February 17!