Sibling chain game
Sibling chain game
| | |
| --- | --- |
| | Tue, 06-01-2010 - 12:33pm |
Came up with an idea for a new game. Here is how it works:
We start with a name. (Let's say Amelia).
The second person lists a sibling of an Amelia they know. So since I know an Amelia with a brother Ryan,
Amelia - Ryan
Someone adds a sibling of a Ryan they know. I knew a Ryan with brother Mark, so:
Amelia - Ryan - Mark
My cousin Mark has a sister named Alexis, so
Amelia - Ryan - Mark - Alexis
etc.
Here are the rules:
Don't change the spelling of names unless it's been at least 24 hours with no one adding on. So if the last name in the chain is Aydyn, you can't post the sibling of an Aidan unless no one else has posted in a while.
You don't have to know the sibset personally. People you know in person, online, or even celebrity families are fair game.
Try not to repeat names if possible.
I think it will be fun to see where this goes--how much the styles can change.
Let's start with
John -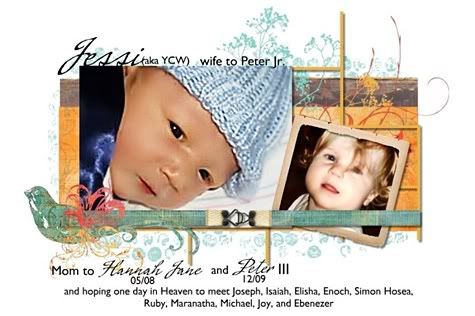 http://reconciledtogod.blogspot.com
/
signature by belle_petite